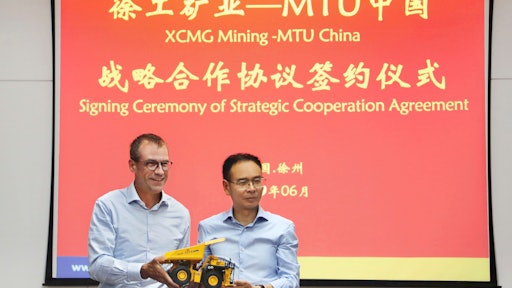 Rolls-Royce Power Systems and XCMG, a multinational heavy machinery manufacturing company based in Jiangsu, China, have formed a strategic cooperation alliance to further develop the Chinese domestic and export mining equipment markets, providing optimized solutions to customers worldwide.
A strategic cooperation agreement was recently signed in Xuzhou, headquarters of XCMG, by senior executives of the both companies. According to the agreement, Rolls-Royce and XCMG are committed to joint efforts in exploring opportunities to integrate Rolls-Royce's renowned MTU power and propulsion systems including MTU Series 2000 and 4000 engines, into XCMG equipment for Chinese local and international mining projects, bringing together both parties' technical strengths and business insights, in order to enhance product competitiveness and gain market share.
With annual revenue of USD7.5 billion in 2018, XCMG is currently the largest market player in the Chinese Construction & Industrial sector, and ranks 6th in the world's construction machinery industry. Rolls-Royce Power Systems has been supplying MTU S2000 and S4000 diesel engines to power XCMG's mining trucks ranging from 120-400 tonnage since 2012. The both parties see great potential in further exploring the market with mining equipment built in China powered by high performing, reliable MTU diesel engines that meet Chinese and global emission standards today and in the future.
Andreas Schell, CEO, Rolls-Royce Power Systems, said, "It is a great pleasure to strengthen our partnership with XCMG, a valued customer with strong market position and business ambition. The agreement demonstrates commitment of both our companies to deliver world-class solutions to the world's mining industry."
Tobias Ostermaier, President, Rolls-Royce Power Systems, Greater China, said, "I am confident that the agreement will allow better integration of MTU products and services into XCMG equipment, to achieve higher efficiency and optimised support to customers. It will also enable collaboration at different levels across each of our organisations to deliver highly completive and compelling offers to the market."
Li Zong, XCMG Mining Machinery, General Manager, said, "The win-win cooperation is aligned with our development strategy to continue to enhance technology and market leadership home and aboard. The combined force of MTU and XCMG will allow us to leverage synergies and create shared value."
The two companies also agreed to collaborate on the validation and testing of new power and propulsion technologies including gas engines and hybrid solutions, as well as applications of digital technologies, to drive low-carbon, sustainable development of the mining industry.