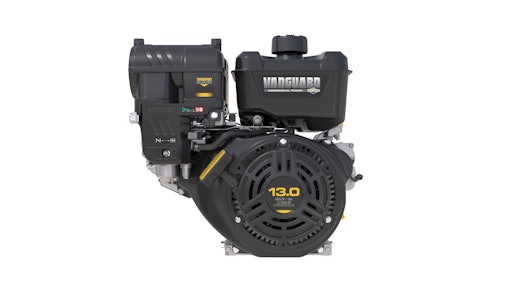 Briggs & Stratton
Performance, fuel economy, starting ability and reduced maintenance continue to be the top compact engine traits desired by customers. Michael Logan, Product Manager, Small Horizontal Engines, Vanguard (a Briggs & Stratton brand) says all of the company's innovations have thus focused on providing these key aspects.
For its new 200 and 400 single-cylinder horizontal shaft engines, Vanguard built them from the ground up based on input from customers. "We developed our new engines around [the] key areas of performance critical to improving overall productivity, including starting, maintenance intervals, service and support, and total cost of ownership," says Logan. "The ground-up design process allowed us to comprehensively engineer all-new carburetion, ignition and combustion systems to promote reliable starting in any environment."
The engines are designed to start in temperatures as low as -20 F (-28.9 C). All surfaces inside the carburetor which contact fuel feature a special corrosion- and stale fuel-resistant coating to prevent starting problems, explains Logan. Maintenance and downtime are reduced as the engines are able to run efficiently for up to 200 hours between oil changes. He says this was achieved using a combination of improved machining processes, tighter tolerances, improved seals, cooler engine air temperatures and cleaner intake air due to use of a cyclonic air cleaner.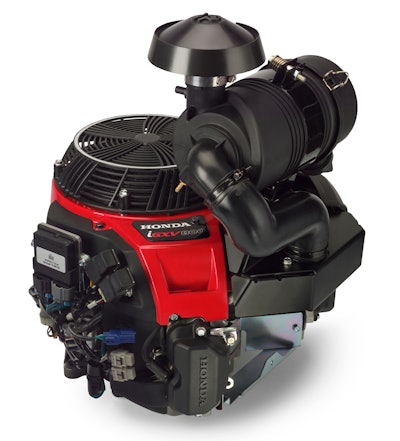 The advanced fully-cyclonic air filtration system further reduces downtime by extending recommended air filter replacement intervals to 600 hours instead of the typical 300 hours.
Logan says the company is also seeing a trend toward lighter, more fuel-efficient engines offering reduced vibration and quieter operation. For the new 200 and 400 single-cylinder engines, Vanguard engineered the engines' main components to lessen the impact of vibration, enhancing operator comfort as well as performance of the engine while also reducing equipment wear. "The design team worked to optimize the mass of the rotating components (connecting rod, crankshaft and piston) and optimize the CG (center of gravity) of the engine block," he explains. "To improve overall engine noise, acoustic engineers not only emphasized reducing decibel levels, but also the perceived harshness of the engines' sound," he says.
When developing engines with reduced vibration and noise, he notes the importance of ensuring the structural integrity of the engine is not compromised to ensure durability within the extreme working conditions in which the engine operates.
Advancing engine designs
To further increase performance capabilities, many manufacturers are adding componentry not often seen on compact engines.
Hatz introduced its electronically controlled single-cylinder engine during this year's bauma. It features an electronically controlled fuel injection system and digital control unit, as well as sensors and an electromagnetic valve specially developed by Hatz in partnership with Bosch. Known as E1, the technology enables smaller equipment to be connected with the Internet of Things (IoT). Continuous data is exchanged with the engine's control unit, enabling analysis and various operating modes to be set. "With our new E1 technology, Hatz offers the platform for the next logical step, for the first time integrating machines with small engines into the advancing world of digitization," said Bernhard Richter-Schützeneder, Director Sales and Marketing at Hatz, in a press release announcing the technology.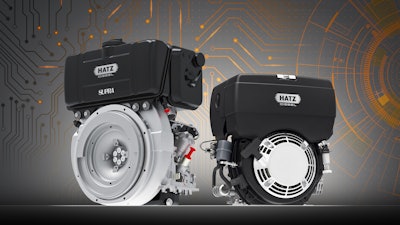 David Bush, Senior Marketing Strategist - Engine, Generator, Pump and Snow Products at Honda Engines, says fuel injection may be a trend going forward, and is included on Honda's recently introduced V-Twin iGX700 and iGX800 general-purpose engines. He says this is due to the poor fuel quality and not wanting customers to worry about an engine's starting capability. "I think that's going to become more of a trend, not only in the larger products, but potentially in what I would call smaller engines from 160 cc up to 430 cc (0.16-0.43 L)," Bush says. "It's an expensive component, but I think [the industry is] probably going to be driving more to fuel injection if it can be cost competitive."
He said most single-cylinder horizontal shaft engines use carburetors currently which work well. But with fuel injection there is also the benefit of improved fuel efficiency and ensuring engine starting without having to use a choke. "You have less chance of flooding a product, especially in the rental industry, where users may not be as friendly with a product," he explains. "Fuel Injection helps out with that...it's just turn the key and go."
Emissions will likely have an impact on the design of compact engines in the near future, notes Bush. This will be especially true for larger engines, such as V-Twin and those above 20 hp (15 kW) and up to just under 1 L (1,000 cc). Typically, in larger engines catalysts are used to help with emissions compliance. However, they are a costly component and many engine manufacturers are trying to avoid using them on smaller general-purpose engines, he says. "They're very expensive, and they create a lot of heat, as well, which could be somewhat of a concern depending on the application in which the engine is being used."
Heat generation and dissipation are important factors for compact engine manufacturers to consider, says Logan, as there is usually not as much space with which to work.
With new emissions regulations, he says Vanguard sees customers looking for alternatives to diesel engines. "Often, they are turning to gasoline-powered options, which makes Vanguard a good solution." He says the company is constantly evaluating power technologies and developing solutions to meet customers needs, and will continue to do so as it sees more electric power solutions entering the market.
More power in a smaller package
According to Logan, weight has become a larger concern for OEMs due to applications becoming smaller and more compact. "Because of that, smaller engines are becoming a more viable alternative than they were in the past.
"As equipment becomes more efficient, customers don't always need as much power as they have [previously]," he continues. "And as designs have evolved, our engines are becoming more efficient and durable, making them ideal for larger pieces of equipment that used to be out of the compact engine range."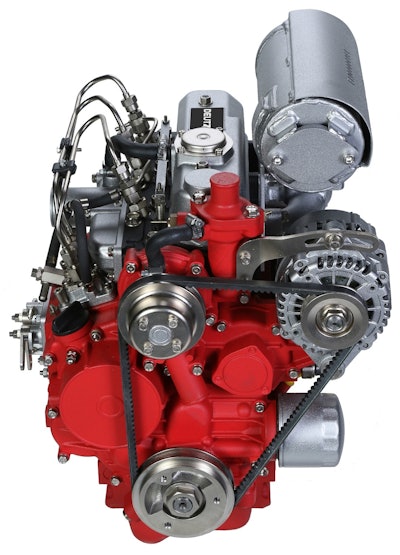 DEUTZ Corp. has also noticed this trend toward smaller engines, which is why earlier this year it introduced two new under-25 hp (18.6 kW) engines, the D1.2 and D1.7. The engines are naturally aspirated, three-cylinder configurations offered in 1.2 and 1.7 L (1200-1700 cc) displacement with output ratings of up to 25 hp. The engines can also be used with the company's new E-DEUTZ products to provide customers with hybrid systems that are more efficient and environmentally friendly. "As we look to the future, our research has determined that more customers require engines in this particular power category, as they downsize with more efficient powertrains," said Robert Mann, President and CEO of DEUTZ Corp., in a press release announcing the new engines.
Similar to larger engines, improving the power-to-weight ratio—getting more power out of an engine that is the same size or slightly smaller—has become a trend for compact engines. The company's new GX50 mini-four stroke engine is a compact, lightweight engine offering a power-to-weight ratio matching two-stroke models. Bush says the engine features an overhead cam design which has an internal timing belt. This helps reduce the weight of the engine and enable a more compact design because there are fewer moving parts compared to a standard push rod engine often found in some larger pieces of equipment. Fewer moving parts also helps to reduce component wear and maintenance.
Bush says use of an electronic self-tuning regulator (STR) governor system enables smaller horsepower engines to operate at the same power level as those 2 or 3 hp larger. "With our STR governor we're able to keep a more stable power output so it acts much more powerfully," he explains.
"We're always looking forward at what we can do with our engines to make them better than they currently are," concludes Bush. "We're always looking at opportunities to improve upon what we have."
Companies in this article