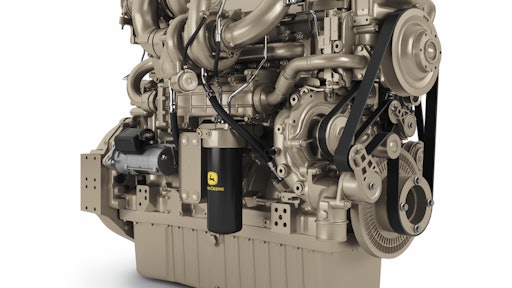 John Deere Power Systems
With Stage V set to go into effect January 1, 2019, many manufacturers have announced over the past several months the compliance of their engine designs with the new European emissions regulation, as well as new engine designs and expanded product lines.
Deutz announced in September 2017 it was the first manufacturer to receive certification for Stage V. Its TTCD 6.1 engine for Stage V was the company's first model formally certified by the German Federal Motor Transport Authority, and soon followed by the TCD 3.6/4.1/6.1/7.8 and TTCD 7.8 models.
Because of Stage V's particle number limit, engines will now require the use of a diesel particulate filter (DPF) whereas for Tier 4 Final/Stage IV many manufacturers have been able to meet the regulation without using a DPF. This poses potential integration challenges for space-constrained machines, as well as manufacturers who supply to the global market—as there is now a greater variation in the emissions regulations around the world with which they must comply.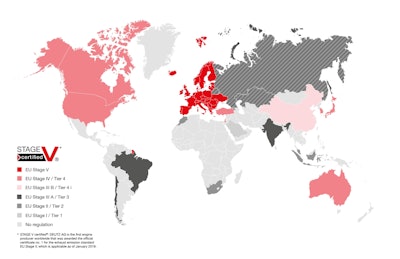 To help ensure a smooth transition to Stage V, engine manufacturers are working to optimize their designs so the engines meet the new regulation without requiring a lot of changes on the OEM's side of things.
Deutz, for instance, has extended its product portfolio so that it can offer base engines from 2.2-18 L (2,200-18,000 cc) to which its modular, extendable aftertreatment system can be added in the configuration that best suits the customer's need and emissions requirements—whether that's Stage V, Tier 3 or China 4—enabling OEMs to produce the same machine design for different countries and applications.
"We want to have installation commonality between the different emissions standards," said Volvo Penta during an interview at INTERMAT 2018. "From Stage II up to Stage IV we have the same basic engine layout. Then depending on what emission [requirement] you're meeting, you have an aftertreatment [system] or not. But it's the same engine footprint. We keep that for Stage V as well…to minimize rework for our customers."
Designing for customer needs
For Stage V, many engine manufacturers are optimizing their products to not only meet emissions regulations but also offer benefits to OEMs and end users.
Perkins Engines Co. Ltd. said during an interview at this year's INTERMAT that for previous emissions regulations it had focused more on getting inside the emissions technology box which led to the engines for each regulation being designed a certain way. However, for Stage V, the company has focused on putting the customer first by emphasizing its efforts on end user and OEM benefits, including total cost of ownership and total cost of installation.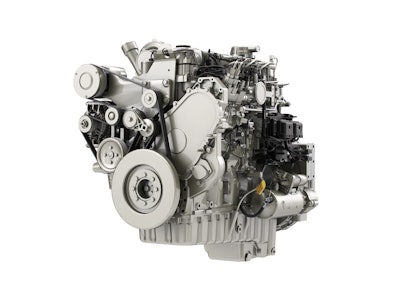 Its 1706J-E93TA, for instance, is a 9.3 L (9,300 cc) Stage V/Tier 4 Final engine capable of providing up to 340 kW (455.9 hp), allowing OEMs to downsize from a larger 13 L (13,000 cc) engine without compromising power output. Utilizing a downsized engine helps reduce weight which in turns leads to reduced fuel consumption.
For every emissions step Volvo Penta says it optimizes the engine for that step. Because a DPF is now required on its engines, some optimization has been done around that, as well as some base engine changes.
Its Stage V heavy-duty engine platform—the D11 and D13 engines—are based on the Volvo Group's on-road Euro 6 Step C engine solution which includes many improvements compared to Stage IV, says Andreas Viktorsson, Chief Project Manager at Volvo Penta. These engines are comprised of technologies such as a fixed geometry turbo with waste-gate and a hot exhaust gas recirculation (EGR) system which enables Volvo Penta to capitalize on the Volvo Group engine platform development.
Several minor hardware and software updates made to the Volvo Penta engines have provided drastic improvements to total system functionality, enabling the engine and aftertreatment to work in harmony with one another. "This is a major part of the improvement making it possible to increase power [for the Stage V engines]," says Viktorsson. "It has also made it possible to decrease fuel consumption." The D8 went from a 235 kW (315.1 hp) power output to 250 kW (335.3 hp), while the D11 went from 285 kW (382.2 hp) to 315 kW (422.4 hp).
Like many Stage V engines, Volvo Penta's utilize common rail injection as opposed to unit injectors which was the case for Stage IV heavy-duty engines. Common rail injection improves combustion and optimizes the rate of fuel injection, explains Viktorsson. "Rate of fuel injection also affects an engine's nitrogen oxides (NOx) emissions and combustion efficiency, and is optimized for all operating conditions."
The piston bowl and injector nozzle design—specifically the injection cone angle and number of holes—for the engines' combustion system are optimized to reduce in-cylinder soot and NOx. Use of a variable coolant pump for the D11 and D13, and an optimized fixed pump for the D5 and D8, reduces friction losses and improves pumping efficiency. Additional friction improvements have been achieved by optimizing cylinder assemblies through the design of piston skirts, piston rings and cylinder liner honing.
The same technologies are used for the medium-duty engine platforms—the D5 and D8. "By taking this strategy we now have identical software and hardware functionality on all of our off-road engines," says Viktorsson.
Volvo Penta increased maximum injection pressure for these engines, as well as re-optimized the injection specification and strategy, making it possible to inject more fuel with less soot and thereby increase power. In May, the company announced the higher power output capability of its D5 engine. Initially producing 160 kW (218 hp), further fine-tuning of the engine enabled a new maximum power output of 175 kW (238 hp).
The power increase was aided by using the latest generation of fixed geometry turbos with highly improved efficiency.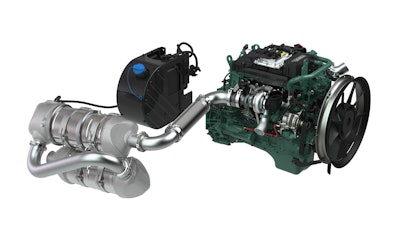 During INTERMAT, John Deere Power Systems (JDPS) introduced its new 13.6L Stage V engine for which the company took a "clean-sheet" approach. Darrin Treptow, Manager, Worldwide Marketing for John Deere Power Systems, says a clean-sheet approach was used "to provide our customers with a power solution that surpasses standards in reliability and durability."
Doing so allowed the company to take stock of customer needs and create a list of design requirements that would meet those objectives, he explains. "By examining system requirements in parallel with overall engine needs, we could refine our own product as well as components in the supply chain." Factors such as total engine lifecycle—including reliability, durability, manufacturability and serviceability—were emphasized from the very beginning.
"For the last 15 years, much of the development for diesel engines was influenced by upcoming emissions regulations," he says. "Now that we're largely beyond new emissions tiers, we can leverage the technologies we've developed over the years to optimize our products to best address market and customer needs."
With the clean-sheet approach the company could adopt new technologies, such as a high-pressure common-rail fuel system, as well as bring its knowledge of EGR and plan for the integration of an aftertreatment system.
Integration of various components directly into the engine enabled JDPS to reduce the weight and package size of the engine while increasing power output—the engine offers a maximum power rating over 500 kW (671 hp). Wire harnessing, cooling and oil passages, and a water pump in the block are among the integrated components which aided the reduced package size, as well as a block-mounted EGR cooler and engine-mounted engine control unit (ECU). "Knowing what [we needed] up front, we could eliminate some of the brackets and add-on pieces that have evolved with a lot of engine manufacturers over the course of time," explains Treptow.
According to Treptow, the 13.6L is one the company's most fuel efficient engines. This is due in part to the integration of various components. For example, integrating a high-pressure common-rail fuel system allows for enhanced fuel system controls and multiple injection capability.
An optimized combustion system is also a key factor in the engine's total fluid efficiency, which results in fuel and diesel exhaust fluid (DEF) consumption to be reduced. In addition, he says a focus was placed on reducing parasitic losses throughout the engine to better optimize the various lube, coolant and gear train systems for improved efficiency, leading to further fuel efficiency improvements.
Adoption of hydraulic lash adjusters on the engine valves eliminates the need to reset valves, extending the service interval for customers. Treptow says the best performance is maintained as the valve lash is always set optimally.
The 13.6L will be offered in a single turbo and series turbo configuration. Series turbo comes into play at high power levels where high performance is expected and high altitude capabilities are required, says Treptow. "Building off our own vehicle experience, we know what the expectations are under those conditions and [the engine] lives up to our own John Deere expectations that get rolled into OEM [customer] products."
Aftertreatment systems
Two aftertreatment sizes—matched to the power levels and configuration of the engine—will be available for John Deere's 13.6L engine, both of which are a single can inline system and add to John Deere's Integrated Emissions Control System (IECS) solutions. "The system helps some OEMs with a more compact installation," says Treptow. "It can also add some robustness in thermal management as all of the pieces are connected together—there's less piping and joints to insulate, reducing the chances of heat loss."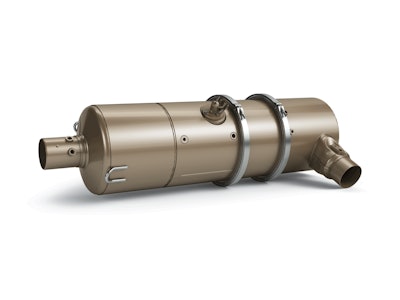 A scalable design, the inline emissions control system consists of a diesel oxidation catalyst (DOC), DPF and selective catalytic reduction (SCR). This enables it to comply with both Tier 4 Final and Stage V, an important factor for customers who ship their products to multiple markets.
The inline solution enables easier integration as the system's can is capable of being mounted horizontally or vertically. Its flexibility also reduces connection points and optimizes thermal management, says Treptow. "Our ability to tailor the configuration of the aftertreatment device allows us to accommodate increasingly complex packaging requirements while meeting the expanding complexity in world emissions standards."
Initially available for the 13.6L, JDPS plans on making the IECS available for its other engines in the future. For engines under 174 hp (129.8 kW) the system will be available without a DPF while still meeting emissions regulations. "The IECS can deliver more power density and improved low-speed torque while leveraging combustion optimization that eliminates the need for DPF — ultimately giving customers the power of choice between DPF and no-DPF solutions when looking to easily integrate their new engine," says Treptow.
Also available for smaller applications will be a configurable aftertreatment system which separates the SCR from the DOC and DPF. This enables easier integration for space-constrained engine compartments; having a two-piece system allows customers to mount the aftertreatment where and how best fits their needs.
Volvo Penta is offering a two-box aftertreatment system for smaller engines and applications. For larger engines, it will offer a one-box solution "because it's typically the more effective way of doing it," the company said during INTERMAT.
Often times with smaller aftertreatment systems, more frequent service intervals are required. This is due to the rate of ash buildup in the DPF. "For a certain ash formation rate, a larger DPF will take longer to be filled, i.e. reach the limit for allowed added backpressure related to ash," explains Viktorsson.
Because of this, the company has worked to optimize its aftertreatment solutions, both small and large, to provide a product that not only meets emissions requirements but also minimizes impact on the end user. "The aftertreatment system optimization is balanced between providing high uptime and low total cost of ownership for our customers on one hand, and on the other hand providing ease of installation," says Viktorsson. "By focusing our efforts to enable regeneration during normal operation (passive regeneration), we want to provide a system with as small an impact on the customer's uptime as possible, at the same time showing excellent fuel consumption."
Volvo Penta said it has seen the trend toward smaller aftertreatment systems—which it offers through its two-box solution—but emphasized it's more important to make sure the system is optimized and balanced among the key parameters. Read more about compact aftertreatment system designs in the article "Technologies Come Together for Emissions Reduction."
"Each engine, including its aftertreatment system, is optimized to fit a wide spectrum of applications. This is based on thorough analysis and input from prerequisites in customer installations," concludes Viktorsson.
Companies in this article