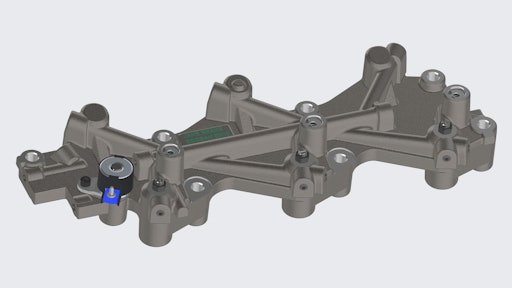 Jacobs Vehicle Systems will supply a compression release engine brake to South Korean engine manufacturer Doosan Infracore for its DX12 model.
With the new agreement, Jacobs' products may be specified as a customer option on the DX12 Euro 6 engine for the domestic South Korean market, where it is selected predominantly by dump truck and mixer vehicle manufacturers.
The compression release engine brakes are being manufactured at Jacobs' Suzhou facility in Jiangsu, China and supplied to Doosan's engine manufacturing plant in Incheon, South Korea.
"Jacobs is delighted to continue its relationship with Doosan in Asia. This follows the successful supply of our compression release brakes in the predecessor DV11 automotive engine, where the retarding performance of the product and the co-operation with Jacobs' engineers was considered to be very positive," says Steve Ernest, Vice President, Engineering and Business Development at Jacobs Vehicle Systems.
The Jacobs' compression release engine brake takes the load off the truck's foundation brakes, turning the power-producing diesel engine into a power-absorbing air compressor via a compression-release mechanism. It is capable of handling 85% of the vehicle's braking needs, increasing productivity by maintaining a higher average downhill speed, and reducing slowing time/distances on flat land. It can slow a heavily loaded vehicle from roughly 55 mph to 44 mph in 30% less time and distance than wheel brakes alone. Operators of trucks with Jacobs' compression release engine brake experience significantly reduced brake wear, the elimination of "brake fade" due to high temperatures on the friction brakes, and a lower total cost of ownership.
Companies in this article