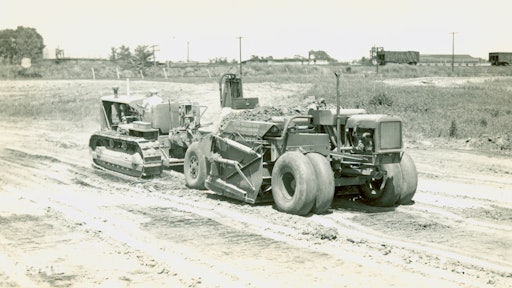 HCEA Archives
In the past few columns, we've examined some innovations created by R. G. LeTourneau. This column covers a technology LeTourneau eschewed. Even as the rest of the industry embraced hydraulics, he favored powering equipment with electric motors driven by a central generator. Earlier columns detailed hydraulic excavators, cranes and control systems for tractor attachments. This column discusses other early examples: graders and scrapers.
The earliest graders and scrapers relied on manual or mechanical control to operate the blade or bowl. Initially, hydraulic technology was not advanced enough to fully replace these systems without being cumbersome, and it required a power supply. One example of working around for this limitation was the Gledhill Road Shaper built in the 1930s by the Gledhill Road Machinery Company of Galion, Ohio. It resembled a pull grader. However, instead of a moldboard, circle and related hardware, it included a V-shaped iron skid in a framework. A system of hand cranks and a hand-operated hydraulic pump set the skids to the proper angle for a crowned surface on a gravel road.
Ryan Manufacturing Company of Chicago was the first known to this author to employ a gas engine on a pull grader, doing so by 1928. The first to use hydraulics on such a machine is unknown. The first hydraulic motor grader was the Austin-Western 99. Introduced in 1938, this machine was also the first to offer all-wheel drive and steer.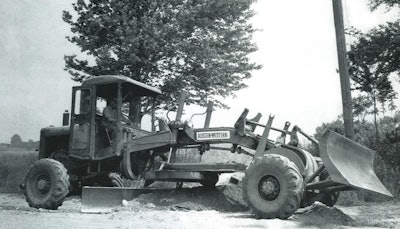 Like the pull grader, the first hydraulic scraper is also a bit of a mystery, one that also depends on what kind of scraper we're discussing. As with dozers, small scrapers could use hydraulics before most larger machines. The earliest known all-hydraulic scraper for heavy excavating was another Austin-Western product, the 12-Yard Hydraulic Scraper. This machine was also the first scraper to have its own engine. Using the same logic as the powered pull grader, the onboard engine drove all the machine's functions. The pulling tractor's power was devoted entirely to the tractive effort.
The HCEA is a 501(c)3 nonprofit organization dedicated to preserving the history of the construction, dredging and surface mining equipment industries. With over 3,800 members in twenty-five countries, our activities include publication of a quarterly educational magazine, Equipment Echoes, from which this article is adapted; operation of National Construction Equipment Museum and archives in Bowling Green, Ohio; and hosting an annual working exhibition of restored construction equipment. Our next International Convention and Old Equipment Exhibition will be September 23-25, 2022, at the National Construction Equipment Museum in Bowling Green, Ohio. The HCEA is raising funds for construction of a new purpose-built building to house its equipment collection, and the Convention will feature groundbreaking for it. Individual annual memberships in the HCEA are $35.00 within the USA and Canada, and $55.00 US elsewhere. We seek to develop relationships in the equipment manufacturing industry, and we offer a college scholarship for engineering and construction management students. Information is available at www.hcea.net, or by calling 419-352-5616 or emailing info@hcea.net.