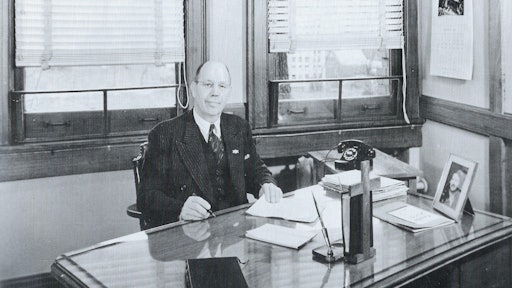 The LeTourneau Archive, by Philip G. Gowenlock
As we continue looking at breakthroughs in construction equipment innovation and how they addressed problems facing contractors and other equipment users, it would be remiss if we did not also look at the individuals who developed those innovations. In the next few issues, we'll see how modern scrapers evolved; no such series of articles is complete without a look at their greatest innovator.
Robert Gilmore LeTourneau was born in Richford, VT, on November 30, 1888. After relocating to Portland, OR, he began working a series of jobs and taking correspondence courses through which he gained experience and knowledge of ironworking, foundry work, machining, vehicle mechanics, welding, applied electricity, and other manual trades. After the failure of an auto garage in Stockton, CA, he was hired to repair a Holt crawler tractor, and the course of earthmoving history changed on that day.
After the repairs were completed, the owner hired him to use it and a primitive scraper to level 40 acres of land. He enjoyed the work, and in January 1920, he bought a used Holt of his own and rented a scraper, and went into business as a land leveler. He soon found that existing scrapers were inefficient, and in May 1921, he bought land in Stockton and launched an engineering shop where he began experimenting with scraper designs while continuing his contracting work. R. G. LeTourneau, Inc. was incorporated in 1929, and both the engineering and earthmoving ventures grew until he retired from contracting in 1933 to focus exclusively on manufacturing.
He developed an alliance with Caterpillar Tractor, and established a factory in Cat's home town of Peoria, IL, to produce attachments, scrapers and wagons for use with Cat crawler tractors. The business boomed despite the depression as demand soared for equipment to fully mechanize earthmoving, and additional factories followed in Toccoa, GA, in 1938; Rydalmere, New South Wales, Australia, in 1941; Vicksburg, MS, in 1942; and what became LeTourneau's world headquarters in Longview, TX, in 1945.
World War II saw explosive growth as LeTourneau equipment saw widespread military use. After developing electric motors powered from a diesel generator as a power supply for his motor scrapers, wheel tractors and other equipment, he sold his entire earthmoving equipment operation to Westinghouse Air Brake Company in 1953, giving rise to the LeTourneau-Westinghouse brand.
He continued developing electric power concepts for other fields, and after non-competitive clauses lapsed in 1957 he re-entered the earthmoving market. The heart of his designs was the Electric Wheel, essentially an oversize tire on a hub containing a motor, and he went on to design and build a plethora of scrapers, wheel loaders and such of utterly unique design, size and power. Along with earthmoving, he also provided machinery for logging, land clearing, material handling, offshore oil drilling, arctic transport, and military applications.
He received his correspondence degree in engineering in 1965, 50 years after taking the course. He stepped down as president of the company in 1966 at age 77, but continued designing new concepts for machinery until he suffered a major stroke in March1969. He passed that June 1 at age 80.
"Mr. R. G.," as he was known, had an unequalled impact on the earthmoving equipment industry. He held nearly 300 patents in equipment design and for the manufacturing processes and machine tools needed to produce the equipment. In addition, he had a great influence through his Christian faith that inspired him to undertake ventures including giving 90% of his salary and company profits to religious work; worldwide speaking engagements, traveling by company plane well before such was commonplace; founding what is now LeTourneau University to provide a faith-based education in engineering, aeronautics and liberal arts; and large-scale agricultural developments in Liberia and Peru.
Not bad for a man who once described himself as "so small-time I couldn't even power a flea circus!"
The Historical Construction Equipment Association (HCEA) is a 501(c)3 non-profit organization dedicated to preserving the history of the construction, dredging and surface mining equipment industries. With over 3,800 members in over a dozen countries, activities include publication of a quarterly educational magazine, Equipment Echoes, from which this article is adapted; operation of National Construction Equipment Museum and archives in Bowling Green, OH; and hosting an annual working exhibition of restored construction equipment. The 2021 show will be August 27-29 in Concordia, KS. Annual individual memberships are $35.00 US within the USA and Canada, and $55.00 US elsewhere. HCEA seeks to develop relationships in the equipment manufacturing industry, and offers a college scholarship for engineering and construction management students. Information is available at www.hcea.net, by calling 419-352-5616 or e-mailing info@hcea.net. Please reference Dept OEM.