Danfoss Power Solutions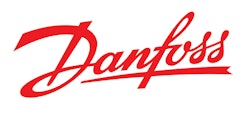 Danfoss Power Solutions, a supplier of mobile and industrial hydraulics as well as electric powertrain systems, launched its Aeroquip by Danfoss EC881 Dynamax hose. This two-wire braided hose offers reliability and extended service life, reducing maintenance time, costs and waste. EC881 hose has a 35% higher pressure rating, 26% higher operating temperature, eight times more abrasion resistance, 67% greater flexibility (⅓ SAE bend radius), and five times more impulse life than standard EN 857 type 2SC hoses.
With its high-pressure capabilities, EC881 hose can replace heavy, rigid four-wire spiral hose in certain applications. Braided hose is more flexible than spiral hose, which may enable OEMs to reroute and reduce hose assembly lengths, contributing to further cost savings. Aeroquip by Danfoss EC881 Dynamax hose is available in -4 through -24 sizes (0.25-inch to 1.5-inch inner diameter). The hose is ideal for a variety of applications, including compact construction equipment, agricultural equipment, forestry equipment, mining, oil and gas, refuse trucks, aerial lifts, and railway.
Request More Information
Fill out the form below to request more information about
Braided Hose for Hydraulic Applications