Petro-Canada Lubricants
For operators of hydraulic systems in any industry, finding efficiencies within their system is crucial. It's no different to any other operation, which naturally seeks to make the most of its assets by ensuring all of its processes are optimized so that productivity can be maximized.
To improve efficiency, in most industries, be that construction, mining or forestry, most operators focus on productivity closely followed by fuel efficiency. Fuel efficiency can directly impact the fleet's bottom line through either a reduction in fuel consumption which results in lower fuel costs, or by using the same amount of fuel to get more work out of the equipment.
In industrial plants where hydraulic pumps are powered by electric motors, energy efficiencies can also be secured by using a high-performance hydraulic fluid which can reduce overall operating costs. Multigrade fluids enable the hydraulic pump to operate in its optimum window of greatest efficiency, thus getting the most work done using the lowest amount of electricity. The performance of a hydraulic fluid, and therefore its operating efficiency, is also significantly affected by the operating temperature it's running at, considering this is crucial when looking for efficiencies within the hydraulic system.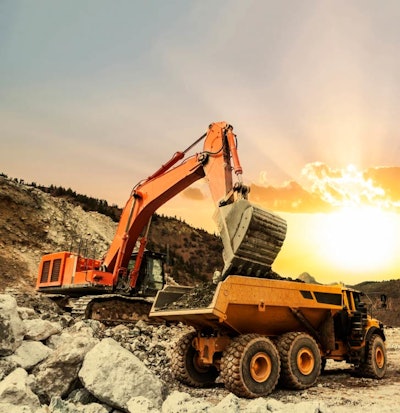 Considering temperature
Operating temperature has a significant effect on the efficiency of hydraulic fluids, for example, low temperatures can cause the oil to thicken and its viscosity to increase to the point where the hydraulic pump cavitates because the oil is not fluid enough to flow.
In hydraulic applications, the fluid is the medium for power transmission which means that operating temperature effects can have additional impacts on the system. High viscosity oils, caused by low temperatures for example, can compromise the mechanical efficiency of a system and lead to unnecessary increased power consumption to perform the same work. Another significant concern at low temperatures is pump cavitation, which is caused by the dynamic process of gas bubble growth and collapse in a fluid. If this happens repeatedly, cavitation can lead to the breakdown of metal parts or components in a hydraulic application.
Conversely, at higher temperatures, oils begin to oxidize more rapidly and the fluid viscosity also decreases rapidly. As the viscosity decreases below the minimum required for the particular hydraulic pump, wear will increase.
High Viscosity Index hydraulic fluids work because they are thin enough at low temperatures to flow readily into hydraulic pumps and motors (volumetric efficiency) and do not require extra energy to pump a thick oil. Conversely, they "thicken" or maintain their viscosity at high temperatures so that there is less leakage in the internal parts of the pump (mechanical efficiency) and provide an optimum viscosity for wear protection. Due to the different effects that extreme high and low temperatures have on hydraulic fluids, most monograde fluids are chosen because they work well in either warm or cold applications, but not both.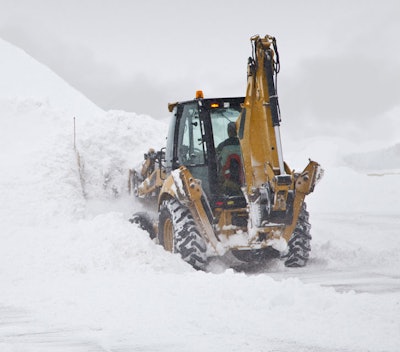 Full temperature offering
In some areas of North America, where the climate significantly changes between seasons and can be extremely cold in the winter months and extremely warm in the summer, operators don't have the luxury of being able to specialize with a high or low temperature fluid. To ensure their systems remain efficient year-round, they think they have to stock multiple types of fluid, which can increase costs and require additional tasks.
Increasingly, fluid manufacturers have been working to develop fluids that enable systems to operate efficiently, even when the equipment is exposed to wide or extreme temperature ranges. At Petro-Canada Lubricants, the HYDREXTM range of multi-viscosity hydraulic fluids have been specially formulated to provide increased productivity and reduced maintenance costs in a wider operating temperature range. In fact, the best multigrade hydraulic fluids that are formulated with shear stable viscosity index (VI) improvers and high VI base oils can offer a wider operating temperature window which enables operators to stock just one fluid.
In a recent study which looked at the low temperature operating limits and power consumption requirements of hydraulic fluids, Petro-Canada Lubricants, alongside the Milwaukee School of Engineering and the University of California found that multigrade hydraulic fluids outperform monogrades. HYDREX offered a wider operating temperature window, improved system responsiveness and significantly reduced power consumption of up to 41% at low temperatures. The study found that not only can high-performance multigrade hydraulic fluids reduce the need for seasonal oil changes, but they also provide significant efficiencies for operators.
In hydraulic applications, increasing energy efficiency is crucial and can lead to significant cost savings. For many operators, operating temperature poses a significant problem and means their system and maintenance processes are inefficient. To solve this problem, multigrade hydraulic fluids can be a full temperature range solution, optimizing the system and reducing the need for unnecessary oil changes. As the study found, at low temperatures, where system responsiveness is paramount, multigrades deliver improved operating efficiency, less need for system warm-up and lower power consumption, enabling operators to find the efficiencies to optimize their operation and maximize their investments.
This article was contributed by Neil Buchanan, Senior Technical Services Advisor, Petro-Canada Lubricants.
Companies in this article