Each year, the National Fluid Power Association (NFPA) acknowledges fluid power industry companies that have reached a significant membership milestone. This year is no different in the fact that the recognized companies value the benefits they receive as NFPA members and see the importance of long-term support.
Founded in 1953, NFPA is the only trade association focused exclusively on fluid power technology with members representing the entire fluid power supply chain. Beginning with 35 fluid power companies, NFPA has grown to over 330 member companies with an ever-growing impact towards ensuring fluid power is the customer's technology of choice. Many of the current member companies have been in the association for decades.
This year's milestone companies were announced at the recent NFPA 2018 Annual Conference, and two companies had representatives in attendance to accept a plaque commemorating their membership. The other presentations will be made at a future NFPA event or at the company's headquarters.
Please join us in saluting the following companies:
Cross Manufacturing Company | Joined NFPA in 1968– 50 year Membership Award
Aladco, LLC | Joined NFPA in 1993—25 year Membership Award
Camozzi Pneumatics, Inc. | Joined NFPA in 1993—25 year Membership Award
IMI Precision Engineering | Joined NFPA in 1993—25 year Membership Award
MTS Systems Corporation—Sensors Division | Joined NFPA in 1993—25 year Membership Award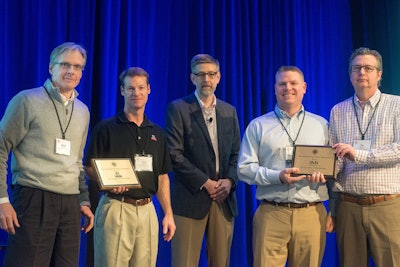 Companies in this article