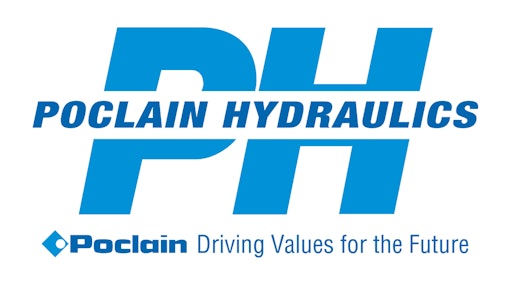 Poclain Hydraulics is unveiling its new logo, the sixth generation in a lineage of logos that have left their mark on whole generations. In numerology, the number 6 is the symbol of perfection in reference to the creation of the world in six days. Poclain Hydraulics was not built in six days but can in many respects fly the colors of French entrepreneurship.
From Poclain and its eponymous excavators to Poclain Hydraulics, one of the world leaders in hydrostatic transmissions, eight decades of an extraordinary industrial saga that have left their mark on the global industrial landscape.
Now represented in over 20 countries with eight production sites spread across the American continent and Asia, the Poclain Hydraulics Group has over 1,800 employees worldwide. This new logo now features the signature of the "POCLAIN" brand which founded Poclain Hydraulics, its then hydraulic division, in 1976.
After three decades of strong growth and in a world with an often short memory, the Poclain Hydraulics Group recalls in this POCLAIN brand signature that it has not forgotten where it comes from and strongly reaffirms the deep roots of its values that have always governed the company:
Independence, because this company is and shall remain a family business resolutely committed to the future, caring about operational performance and managed with ambition and moderation.
Innovation, because it is the essence of Poclain Hydraulics, through its commitment to being the world specialist in hydrostatic transmission by offering its customers unique solutions with high added value.
International, because our history is also that of an international and global culture acquired from the company's launch when Poclain was founded in 1930.
And finally, the workforce, because the company has always been conscious of the importance for all of its employees to be able to develop their full potential by sharing their skills and endeavours to be a benchmark employer.
As the saying goes, "Real men of progress are those whose starting point is a deep respect of the past."
This new logo seals these cultural and philosophical roots deep in its DNA.