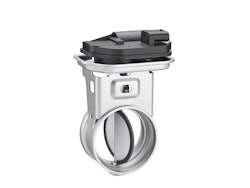 Eberspaecher
Purem by Eberspaecher aims to achieve clean and quiet mobility. In addressing the transformation of the automotive industry, the company is developing solutions for alternative drive technologies. With the Gas Control Valve (GCV), the exhaust specialist is now launching the first product for fuel cell systems.
Whether on the road or rail, in the air, or as part of stationary applications, hydrogen-based fuel cell systems are used in various ways. In addition to the fuel cell stack itself, a whole system such as this consists of further components – the so-called "Balance of Plant" components. Purem by Eberspaecher is expanding its product portfolio in this regard: Based on the exhaust specialist's many years of expertise, the in-house developments of the Balance of Plant components ensure the whole system's operation and optimize it with respect to output and service life time. The Gas Control Valve (GCV) is the first product for fuel cell applications from Purem by Eberspaecher. The component is designed for use in all segments – take fuel cell-powered passenger cars, commercial vehicles, trains, mobile power generators, or off-highway vehicles, for example. Purem by Eberspaecher is thus expanding its target segments and working closely with its customers to support application development.
Optimization of the whole systemHydrogen-based fuel cell systems need to deliver high efficiency and durability in all applications. The compactly designed Gas Control Valve developed by Purem by Eberspaecher is used to regulate mass flows within the system. In this way, it ensures the fuel cell is operated in a safe and efficient manner. The component offers several functional variants: As a bypass valve, it partially or completely directs the airflow past system components and guides fresh air from the intake to the exhaust. As an air regulator valve, it regulates the total pressure within the system. Continuously adjustable valve positions contribute to the versatile nature of the Gas Control Valve. The two-piece cover opens quickly and has a high flow cross-section of up to 65 millimeters, ensuring low-pressure losses at a high mass flow rate. If required, even larger cross-sections can be implemented. This allows fuel cell systems to be operated efficiently and safely.
An experience-based advantage in exhaust technologyWhen it comes to valve technology, Purem by Eberspaecher draws on its expertise in exhaust technology that enables passenger car and commercial vehicle manufacturers to comply with stringent emissions and acoustics legislation. For the development of the Gas Control Valve, the AVG2 acoustic valve served as the basis. With respect to the series production of passenger cars, it facilitates compliance with the upcoming third phase of acoustics legislation enforced in Europe. In addition to the available expertise, existing production capacities are used to manufacture the Gas Control Valve: The new component is manufactured with minor adaptations in the same plant as the AVG2 acoustic valve, thus supporting the transformation.