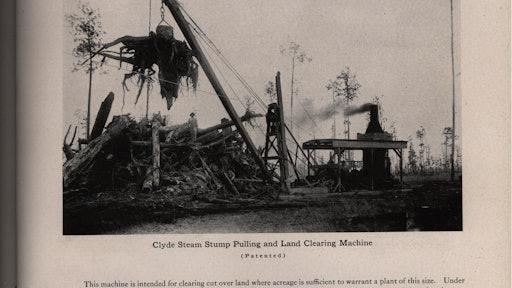 In the April 2016 issue, we looked at one of the machines by which log loading was mechanized in the early 1900s (learn more, 12187386). A leading builder of early log loaders, Clyde Iron Works also offered a mechanized solution to a related problem – efficient and economical clearing of large land parcels.
The Clyde Steam Stump Pulling and Land Clearing Machine sat on skids and was essentially a modified stiff-leg derrick with a boom that swung left and right 90 degrees. It had a two-speed pulling drum carrying cable from 1-3/8 to 1-7/8 in. (3.49-4.76 cm), depending on the model of the machine, and operated at a speed of 25-45 ft./min. (7.62-13.72 m/min.) while pulling a stump out of the ground. When the stump had been loosened, the pulling drum was shifted into the higher speed without stopping the engine, and the stump was skidded to the machine at 200 ft./min. (60.96 m/min.). On arrival, it was hoisted and swung onto a burn pile, while an out-haul cable carried the pulling line back for another pull.
This machine could clear 3-5 acres from one setting, and when that work was done, the pulling line was hitched to one or more sturdy stumps in the desired direction of travel and hauled in to pull the machine forward. Given a project large enough to warrant use of a machine this size, it was the most cost-effective per acre means of doing this work. Machines like the Clyde Stump Puller were rendered obsolete by the advent of crawler tractors equipped with dozers, rakes and other attachments for land clearing.
The Historical Construction Equipment Assn. (HCEA) is a 501(c)3 non-profit organization dedicated to preserving the history of the construction, dredging and surface mining equipment industries. With over 4,000 members in 25 countries, its activities include publication of a quarterly educational magazine, Equipment Echoes; operation of National Construction Equipment Museum and archives in Bowling Green, OH; and hosting an annual working exhibition of restored construction equipment. The 2016 show is September 16-18 at the museum. Individual memberships are $35.00 within the USA and Canada, and $45.00 US elsewhere. HCEA seeks to develop relationships in the equipment manufacturing industry, and offers a college scholarship for engineering and construction management students. Information is available at www.hcea.net, by calling 419-352-5616 or e-mailing info@hcea.net.