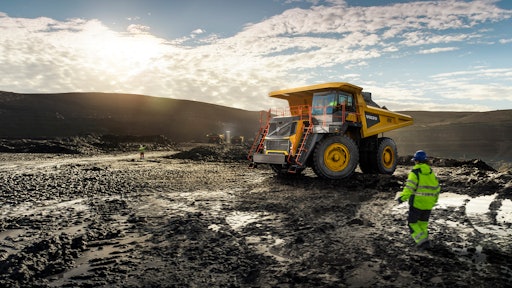 Volvo Construction Equipment
For its CONEXPO-CON/AGG 2020 booth, Volvo Construction Equipment (Volvo CE) will present its equipment under the theme, and company tagline, of Building Tomorrow. Dave Foster, Vice President of Marketing & Corp. Communications, North America at Volvo CE, said during the company's pre-show press conference this theme will be shown in three ways—through its products, services and innovations.
Its innovations in particular will demonstrate not only currently available technologies but also concepts of what could be possible in the construction market in the future.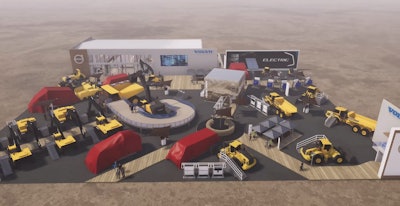 Foster said one of the biggest changes for the company at this year's CONEXPO is the fact its booth is completely outdoors in the new Festival Lot. "Bigger equipment requires a bigger space," he said, explaining the move to an all outdoor exhibit space. The 60,000 sq. ft. (5,574.9 sq. m) booth will feature Volvo CE, Volvo Trucks and Volvo Penta, as well as sister brands SDLG and Terex Trucks.
Read more: Volvo CE completes acquisition of Terex hauler business
Volvo will feature over 30 pieces of equipment in its booth, including 10 different excavator models, three vocational Class 8 trucks—with new vehicle debuts anticipated during the show—and five Volvo Penta engines, including an electric drivetrain and engine. The company also plans to debut a 10 ft. (3.0 m) highway class paver and a highway class double drum roller.
In the middle of its booth, Volvo will highlight the largest equipment yet to be offered in the North American market. This includes a 100 ton truck and 90 ton excavator. A 10 ft. wide ramp will provide a safe, efficient way for attendees to get into cab of the machines.
The 100 ton truck is a Tier 2 compliant machine that will go into the Latin American market. Volvo plans to have a Tier 4 version at MINExpo 2020 and available for customers in the fourth quarter of the year.


New construction equipment debuts
Volvo introduced four of the major products it will exhibit at CONEXPO. It plans to announce additional equipment launches either closer to or at the show.
950F excavator
At the show Volvo will debut its new 950F excavator, a 95 metric ton (199-207,000 lb.) excavator and the largest the company will have. It is powered by D16 Volvo Tier 4 Final engine offering a power output of 603 hp (450 kW).
"More than half of the units sold in construction equipment are excavators," said Ray Gallant, Vice President of Sales Support, North America at Volvo CE. "That's the reason that we're focusing on excavators as well and all the things they can do for the construction equipment industry."
Gallant said there are numerous configurations available with the 950F. "We basically have two boom and arm options," he said. There is a GP boom and arm which is a long, extended boom and arm—enabling a reach of up to 46 ft. (14,020 mm) and 180 degrees around the machine. There is also a mass excavating arm which is a short boom and short arm. The short boom and arm option provides a breakout force of up to 76,660 lbf./350 kn.
"The difference is…if you need a lot of reach or a lot of depth, use the long boom [and] long arm. But the trade off is you have less capacity in your bucket so you run a smaller bucket you have less power at the bucket end," Gallant explained. "If you need a lot of power, a lot of productivity, you go with a shorter arm and shorter boom, and use all of the power of the machine to fill a very large bucket and quickly fill trucks."
One of the more popular configurations he said is a hybrid of the two consisting of a short boom and a long arm which offers advantages of both options.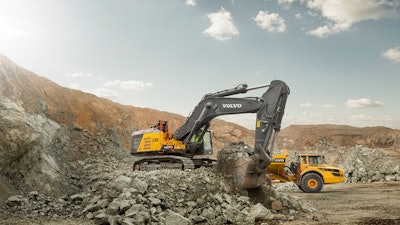 The machine is capable of achieving a high breakout force with the short boom and short arm option because of its more stable base. Compared to the competition, the 950F has a wider and longer track base, as well as heavier counterweight. "That gives us the ability to run a larger bucket out further away from the machine and still have a very stable base to work from, or if you're working close to the machine to run a bigger bucket and take advantage of that full breakout force," said Gallant.
The excavator can have a bucket size of 9.16 yd.3/7.0 m3. If using the short arm and short boom option, the bucket can get up to almost 10 yd.3 (7.6 m3). Most excavators on the road are a 20 ton machine with 2 yd.3 (1.5 m3) bucket, so the 950F has a very impressive bucket size, said Gallant.
Volvo designed the excavator to be paired with its articulated trucks, especially the A60. Gallant said it was designed to load an A60H as efficiently as possible. "We can load an A60H in four passes." This equates to a 20-25 second cycle time, and the ability to load a haul truck in about 1.5 minutes.
Operating settings allow users to coordinate and prioritize how they want cycle times to work. The machine can be set so it lifts quickly but swings slowly, and vice versa. Unlike other Volvo excavators, the 950F does not include a boost setting but there are three operational modes which can be set to determine how users want the machine to work. "We have a power mode, which gives them full power at all times in the hydraulic system. We have an H mode which is just a general working mode," said Gallant.
There is also an H Eco mode, which is a very fuel efficient mode in which operators can work. It gives them the ability to work in an efficient manner when in lighter conditions or when not in a hurry to get maximum productivity. It's good for the machine and fuel consumption.
R100E Rigid Hauler
The new-to-North America Volvo R100E Rigid Hauler features a 95-ton (95,000-kg) payload with 79 yd.3 capacity. "It's a big truck for large production jobs," said Gallant.
It features a Cummins 30 L Tier 4 Final/Stage 5 engine with 1,075 hp (783 kW), though the hauler model being shown at CONEXPO has a Tier 2 compliant engine for use in Latin America.
A double V-shaped body gets the material and the weight of material as low in the truck and close to the center as possible. This provides more stability on steep slopes and rough roads while also ensuring material stays in the truck. It also helps to assure operator comfort.
Use of Macpherson struts and full suspensions provide a good ride and stability left to right so that as the haul truck goes around turns or travels on rough roads, operators remain comfortable and capable of keeping control of the machine.
A retarding system prevents over speeding while traveling down a hill. There is also engine speed control so there is no over speeding of the engine either. The R100E has a maximum travel speed of 31 mph (50 kmh).
The hauler includes Volvo Smart View which provides a 360 degree, birds-eye view of the truck and its surroundings in real time. Its screen is located in front of the operator so he or she does not have to look in their mirrors or try to see behind the vehicle. Instead, operators can focus on the road ahead and the task at hand which improves safety and comfort. Gallant said these types of systems are starting to become standard in the construction equipment industry much like they are in the automotive and trucking industries.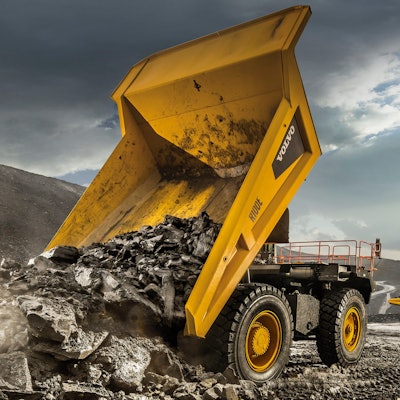 EC300E Hybrid Excavator
Gallant said Volvo's EC300E Hybrid is not a new model but a new feature it is bringing to market. First introduced at bauma 2019, the technology uses a 100% Volvo-engineered system which collects and reuses energy from the excavator boom. At CONEXPO it will be shown on an EC300 30-ton excavator.
Energy generated by the boom down motion is captured hydraulically and used to assist the boom up motion, which is where you need most of the pressure and power, said Gallant. Competitive machines typically use the swing motion to capture and reuse energy whereas Volvo is using the up and down movement.
Also unlike other hybrid excavators, the EC300E does not generate electricity or store any energy in batteries. "This is a very simple system that uses the hydraulic accumulator to give the upswing or the uplift more pressure, without having to rely on the pumps to do it all themselves," said Gallant.
The system consists of a hydraulic accumulator mounted just behind the boom. As the boom goes down, the high-pressure oil being used to retard the boom dropping goes into the accumulator instead of being routed to an oil tank and charges the accumulator with a high-pressure charge. The high pressure is then routed through an assist motor and put back into the cylinders on the upswing. "So it's all controlled automatically, the operator doesn't have to do anything," explained Gallant. Operators just feel the system working because the engine isn't lugging when lifting the boom as would be the case in a traditional machine.
Maintenance of the system is simple, as well. There is a symbol on the dashboard in the operator cab which shows when the accumulator is charging and discharging. "It's a very simple, robust system," he said.
Inclusion of the hydraulic hybrid system provides about a 15% fuel savings in normal operating conditions, which can go up more if used in countries with higher fuel costs. It also helps reduce CO2 emissions by 12% because it is enabling more efficient fuel burn.
Volvo intends to bring the hybrid system to other excavator model lines in the future.
P5110B/5170B Pavers
Volvo will also introduce its 5000B 8 ft. (2.4 m) series pavers at CONEXPO. The new pavers will give the company a broad range of highway class pavers.
Included on the paver is a Volvo D6 Tier 4 Final, 173 hp (129 kW) engine. The engine comes on 6 cylinders instead of four, which is unique in the market. The engine is also used on various other pieces of Volvo construction equipment, providing improved parts commonality and better usage the company said. It features full-time adaptive power engine control, so there is no need to switch to different power modes.
Whenever the engine is idling and heating up the paver's screed, it operates at a low 1,200 rpm. During paving operations, the engine is at 1,500 rpm. The lower engine rpms equate to low noise levels and thus reduced operator fatigue. Average noise level when paving is 79.2 dBa. An optional auto shutdown feature anti-idling helps prevent machine-hour buildup and excessive fuel consumption.
The paver comes standard with two-wheel drive, and is available with the option of four-wheel drive and six-wheel drive front wheel assist to improve automatic torque engagement. Bogeys on the machine are independently suspended, and pivot steer as well as positrack system are included.
At the front of the machine is a thick 1 in. (2.5 cm) rolled steel hopper wing whose large radius promotes material flow into the conveyor, aiding cleanup time at the end of the day. Its massive size also adds weight to the machine and eliminates the need for a counterweight at the front of the paver.
The conveyor and auger system are controlled by four independent sonic sensors to provide ideal material flow by independently controlling each conveyor and auger left to right.
A new UltiMat160 screed is a double wide screed; it is an 8-16 ft. (2.4-4.9 m) extendable screed which does not require any bolt-on extensions. It features a rapid heat-up cycle, as well as deep and wide walkways which are foldable for transport.
Two independent operator stations are included on the paver with seats that slide out and rotate. The operator control console tilts down and rotates, as well to maximize comfort and visibility to the hopper, screed and work space. The control panel is laid out in a logical and intuitive manner to ease training of machine operation.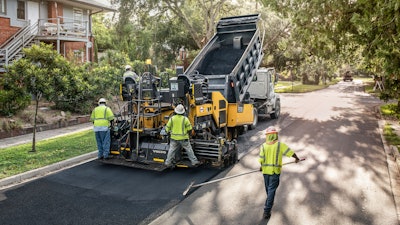 Innovation on display
In addition to equipment, Volvo will exhibit several services and advanced technologies at CONEXPO. It will introduce its Haul Assist Map feature to the North American market which enables operators to monitor hauler traffic on a job site and adjust their driving according to traffic conditions.
Also featured at the show will be its Co-Pilot technology which offers real-time machine intelligence and works with various Volvo Assist applications. Various machines displayed or introduced at the show will include these technologies. The 950F excavator, for instance, has Dig Assist as an option. This feature provides visibility of where the bucket is, indication of swing parameters and eventually will have a machine control system built into it.
An electromobility area will be included at Volvo's booth as well. It will feature a Building Tomorrow theater where attendees can learn about the company's history and evolution over the years, as well as watch a 3-minute video that discusses its electromobility innovations.
Upon exiting the theater will be two new concept machines that Volvo intends to unveil at show to demonstrate the company's thoughts and ideas of what could come to the construction equipment market. There will also be a demo area where attendees can operate Volvo's currently available electric equipment.
Maintenance will also be a key technology focus for Volvo. On many of its new machines the company has made an effort to have ground level access to maintenance points as much as possible. It also intends to introduce a new method for servicing machines which makes pulling fluids more efficient as well as environmentally friendly. This feature will be shown on three machines at the booth.
Overall, the company's new technologies and equipment at CONEXPO aim to improve operational efficiency and productivity for customers.
Companies in this article