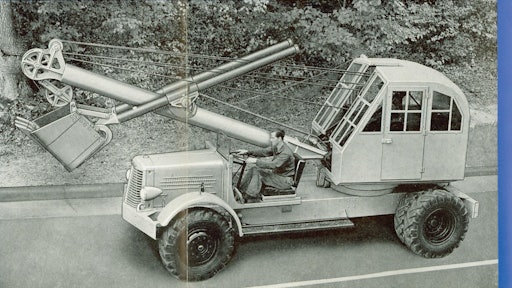 The world's first truck-mounted crane, developed in late 1918 by principals of the Thew Shovel Company, was designed as a standard crane for mounting on any truck within specifications that the customer provided. The practice of mounting cranes on standard commercial trucks continues to this day, but had two inherent limitations in its early years.
One limitation was that the size of the carrier necessarily limited the size of the crane. A crane could not be made so large, or lift so great a load, that the carrier could not bear the weight. The other was the logistical and design difficulties that inevitably arose when machines of two different makes and intended purposes were mated together; a single truck-mounted crane machine incorporated major components and support from two unrelated companies. In the case of the Universal truck crane, the truck was being used to do something it wasn't designed to do.
The Michigan Power Shovel Company was the first company to successfully address this problem by manufacturing its own carrier. The Michigan carrier's frame was constructed of high-tensile Man-ten steel, which was also used for the doors of large shovel dippers, and was designed specifically to eliminate the excessive strains of crane service that could warp the frame of a commercial truck. Combining strength and lightness, it enabled the crane to lift six tons and handle a 3/8 yard shovel.
In 1940, Thew and Bay City Shovels Inc. also introduced carriers of their own design. Both were larger and more robust than the Michigan design, and supported cranes of 15 to 25 tons capacity. Thew boasted that its carriers underwent 75-mile road tests; that was the distance from the Ohio Locomotive Crane Company plant in Bucyrus, OH, where they were built to Thew's factory in Lorain, OH.
From that time on, carriers built specifically for crane service were the standard for mid-sized and larger truck cranes and enabled the development of the massive truck cranes in use today. The carriers are still often built by a separate company such as Crane Carrier Company, F.W.D. or Hendrickson, but without the disadvantages of the commercial truck carriers.
The Historical Construction Equipment Assn. (HCEA) is a 501(c)3 non-profit organization dedicated to preserving the history of the construction, dredging and surface mining equipment industries. With over 4,000 members in 25 countries, our activities include publication of a quarterly educational magazine, Equipment Echoes, from which this article is adapted; operation of National Construction Equipment Museum and archives in Bowling Green, OH; and hosting an annual working exhibition of restored construction equipment. Individual memberships are $32.00 within the USA and Canada, and $40.00 US elsewhere. We seek to develop relationships in the equipment manufacturing industry, and we offer a college scholarship for engineering students. Information is available at www.hcea.net, by calling 419-352-5616 or e-mailing info@hcea.net.