Dmitry Vereshchagin, adobestock.com
The Power System Research Truck Production Index (PSR-TPI) measures truck production globally and across six regions: North America, China, Europe, South America, Japan and Korea, and emerging markets. Data comes from OE Link, the proprietary database maintained by PSR. The PSR-TPI increased from 104 to 116, or 11.5%, during the three-month period, which ended June 30, 2022, from Q1 2022. The year-over-year (Q2 2021 to the Q2 2022) loss for the PSR-TPI was, 130 to 116, or -10.8%.
Global Index
Global medium and heavy vehicle production is expected to decline by 10% this year primarily because of a drop in demand in China and Eastern Europe. However, a slowing global economy will also place pressure on demand moving forward.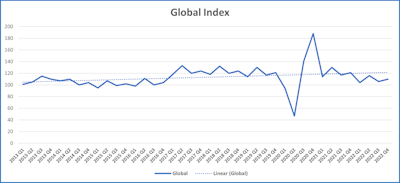 All Regions
Medium and heavy commercial vehicle production will be mixed this year because of several issues. In China, truck and bus overcapacity will hinder demand. The Russia-Ukraine war will significantly impact demand and production in Eastern Europe. Global supply chains will remain problematic through at least the end of 2022 for all regions. Concerns linger about major slowdowns in Europe and North America as a direct result of higher fuel prices and inflation, which does not appear to be going away anytime soon.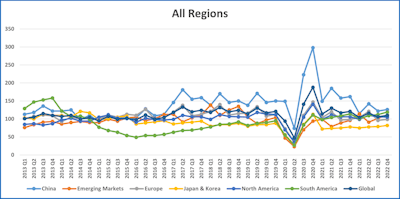 North America
Medium- and heavy-duty commercial vehicle production is expected to increase by 4.7% this year over 2021 as OEMs continue to struggle with the supply chain disruptions. They are expected to continue through at least the end of 2022. However, the threat of an economic slowdown is increasing, primarily due to significantly higher fuel prices, increasing interest rates and overall inflation. Even with an impending economic slowdown, freight should remain strong through at least the first quarter of 2023 as fleets continue to reduce supply chain backlogs.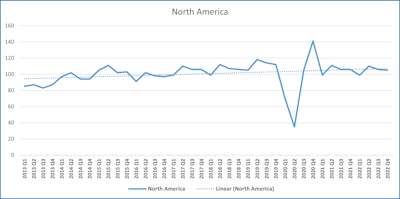 Europe
European medium and heavy commercial vehicle production volumes will be mixed this year with higher demand in Western Europe and much lower demand in Eastern Europe. Production in Eastern Europe is expected to decline in many countries primarily because of the Russian invasion of Ukraine. Russian OEMs have continued to produce vehicles during the first half of the year but are hampered with lower demand and low/inconsistent production rates caused by significant supply chain constraints. Eastern European countries such as Kazakhstan, Lithuania and Uzbekistan will also see a production decline this year. This is due, in part, to reduced truck kit assemblies coming from Russia. Ukrainian truck production has ceased through at least the remainder of 2022.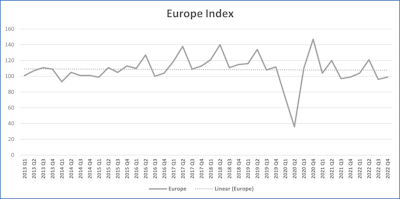 South Asia
After a strong recovery in medium- and heavy-duty truck demand, Production in India is expected to increase by 22% this year over 2021. Solid growth is also expected next year before declining in 2024, partially because 2024 is an election year. In India, the focus is moving toward more infrastructure spending which is good for the vocational market. However, increasing the use of rail freight, worker shortages and increasing commodity prices likely will place pressure on truck demand during the next few years. All other South Asian countries are expected to experience slight to moderate demand growth this year.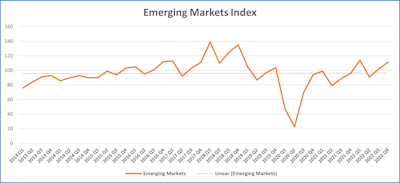 South America
After exceedingly elevated levels of medium and heavy commercial vehicle production in Brazil last year, overall production in South America is expected to increase by 3.2% this year. Production levels throughout the year will be pressured because of:
The increased truck capacity from last year's high production
The risk of higher interest rates in the second half of 2022
Some impact in agriculture because of a lack of fertilizers
Emission regulations Proconve 8 or P8, equivalent to Euro VI, will be required by January 2023. The legislation considers medium and heavy to be all commercial vehicles above 3.8 tons. The additional vehicle cost of the P8 emission technology will have a negative impact on demand next year.
Japan and Korea
Medium and heavy commercial vehicle production in Japan and South Korea is expected to increase by 3.6% this year over 2021. Concerns surrounding a slowing global economy along with continued supply chain disruptions will impact vehicle demand throughout the remainder of this year and into 2023. Japan and South Korea have a sizable portion of the global vehicle export market most notably in the Southeast Asian Nations region.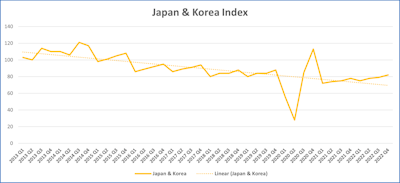 Greater China
Medium and heavy commercial vehicle production is expected to decline by 30% this year, driven by a slowing economy and the effects of COVID-related lockdowns. The slowdown continues to impact global supply chains. China is also carrying a significant amount of debt and home sales, which account for approximately 30% of its gross domestic product (GDP), are declining sharply. Home sales declined 34.5% in the first five months of 2022 compared with the same period last year. Many property developers are defaulting due to large, unsustainable debts. China's banking system is also under pressure and is showing signs of a contracting economy.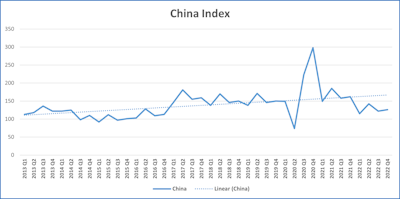 The next update of the PSR TPI will be in October 2022 and will reflect changes in the TPI during third quarter 2022.
Chris Fisher is the senior commercial vehicle analyst at Power Systems Research
Jim Downey is vice president - global data products at Power Systems Research