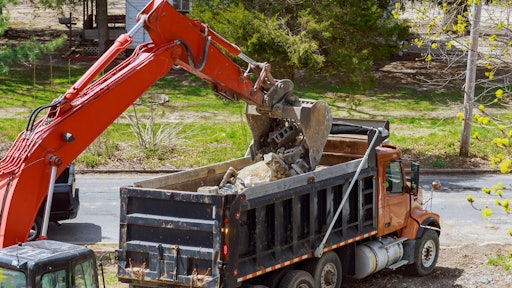 ungvar, Adobe Stock
The Power Systems Research Truck Production Index (PSR-TPI) decreased from 108 to 106, or -1.9%, for the three-month period ended March 31, 2023, compared to Q4 2022. The year-over-year (Q1 2022 to Q1 2023) gain for the PSR-TPI was, 103 to 106, or 2.9%.
The PSR-TPI measures truck production globally and across six regions: North America, China, Europe, South America, Japan and Korea, and emerging markets.
This data comes from OE Link, the proprietary database maintained by PSR.
Global Index
After a decline in medium- and heavy-commercial vehicle (MHCV) production in 2022 primarily driven by a significant decline in China, MHCV production in 2023 is expected to increase by 1.8% when compared to last year. While the global supply chains have seen significant improvement, lingering problems still exist. The main threat to commercial vehicle production this year is a slowing global economy as inventory levels are reduced and cargo demand slows.
All Regions
MHCV truck production in Europe and North America will continue to be strong through much of the year primarily because of on-going replacement demand for heavy trucks. In Brazil, truck demand is expected to decline this year. This decline will mainly be caused by the implementation of the Proconve 8 (P8) emission regulations that were implemented last year which resulted in a vehicle pre-buy. In China, demand appears to have stabilized after very low levels of demand in 2022.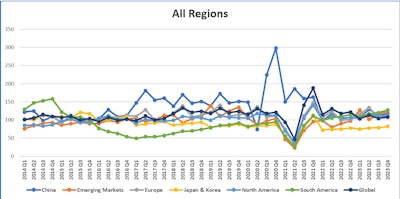 North America
MHCV vehicle production is expected to decline by 1% this year when compared to 2022 mainly because of a forecasted slowdown in cargo demand along with a rebalancing of truck capacity in the market. A significant slowdown in ocean-bound cargo freight started in Q4 2022 and is expected to continue throughout the year. In the Class 8, heavy-truck segment, pent up truck demand is expected to drive strong levels of production through much of the year. At this point, the commercial truck market has not experienced any negative effects from the SVP bank collapse, but if the Federal Reserve increases interest rates too much to combat inflation, the banking fallout may continue.
Europe
After relatively strong commercial vehicle demand in Europe last year, MHCV production is expected to increase by 6.7% over 2022 production rates. While the supply chain has shown improvement, high levels of inflation, interest rates and other negative economic conditions are expected to put pressure on truck demand later this year and into early to mid2024. Like North America, pent up heavy truck demand will fuel production levels through much of this year.
South Asia
After a high level of replacement commercial truck demand in 2022, truck production is expected to slow this year and achieve a 1.4% increase in 2023. The lower growth is primarily because of a rebalanced truck capacity along with a forecasted slowdown in freight demand. Truck production in India is expected to increase only by 2% this year, and it will decline by 12% in 2024. Production in Indonesia is expected to decline by 2.8% this year compared to 2022. In Malaysia, pent up truck demand resulted in high production rates in 2022, which are expected to continue into the first quarter of 2023 before declining through the remainder of the year.
South America
With the implementation of emission regulation P8, equivalent to Euro VI in Brazil last year, truck production is expected to decline by 22.7% in 2023. The legislation considers MHCV to be all commercial vehicles above 3.8 tons. The additional vehicle cost of the P8 emission technology will likely have a negative impact on Brazilian truck demand this year. This
regulation increases the total cost of ownership with a higher up-front truck price and results in little to no improvement in fuel economy. Higher interest rates will also place pressure on truck demand this year.
Japan & Korea
MHCV production in Japan and South Korea increased by 4% this year over 2022. Commercial vehicle production is expected to increase by 3.5% in Japan and 8.1% in South Korea. The supply chain has shown relatively good improvement, which led to stronger-than-expected production levels last year especially in South Korea.
China
Demand for MHCVs declined sharply in 2022 primarily due to a slowing economy and the effects from COVID-19 related lockdowns. Also impacting demand was the implementation of the vehicle scrappage scheme in 2020 and 2021 along with a truck pre-buy ahead of the China VI emission regulations implemented in July 2021, which resulted in a relatively young truck fleet in China. It appears that commercial vehicle demand has stabilized, and MHCV production is expected to improve by 7.9% this year over 2022.
The next update of the PSR-TPI will be in July 2023 and will reflect changes in the TPI during Q2 2023.
Chris Fisher is the senior commercial vehicle analyst for Power Systems Research.
Jim Downey is vice president, global data products, for Power Systems Research.