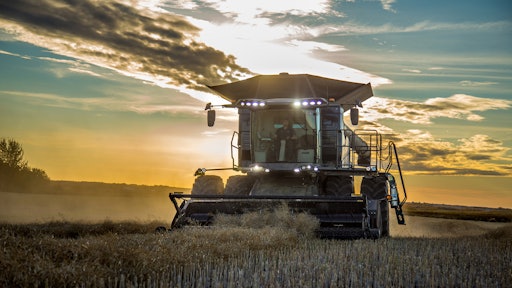 AGCO Corp.
For several months now, the agricultural machinery industry has been showing signs of slowing growth in the U.S. and Europe, with China seeing a sharp decline in production. ITR Economics suggests that downward pressure is mounting for U.S. agriculture machinery production, as it contracted slightly in the second quarter of 2018. Similarly, Europe's agriculture machinery production rate-of-change is expected to decline for at least the remainder of 2018.
But, these contractions are a short-term perspective of the overall global agricultural equipment market. Taking into consideration the highly advanced nature of agricultural equipment technology, and its rapid adoption by end-users to stay competitive and get the greatest yield, the long-view of smart agriculture is poised for strong growth.
To stay on top of off-highway market trends, check out our Equipment Market Outlook section in every issue and subscribe to the monthly Equipment Market Outlook newsletter at www.oemoffhighway.com/subscribe.
Predicting the unpredictable
The greatest impacts on the agricultural equipment industry are the always-unpredictable weather factor and more recently trade. Regarding the ongoing trade war, according to Eli Lustgarten of ESL Consultants, if trade issues subside, 2019 could see mid to high single digit growth for farm equipment. However, if the trade war worsens or lingers, demand could fall to -5%, a significant difference in industry performance.
Earlier in the year, Curt Blades, Senior Vice President of Ag Services at the Association of Equipment Manufacturers (AEM), was cautiously optimistic for continued growth in the U.S. ag market, "tempered by uncertainty in the farm economy" (learn more, 21000353). "We are still contending with diplomatic jockeying over steel tariffs and China trade that is causing concern for the agriculture and manufacturing communities. Headwinds also include potential negative changes to the Renewable Fuels Standard. And, overall, we're looking at the USDA forecast of a decline in 2018 net farm profits.
"Many farmers will still need to replace equipment at some point for longer term efficiencies, and we are still hopeful that tax reform could provide a positive stimulus," he said. Download the full AEM U.S. Ag Tractor and Combine Report at www.oemoffhighway.com/20848918.
Weather is always a factor for the agricultural industry, but its growing severity is an important consideration. Rapid changes in climate bring about more occurrences of drought, floods and heavy rainfall, and severe temperatures that stress agricultural output and perpetuate the need for more sophisticated agricultural equipment around the world to improve crop yield amidst these conditions.
Increasing urbanization and deforestation are also adding to the need for smart technology solutions to help mitigate any negative impacts on agricultural output while meeting the growing global food demand. Paradoxically, while there is a need for advanced technology to help offset diminishing crop yields, it also simultaneously reduces the possibility for a farmer to invest in the purchase of higher cost new equipment.
Time to buy
The industry research firm Research and Markets notes that the rapid emergence of farm machinery rental opportunities for farmers that cannot afford to purchase high-cost, high-tech equipment will help to boost demand for innovative machinery globally. At the same time, the rental framework also allows farmers in emerging markets to establish and increase farm mechanization practices to participate more extensively in the global marketplace.
Until recently, farmers had been holding off on purchasing new equipment after the industry's slowdown, but there is only so long they can wait. Starting in 2017, the inventory levels for farm equipment had reduced for new and used equipment, stabilizing sales numbers and enabling farm equipment manufacturers to produce closer to retail levels. In the past year, new equipment inventories at dealers have seen an 18% year-over-year improvement (reduction), while used equipment has seen a 16% improvement, Lustgarten says.
Lustgarten predicts a modest rebound in global farm equipment demand for 2018; the North American tractor and combine markets could see growth around 10% from current low levels, but in the near-term will be limited by the past several years of leasing efforts. Smaller tractor sales will only see low single digit growth, as will the rest of the world, predicted to be up to 5% across the board.
Million Insights reports the global agriculture equipment market should reach $243.4 billion by 2025 at an estimated compound annual growth rate (CAGR) of over 7% (read more, 21018059). The increasing rate of global population growth is spurring rising demand in developing countries like India and China with an already high population base. In India, the country's National Agricultural Development Program (NADP) offers subsidies ranging from 30-50% on ag equipment purchases, bolstering unit sales expectations.
Thailand, as an example, is anticipating an uptick in the amount of machinery needed to continue to meet demand due to potential labor shortages and a growing need for mechanized farming solutions. Thailand's Ministry of Agriculture and Cooperatives said at a press conference its expected demographic shifts would require more efficient and streamlined production methods to keep Thai farmers profitable, (learn more, 21012520).
The Ministry noted that a significant increase in mechanized farming practices would be required to enhance labor capacity and increase efficiency, and secure continued production of agricultural products and food in the country. "The Ministry of Agriculture and Cooperatives in Thailand is keen to support the adoption of mechanized farming in the country because it will not only help solve the labor shortage by making the workers that remain much more productive, it will also ensure greater stability in the quantity and quality of production, leading to better and more stable incomes for farmers."
Current global tractor sales numbers released from Agrievolution corroborate the anticipated growth trajectory with 2017 showing a 13% gain over 2016 numbers at 2.1 million new tractors around the world (read more, 21012182). India and China combined took in more than one million units.
One surprise result seen in the 2017 numbers from Agrievolution's data was Europe's substantial gain of 13% over 2016 numbers. The President of FederUnacoma (Federazione Nazionale Construttori Macchine Per L'Agricolura; the Italian Manufacturers of Agricultural and Gardening Machinery Federation) Alessandro Malavolti attributed Europe's unit sales growth to the "Mother Regulation" which was introduced by the EU and pushed manufacturers to offer special promotions at the end of 2017 for the sale and registration of their remaining stock ahead of the application of new standards. To an extent, the amendment requires significant changes in the construction of tractors which are registered for the first time on or after that date.
Agricultural machinery and tractor manufacturers producing in Germany have experienced an exceptionally good business year. In 2017, a strong growth in turnover of 10%, to €7.9 billion, represented the second-best annual result ever achieved by the industry. "The demand for innovative agricultural machinery is greater than it has been for a long time," states Dr. Bernd Scherer, Managing Director of the VDMA Agricultural Machinery Association (read more, 20995777).
Smart technology to drive industry growth
A major contributor to the agricultural equipment market's growth opportunity lays in the industry's continued advancements in precision technology and automated systems. As new technologies continue to come to market, farmers need to have the latest equipment in order to stay competitive.
The global autonomous tractor market, according to Allied Market Research, is expected to grow at a compound annual growth rate of 24%, reaching $4.39 billion by 2025—a huge growth trajectory from its recently valued $648.9 million in 2016, (read more, 21016595). Allied Market Research cites operational efficiency and increased income for the farmer as the biggest drivers of the market growth, but notes that a lack of awareness and technology integration among farmers would pose a threat to the predicted growth.
The report states the tillage segment will hold the largest market share for autonomous tractors globally during the forecast period "because of the new innovative tools such as Soil Command by Case IH to perform smart tillage. Furthermore, others in the components segment [are] expected to grow at the highest CAGR during the forecast period, owing to the capability of radar and LiDAR to detect obstacles as well as the ability of telematics to monitor the autonomous vehicles."
A similar report from Research and Markets estimates the autonomous tractor market will reach a unit demand of over 60,900 units by 2025 at a CAGR of 24.89%. The firm notes factors such as high initial capital investment and a lack of technical knowledge as major deterrents for farmers, and a possible risk for the autonomous tractor industry's growth. An increasing average age of farmers—particularly in developed countries—and a decline in the availability of labor is helping to drive up demand for autonomous tractors.
The challenges and opportunities facing the agricultural industry are mounting, as food demand perpetually increases and technology aims to solve the problem. Eventually the choice of using advanced technology will become a requirement to be competitive and stay relevant in the changing agricultural landscape, especially as emerging economies realize the swiftness by which technological adoption is occurring.