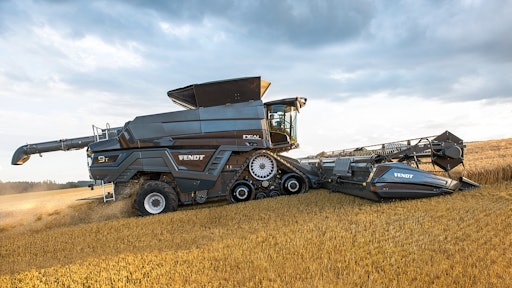 AGCO Corporation, a worldwide manufacturer and distributor of agricultural equipment, will showcase its Fendt IDEAL combine at the Farm Progress Show, in Boone, IA, August 28–30 on the AGCO lot #1002 — North Ave., between 10th and 11th Streets. The Fendt IDEAL is AGCO's latest innovation and a key example of the manufacturer's commitment to bringing producers high-tech solutions that help them be as productive and profitable as they can possibly be.
Making its United States debut at the 2018 Farm Progress Show, the Fendt IDEAL is the first "clean sheet" design of a combine in 30 years. With input from customers and dealers around the world, and seven years of development and testing, the Fendt IDEAL is the combine for which producers have been asking.
Fendt has been known for ground-breaking technological developments since the 1930s. The Fendt IDEAL combine sets a new standard for harvesting automation, blending engineering innovation with the most advanced operating technology to deliver what producers told AGCO they want — in-field efficiency, unfailing uptime, totally simple operation and better grain quality.
In addition to seeing the Fendt IDEAL combine on the lot, Farm Progress Show visitors can learn more about the IDEAL combine through the IDEAL Experience, a self-guided walking tour of the combine housed inside a grain bin on AGCO's lot #1002.
The AGCO exhibit will include many products from the company's full line of equipment, as well as several new products and many activities planned at the AGCO lot and in the demonstration areas at the show.
NEW — Massey Ferguson RB Series Silage Baler.

AGCO's

first silage-specific baler is a heavy-duty premium baler that produces high-quality, high-density silage and corn stover bales. It is engineered to deliver the throughput and reliability required for making bales from heavy, high-moisture crops and dry, coarse materials such as corn stover or wheat straw.
NEW — Massey Ferguson 1700M Series Compact Tractor. This series is

AGCO's

most premium compact tractor to date and is ideal for general farm and property maintenance tasks, landscaping, small-scale road and land grading, and light construction. The 1700M Series offers clean-burning Tier 4-compliant turbocharged diesel engines and five models ranging from 36-60 hp. All models meet Tier 4 emissions without using an expensive diesel particulate filter.
RoGator C Series LiquidLogic spray table. Learn how the LiquidLogic system helps operators achieve effective spray cleanout, precise rates, greater control for on-target application and less product waste.
White Planters 9924VE planter on tracks. This 24-row, 30-in. large-frame planter is factory-equipped with the vSet meter, vDrive electronic drive system and fully integrated 20|20 monitoring from Precision Planting. It has a 150-bushel central-fill system to plant about 300 acres before a refill is needed. With the industry's best track system — 67 in. long and in 25- or 30-in. widths — it will help you get into the field earlier for planting.
Precision Planting automated planting display. See just how the 20|20 monitor and the vSet, vDrive and SpeedTube operate in combination to consistently deliver 99+ percent accurate seed placement of corn at speeds nearly double traditional operating speeds.
Sunflower 6830NT high-speed rotary finisher equipped with in-cab control of depth and machine leveling.

AGCO's

latest precision farming tool lets operators precisely monitor and adjust tillage depth and machine position from inside the tractor cab – creating a more uniform seedbed for maximum crop performance across the entire field.
Field Demonstrations with Sunflower Tillage Implements and Fendt 1000 Vario Tractors
Daily tillage demonstrations will showcase the field performance of the Sunflower 4511 Disc Chisel, the ultimate in deep tillage tool design, and the Sunflower 1438 Disc, which is heavy-duty and ideal for cutting through heavy residue. Both will be pulled by Fendt 1000 Series 4WD tractors that deliver the ultimate in operator comfort plus power, maneuverability and versatility.
Test drive equipment on Challenger Test Tracks
Show visitors will have the opportunity to test drive and experience the performance of Challenger equipment on three different tracks. Visit the Ride-N-Drive area east of the show grounds and look for the Challenger Tent and Jumbo-Tron to sign up.
Bump Track Challenge with Challenger MT700 Series Track Tractor. Designed to deliver the most comfortable ride of any track tractor on the market, this latest Challenger track tractor will prove its worth, power and smooth rideability on the Challenger Bump Track.
Challenger 1000 Series. These 396-517 hp, fixed-frame 4WD tractors are designed to be a farming operation's single solution for both heavy draft and row crop work. Don't miss your chance to operate a revolutionary Challenger 1000 Series tractor.
Experience the RoGator C Series and new TerraGator C Series. On the application track, experience the operator convenience, comfort, ease-of-operation and power of the new TerraGator C Series high-flotation nutrient applicator and the RoGator C Series row crop applicator with the exclusive LiquidLogic system.