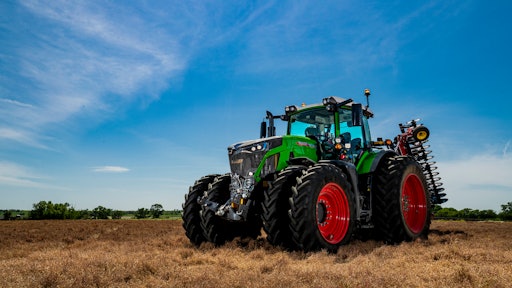 AGCO Corp.
While much of the heavy-duty equipment industry operates on a global level, customizing machinery to meet the needs of specific regions is just as important as doing so for specific applications.
Recently AGCO unveiled its next generation Fendt 900 Series tractor designed for the North American row crop market. The tire configuration is one aspect of the machine that was developed specifically for this segment; a dual configuration with 60 in. (152.4 cm) centers and 120 in. (304.8 cm) tires on the outer rows suit the needs of larger corn belt tractors, particularly those in the Midwestern part of the U.S.
The tractor is also capable of meeting the needs of narrower corn segments, as well as wider row crops such as potatoes and sugar beets. Read the article "Versatility in the Field" to learn more.
CLAAS has also introduced a new piece of equipment specifically geared toward the North American market, the LEXION 8000-7000 Series combine harvester. The Germany-based company says it is putting more of a focus on this market because it is where it sees the most growth opportunity.
Blake McOllough, Product Manager at CLAAS, says previous machines were North American-ized whereas this new machine was designed from an engineering standpoint with what North America wanted—including increased size, speed and convenience. Many of the company's European counterparts are realizing that if a machine works well in North America, it will also work well in Europe.
"Europeans are starting to figure out that if it works here, usually it will work over there as well," he says. "Big grain tanks, fast unload, things like that are starting to become more popular in Europe so we're starting to see it with our [North American] products as well."
To help meet these requirements, CLAAS has included features such as a larger grain tank. The largest model in the series has a grain tank capable of holding 510 bushels. This is paired with unload speeds of 5.1 bushels per second to help improve productivity for farmers.
Exclusive to the North American Class 8 models is a wider chassis. McOllough says this was a feature customers have been asking for; since 45% of the total market for combines is Class 8 machines, having the wider chassis enables the company to better serve the market and potentially expand its customer base. Read more about the new LEXION combine in the article "A Bigger, Better Combine Design."
As the world population continues to grow and weather patterns change, further constraints will be placed on farmers to produce more crops. By developing machines specifically for the needs of certain markets, OEMs like AGCO and CLAAS are ensuring they provide customers with the tools they need to more easily meet these demands.
*Editor's Note: This article was originally published on July 18, and updated August 28.
Companies in this article