Arbos
For this article, Power Systems Research (PSR) looks at agricultural machinery (ag tractors and combines) production in North America and Rest of the World (ROW).
ROW includes the following regions: Europe, China, India, Central/South America, Far East, Southeast Asia, Central Asia, and Eurasia. For both North America and ROW we will compare 2021 volumes versus 2020 volumes. Similarly, PSR will also look at projections for 2022.
All things considered, 2021 was a good year for ag machinery production in North America. There were nice gains and rebounds from 2020 in both agricultural tractors and combines. This is also true for ROW and specifically for India and China. India accounts for 53% of the agricultural tractor production in ROW. As for combine production in ROW, China accounts for 55% of the production.
READ MORE: Tractor and Combine Sales End 2021 in Positive Territory
North America
Now, looking more closely at ag tractors in North America, 2021 production increased by over 20% from 2020 calendar year totals. This is excellent for equipment manufacturers despite supply chain issues and workforce challenges. The industry is working hard to deliver machinery and equipment to farmers heading into 2022 as well.
Currently, PSR is projecting 10-11% increases in production for 2022 over 2021. This will be getting closer to 2019 (pre-COVID-19) production levels.
Moving to combines produced in North America, 2021 was also a positive year. Production gained over 7% last year versus 2020. Again, this is a good increase for OEM production as OEMs continue to deal with challenges and issues in the current operating environment.
PSR is estimating combine production will increase another 8% in 2022. This would get combine production back to 2018 levels, another good sign for the agricultural machinery market.
As the COVID-19 pandemic recovery continues in North America, we expect the ag market to lead other industrial and heavy equipment industries. A major driver of the agricultural markets and the purchase of new equipment is the financial position of the farmer at the end of the year; the good news is that commodity prices have been very favorable over the past few years; this means more cash in the pocket for farmers and a better propensity to spend sooner rather than later.
It comes down to the old saying that a tractor can always run "one more year" before replacement if absolutely needed. So those farmers on the fence can lean towards a purchase more easily following a favorable harvest season with healthy commodity prices.
Net farm income, a broad measure of profits, increased by 25% in 2021 over 2020. The increase was from $95.2 billion to $119.1 billion. The agricultural machinery market has weathered the pandemic better than other industrial sectors and will continue its growth pattern in the next few years. The recovery will be steady, and we expect levels of production in 2022 to reach those of 2018.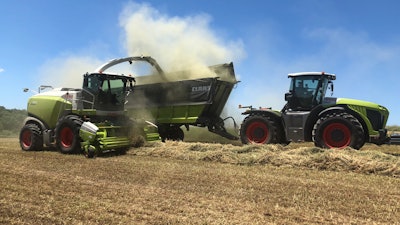 Rest of the world
As previously mentioned, 2021 was a good year for ag tractor production outside of North America in ROW. Over half of the total ROW production takes place in India, followed by China, Europe, and the Far East. Production of ag tractors increased 16% in 2021 from 2020. PSR is projecting a more modest increase in 2022 for tractors at 3-4%.
When looking outside of North America at the combine market, we find that ROW also showed increases in production for 2021. Production increased 7% in 2021 over the totals in 2020. China is the leading manufacturer of combines with over 55% of production. Following China is Southeast Asia at 14%, Far East at 11% and Europe at 7%. PSR is projecting combine production in ROW will increase another 9% in 2022.
In comparison to other industries, the agricultural machinery segment performed well during the pandemic. In ROW, we see a steady recovery pattern, and the key factor to agricultural machinery growth will depend on the overall speed of economic recovery from the COVID-19 pandemic.
India
The post second COVID-19 wave demand for agricultural products remained strong in India as crop sowing operations gained traction with monsoons picking up pace across the country. Easing of COVID-19 restrictions as well as robust farm incomes due to record Rabi crop procurement bodes well for the rural economy. We expect Indian agricultural equipment demand to increase over the next several quarters, owing to the hike in MSP (Minimum Support Price) in key kharif crops, good monsoon, and the upcoming festive season. Further, we are seeing an uptick in tractor rental schemes.
Europe
The agricultural market in Europe is one of the most robust markets as food production and demand remained high during the pandemic. The recovery should be solid as order books are full. Even though there are some supply side issues, and the remaining COVID-19 restrictions continue to apply negative pressure, PSR expects to see a steady yet subdued recovery in 2022.
China
The agricultural machinery industry in China will continue to develop slowly and steadily in the short term. Although the development trend has improved, the growth rate is still limited, which is mostly due to the policy assistance and pull given by the state during the COVID-19 pandemic. There will be many positive factors at work in China, but as the impact of the pandemic continues the signs of industrial adjustment and transformation will become more obvious in 2022.
With increasing mechanization, the production and share of higher horsepower tractors and harvesters continues to increase while the share of smaller horsepower tractors is shrinking.
Far East
Large-scale farmers in Japan typically plan to replace their machines on a regular basis, so when the time comes to purchase, they will do so regardless of the current economy. As a result, larger machine models for large-scale farmers have remained strong.
However, sales of low-priced models for small-scale farmers are easily affected by economic trends, and sales of small farm machinery are unstable due in part to COVID-19.
Southeast Asia
The market in Southeast Asia is growing slowly but surely. COVID-19 is causing logistical stagnation, both domestically and internationally, which in turn is slowing sales of crops and affecting farmer incomes. However, this is due to external factors and does not necessarily mean that the demand for agricultural products has decreased.
There have been cases where COVID-19 restrictions on behavior have temporarily put a brake on farming, but it is possible that this will lead to a greater awareness of the need for more efficient farming in the longer term. Foreign manufacturers continue to make inroads into the market, including providing financial services to help farmers purchase farm machinery, but there are also noticeable cases of farmers postponing purchases due to the lack of stable interest rates.
Concluding comments
Temporary disruptions and stagnation were seen in 2021, but it is safe to say that the speed of recovery will increase from 2022. PSR forecasts that there will be an increasing trend to sell agricultural machinery and to provide comprehensive services that facilitate equipment acquisition (leasing and other financial services), development of solutions to improve harvest efficiency, and creation of a prompt maintenance system in case of problems.
Agricultural machinery production has maintained a solid performance globally over the past few years, and we anticipate that situation to continue into the short- and medium-term future. Considering how the market rebounded in 2021 with varying challenges and issues related to COVID-19, PSR believes that production growth will continue into 2022.
This article was written and contributed by Jim Downey, Vice President-Global Data Products, Power Systems Research
Power Systems Research (PSR) is the leading source of global production, forecast, and population data for equipment and vehicles powered by IC engines and electric and hybrid powertrains. PSR has been tracking the production of on-highway and off-road vehicles and equipment since 1976. We use this data to develop targeted forecasts by industry segment and region.
Companies in this article