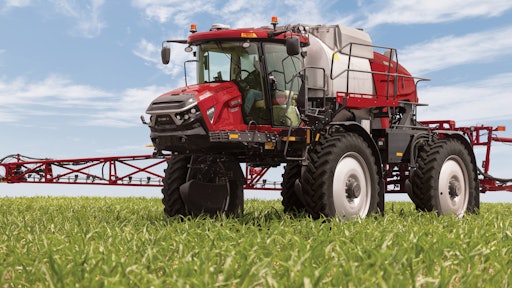 Case IH
Each year the American Society of Agricultural and Biological Engineers (ASABE)—an organization focused on advancing engineering for agricultural, food and biological systems—honors the latest technology advancements in agriculture with its AE50 Award.
Entries are submitted by companies from which about 50 products are recognized. A panel of engineers selects the winners; according to ASABE, award-winning products are those ranked highest in innovation, significant engineering advancement and impact on the market served.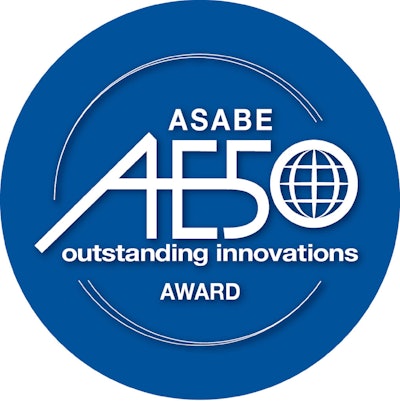 Today the award is given to various types of innovations including machines, systems, components, software and services.
In addition to the 50 winners, the top 10 are eligible for the Davidson Prize, an award created in partnership with the Association of Equipment Manufacturers (AEM) to celebrate extraordinary innovation and impact in agricultural, food and biological systems states ASABE on its website describing the award. Per ASABE, the Davidson Prize is named for J.B. Davidson, the father of modern agricultural engineering. Dr. Davidson was the first person to combine the great professions of agriculture and engineering. It gives a nod to the storied past of agricultural engineering and pays homage to those engineers, like J.B. Davidson, who aspire to find a better way.
Products eligible for the Davidson Prize need to have been introduced for the first time and made commercially available between January 1 and December 31 of the award year.
Several manufacturers within the agricultural equipment industry have announced themselves as winners of the 2022 AE50 Award which is set to be given out at ASABE's annual Agricultural Equipment Technology Conference (AETC). A full list of winners can be found on ASABE's website.
Three Case IH innovations honored
Case IH has announced the receipt of three AE50 awards for three of its following products:
Patriot 50 series sprayers
WD5 series self-propelled windrowers
Fast Riser 6100 series 3-section front-fold planters
"We pride ourselves on manufacturing high-quality equipment and solutions that help producers increase profitability," said Scott Harris, Case IH global president, in the company's press release announcing it received the award. "Case IH equipment is designed, built and tested by farmers. This recognition from the American Society of Agricultural and Biological Engineers reflects our commitment to providing innovative solutions that meet today's farmers' needs."
Case IH provides the following descriptions of its winning products, highlighting what makes them so innovative for the agriculture market.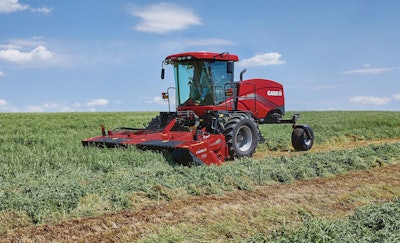 Patriot 50 series sprayers
Patriot 50 series sprayers offer an exceptional operator environment, complete vehicle control, enhanced connectivity and integrated technology to provide consistent, accurate applications every season. These sprayers are agronomically designed to help operators get into fields sooner with less compaction. A range of connected solutions provides the next steps toward remote management and optimization of machines, data, diagnostics, agronomic inputs, and precious resources.
WD5 series self-propelled windrowers
WD5 series windrowers allow operators to get to the field faster and muscle through the tough spots, all without sacrificing harvest quality or comfort. Transport speeds up to 30 mph and cutting speeds up to 20 mph, together with simplified operations and innovations, such as Field Cruise and the Triple Windrower Attachment, bring peak operational efficiency. These windrowers also feature integrated Advanced Farming Systems (AFS) technology, including the AFS Pro 700 display, to manage autoguidance, to control key machine functions and to monitor windrower performance.
Fast Riser 6100 series 3-section front-fold planters
Available in Brazil, the Case IH Fast Riser 6100 series 3-section front-fold planter offers the most productive and agronomic three-section front-fold planter for growers and contractors who transport frequently on public roads. One operator can convert from 13-m planting width to 3.2-m regulatory road transport width from the tractor cab in one minute versus multiple operators taking numerous hours for competitive 3-section planters. The area of principal use is row crop planting of crops, such as soybeans, corn and/or cotton, in no-till to conventional tillage systems with 45-, 50-, 76- and/or 90-cm row spacing.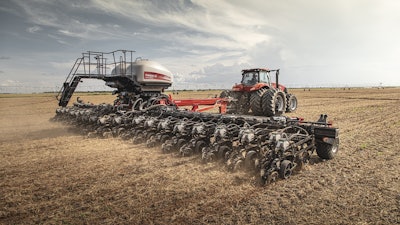 New Holland Horizon Ultra tractor cab wins award
New Holland Agriculture has received an AE50 award for its Horizon Ultra tractor cab. "It is always an honor to be included in ASABE's AE50 annual award winners. These awards are a testament to the strength of the New Holland teams around the world: from the engineers who design our latest innovations to our field teams who work in the field side by side with our farmers to identify our next opportunities, and every step of the journey in between," stated Carlo Lambro, Brand President New Holland Agriculture, in the company's press release announcing its receipt of the award.
According to New Holland, the cab design is the quietest in the industry as it registers no more than 66 decibels. This helps to ensure a more comfortable operating experience for farmers who are often spending a full day in their machines.
The cab is also 8% larger compared to previous designs, further aiding operator comfort. In addition to providing more comfort, the expanded cab also offers more storage space.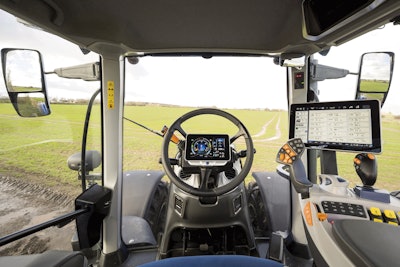 More on the cab design from New Holland's press release:
The spacious cab provides a supremely comfortable work environment with clean, uncluttered surfaces and intuitive operation with ergonomically located controls on the new SideWinder Ultra armrest and user-friendly IntelliView 12-in. display. The controls can be configured to match the operator's preferences, and customization is as simple and extensive as desired. The CenterView display placed in the center of the steering wheel – an industry first – provides a clear line of sight. The new class-leading automatic climate control system with zone selection, which has 35% more capacity than the previous model, easily maintains a comfortable temperature in all seasons. The top-of-the-range Auto Comfort seat features lateral suspension and a climate control system that extracts moisture on hot days or warms on cold mornings. The Horizon Ultra cab's advanced connectivity enables customers to bring their digital life on board effortlessly, as their mobile device automatically connects to the screen and can be operated with a button on the armrest.
The Horizon Ultra cab also introduces integration with New Holland's next-generation PLM Intelligence, which represents a step forward in New Holland's Precision Land Management strategy. It marks the shift from traditional farming practices to agriculture 4.0., where Precision and Interconnected Farming assists farmers to plan all operations in advance, manage in real time the behavior and performance of each machine, and achieve maximum precision and efficiency.
The next-generation PLM Intelligence is a new electronic architecture that will be adopted in all New Holland next-generation equipment, so that customers will find the same logic when switching machines and easily access data to get the job done more efficiently. This is part of New Holland's strategy to integrate digital technologies to deliver a smart and connected agriculture, with easy-to-use solutions that make farming more sustainable and productive. They include the traditional precision farming applications aimed at making the operator's life easier while optimizing yield and input costs; solutions based on connectivity and monitoring focused on improving the machine's productivity; and cloud-based solutions based on data analysis and planning to facilitate farm management decisions.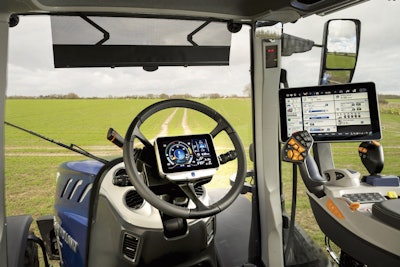 John Deere receives eight awards
John Deere announces it is the recipient of eight 2022 AE50 Awards. According to the company, its winning products as well as other award winners help farmers and food processors increase efficiency and profitability, enhance quality, and improve safety. John Deere's winning products include:
See & Spray Select
MY22 9 Series Tractors
Integrated ExactRate Liquid Fertilizer System
1775NT Planter
Quick Change Blades for ProSeries Openers
HDF Hinged Frame Flexible Cutterbar Draper
W200 Series Self-Propelled Windrowers and Platforms
C770 Cotton Harvesters
"AE50 Awards reaffirm the innovative spirit of John Deere employees around the world. Innovation is in our DNA and one of our most important core values. No other company in agriculture invests more time, money and energy into research and development than John Deere," said Joel Dawson, manager, production and precision ag for John Deere, in the company's press release announcing its receipt of the AE50 Award. "Our engineers take great pride in creating amazing new technology and products that benefit our customers and help them meet the world's growing need for food, fuel, shelter and infrastructure in the most productive and sustainable ways possible."
Following are descriptions of the winning products as described by John Deere in its press release.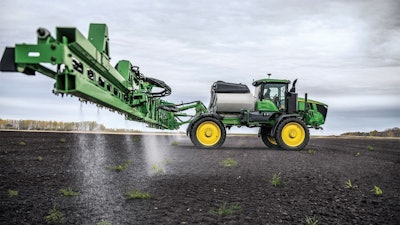 See & Spray Select
John Deere's See & Spray Select is a factory-installed and machine-integrated solution that enables farmers to spot spray of weeds on fallow ground. See & Spray Select uses advanced camera and control technology to differentiate color on fallow ground, detects weeds, and spot sprays them. "This targeted spray application has similar hit rates to broadcast spraying while applying 77% less herbicide on average, providing a tremendous savings on inputs for farmers," Dawson said.
See & Spray Select was also an honoree for the CES 2022 Innovation Awards, an award which honors a variety of products in numerous industries.
MY22 John Deere 9 Series tractors
The MY22 9 Series tractors help large-acre grain producers start earlier and run later to complete their spring seeding and planting work during tight, optimal seeding and planting windows. Powered by an all-new John Deere PowerTech 13.6L engine, 9 Series Tractors can pull wider implements faster and more precisely than ever before. When paired with integrated John Deere precision ag technology, farmers can drive important management changes to improve crop yields, lower input costs and farm more acres in less time.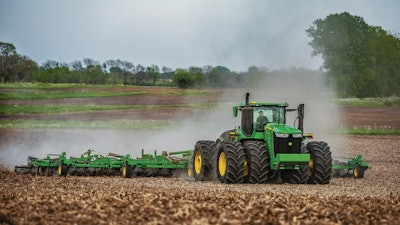 ExactRate liquid fertilizer system
In March 2021, John Deere says it was the first agricultural company to bring to market a factory-installed, integrated liquid-fertilizer-delivery system on a tractor and planter together. The ExactRate liquid fertilizer system includes integrated ExactRate tanks on an 8RX Four-track Tractor, integrated plumbing, and integrated factory-installed fluid tanks on the planter. When full, customers can use ExactRate to cover up to 80 acres per fill when applying at 20 gal. per acre. In addition, tracks on the tractor and planter reduce ground pressure and minimize soil compaction while seed and fertilizer are precisely placed.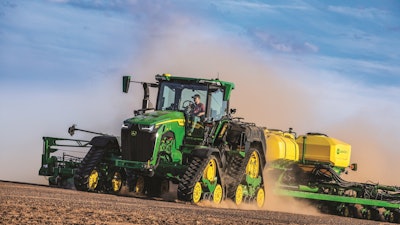 MY22 1775NT 24-Row Planter
The MY22 1775NT 24-Row Planter includes features that increase onboard seed and fertilizer capacity and reduce soil compaction. New commodity tanks provide a 30-bushel increase in onboard seed capacity and 150-gal. increase in liquid-fertilizer capacity compared to previous models, with a mainframe tracks option that reduces ground pressure under the center section by 70% compared to tires. "The reduction in ground pressure helps increase crop yield by reducing soil compaction in rows under the center frame, and increases the productivity of existing farmland," Dawson said. "The additional onboard commodity capacity reduces the number of seed and fertilizer tender stops, saving customers time and fuel."
READ MORE: John Deere Debuts New Model Year 2022 Agriculture Equipment
HDF Drapers
John Deere HDF Drapers provide superior ground-following capability for on- and off-ground harvesting, so customers can recover more crop while meeting the high-capacity needs of today's combines. The HDF combines a flexible cutterbar with a hinged frame and hydraulic suspension and is the industry's first combine header that merges a flexible cutterbar; hydraulic suspension between combine and head and between center frame and wings; a hinged frame with vertically articulating wings; and in-cab, on-the-fly float pressure and cut-height adjustment. This combination offers the best terrain-following performance in the industry.
Quick Change Blades
The Quick Change Blades for John Deere's ProSeries Openers help farmers save time and reduce labor costs required to change them on no-till air seeding tools. Using Quick Change Blades significantly reduces dealer maintenance costs and the time a customer may spend under the drill performing this routine maintenance.
W200 Series Windrowers
The John Deere W200 Series Self-Propelled Windrowers are available with optional new features that include TouchSet in-cab push-button controls operators can use to adjust swath flap and forming shields from the cab. This technology helps them maximize their windrowing efficiency with every pass through the field.
CP770 Cotton Picker and CS770 Cotton Striper
In August 2021, John Deere introduced the new CP770 Cotton Picker and new CS770 Cotton Striper. Each machine provides unmatched levels of productivity, technology, and efficiency for cotton growers. The CP770 Cotton Picker can harvest more than 10 acres per hour while reducing cotton losses. The CS770 Cotton Stripper can harvest up to an extra 100 acres per day in dryland cotton. "Both machines feature a new cotton handling system that reduces wrap and hauling costs up to 8% on the picker and 12% on the stripper," Dawson said. "Customers and the environment benefit through less wrap and fuel being used through the life of these harvesters."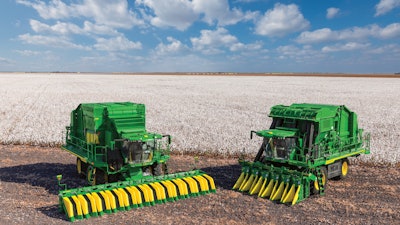 AGCO brands honored with seven awards
AGCO announces three of its brands—Fendt, Massey Ferguson and Precision Planting—have received a total of seven 2022 AE50 Awards. The company's winning products include:
Fendt Rogator 900 Series Applicator

Fendt

300 Vario Series Tractor

Fendt

TI Headland K-Turn Assistant

Massey Ferguson 8S Tractor

Massey Ferguson DM 367 FQ-RC Front Mower

Precision Planting Reveal

Precision Planting SmartDepth
"The AE50 Awards are among our industry's highest achievements and AGCO is very proud to be honored again this year with ASABE's recognition," said Brad Arnold, senior vice president, Product Management at AGCO, in the company's press release announcing its receipt of the awards. "While these awards span multiple AGCO brands, they represent a singular dedication to the farmer-first focus that guides every brand and employee at AGCO. These high quality, smart solutions are designed to provide exceptional outcomes for our customers and enable more sustainable, efficient, and profitable operations."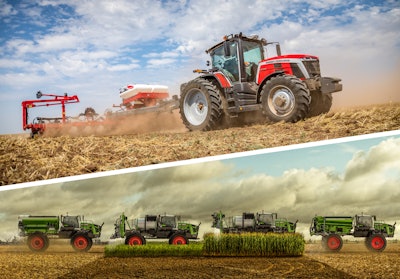 AGCO has provided the following descriptions in its press release explaining the various features of its winning products.
Fendt Rogator 900 Series Applicator
The Fendt Rogator 900 Series Applicator is a self-propelled, rear-mounted-boom applicator with dual-position, adjustable crop clearance for use from pre-plant to tall crops. The machine adjusts between standard (56-60 in.) and high clearance (72-76 in.) in less than 45 seconds with the push of a button. It can be equipped with liquid, dry pneumatic or dry spinner delivery systems, which can be converted in as little as two hours. The result is a single, versatile solution for year-round application of liquid or dry crop nutrients and crop protection products and seeding of cover crops, replacing multiple machines and optimizing equipment investment. This applicator's innovative design and versatility also allow better control of timing and method of applying products to help optimize yields and the investment in crop care products.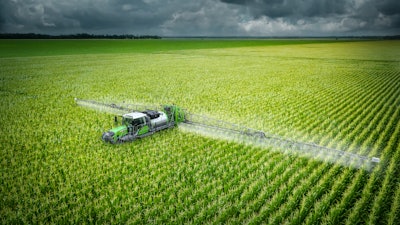 Fendt 300 Vario Series Tractor
The Fendt 300 Vario Series Tractor consolidates the proven innovations and features of Fendt's higher-horsepower offerings into an expanded wheeled tractor product line in North America. The Fendt 300 Vario is characterized by its thoughtful design down to the last detail. This latest generation includes four models ranging from 100-132 rated hp in the three configurations from Power and Profi up to Profi+. The fourth generation Vario features the all-new smart power-boost concept Fendt DynamicPerformance (DP) on the Fendt 314 Vario which provides up to 10 rated hp more power on demand. Superior driving and working comfort were first in mind when designing this platform. The system guarantees maximum ride comfort and ease of use with its new optional VisioPlus cab, the FendtONE operator's station, the self-levelling suspended front axle, cab suspension, Fendt Cargo loaders and a variety of Fendt Smart Farming solutions. Like all Fendt products, the new Fendt 300 Vario series is supported with the Fendt Gold Star Customer Care program, a 3-year or 3,000-hour full machine warranty that includes all scheduled maintenance, a loaner guarantee, and 5 years of Fendt Connect.
READ MORE: Farm Progress Show 2021 to Highlight Latest Agricultural Technology and Equipment
Fendt TI Headland K-Turn Assistant
The Fendt TI Headland K-Turn Assistant provides automated reverse turn capabilities (Y-turns and K-turns) alongside other existing fully-automatic turn types that allow tractor operators to more accurately and efficiently make turns with three-point mounted implements and on small headlands. Current automated turn modes such as Part-Field and U-turns require large headlands or do not allow implements to finish rows in straight lines. With the Turn Assistant, sequences for both Y-turns and K-turns begin automatically upon entering the headland. Once the operator reverses, automatic steering ensures that both the tractor and implement run seamlessly into the next wayline.
Massey Ferguson 8S Series Tractor
The Massey Ferguson 8S Series Tractor (six models with 205-305 max engine hp) was designed with significant "Voice of the Customer" input and represents a transformation in the brand's tractor history. The 8S includes several brand-new features, hydraulic and cooling improvements, and an aggressive styling scheme that all Massey Ferguson tractors will soon adopt. The 8S is available in two transmission options: The dual-clutch Dyna E-Power, provides smooth shifting and speed changes with no torque interruption and superior power transfer to the ground, and the Dyna-VT, a proven CVT that allows operators to select the exact speed and engine RPM needed for the job at hand. The Protect-U design maximizes separation between the cab and hood, leading to freer flow of fresh air to the engine and considerably quieter operating conditions in the cab. The cab is brand new down to the frame and sports a color and shape reminiscent of vintage Massey Ferguson tractors. The customer interface is highly intuitive and simple to use and is a great example of how the 8S embodies two key themes of the Massey Ferguson brand: Straightforward and Dependable.
Massey Ferguson DM 367 FQ-RC
The Massey Ferguson DM 367 FQ-RC is a front 3-point hitch mounted mower with rubber conditioner rolls which provides features and options that benefit hay and forage producers alike. The design of the mower linkage means the mower is "pulled" instead of "pushed" with the use of pulled bars, steering rods and cylinders with ball joints that ensure exceptional three-dimensional ground adaptation for perfect forage production and minimal loss. The heavy-duty one-piece welded steel RazorEdge cutterbar features a wide disc diameter to ensure high output and reduced power consumption in heavier crops for a lower cost of ownership. Direct attachment to the tractor linkage without an 'A' frame results in a shorter front overhang for better stability and comfort. Ease of use features such as foldable protective covers for transport and a wide opening front cover allows easy access to the cutterbar and quick-change blades.
Precision Planting Reveal
Precision Planting Reveal is an all-new frame-mounted, floating residue management system for row crop planters that uses a trailing, internal gauge wheel to control the depth of the cleaning tines and airbags that adjust the row cleaner's contact with the ground. Reveal is frame-mounted to isolate its weight and adjustment pressures from affecting the planter's row unit dynamics. The internal gauge wheel is used to set a consistent depth of the cleaning tines by running on the cleaned dirt, not on top of the residue. Reveal is also equipped with two air bags, one for down pressure, and one for lift pressure to make necessary adjustments to the aggressiveness of the row cleaner wheels.
Precision Planting SmartDepth
Precision Planting SmartDepth is a depth calibration and control system for row crop planters that provides the ability to adjust planting depth from the cab of the tractor. When paired with Precision Planter SmartFirmer, SmartDepth can automatically control planting depth to a soil moisture target. SmartDepth replaces factory-standard T-handle depth adjustment with an electronic actuator that connects to the depth adjustment mechanism in the row unit. SmartDepth gives growers the ability to ensure that every row unit is accurate in its depth setting through a pre-plant calibration process. The grower can then adjust depth on the go from the cab manually or set SmartFirmer in-furrow moisture targets on the 20|20 display to control the depth automatically with SmartDepth.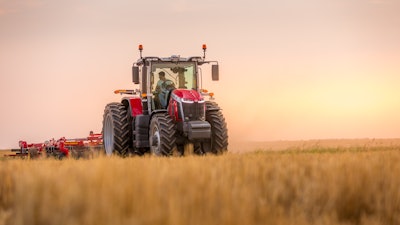 Companies in this article