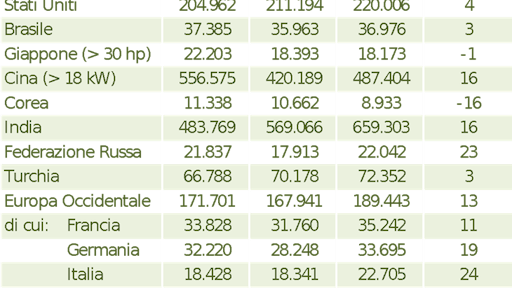 Agrievolution data made public at the FederUnacoma general assembly signal tractor sales in 2017 up to more than 2.1 million new tractors moved around the world for a 13% gain over the previous year. India and China on their own took in more than one million units, 220,000 were purchased on the United States market and 190,000 units were sold in Europe where, however, the data are skewed by the forced registrations ahead of the application of the Mother Regulation.
Bumper production of maize was reported for China, Mexico and the European Union and cereal grains production in Canada, the Russian Federation and within the EU, which came to 2.54 billions tons according to the UN FAO for an increase of 1.3% over the previous year. Also noted was the drive up of the dairy production, pork and orange juice sectors which increased farm incomes to boost investment capabilities for the purchase of agricultural machinery.
The Agrievolution data presented this morning during a press conference in Bologna for the general assembly of FederUnacoma, the Italian Manufacturers of Agricultural and Gardening Machinery Federation, disclosed that sales reached to 2,154,000 units in 2017 for a 13% increase over 2016 at 1,903,000 units. Among the machinery types, 600,000 tractors were assigned India for a 16% gain, 490,000 to the Chinese market at plus 16%, 220,000 to the U.S. up by 4% and 190,000 to Europe ahead by 13%. Whereas big double digit gains in markets expanding strongly are customary, as for India and China which account for large numbers of tractors globally, the 13% increase reported for Europe is an unusual result.
FederUnacoma President Alessandro Malavolti told the press conference that this outcome was actually due mainly to the arrival of the Mother Regulation, new machinery norms introduced this year by the EU which pushed manufacturers to offer special promotions at the end of 2017 for the sale and registration of their remaining stock ahead of the application of new standards. This drive led to jumps in the statistics, especially in Germany, Austria and The Netherlands, up by 19%, 20% and 23% respectively, gains only for the actual registrations. The registration surge in Italy was especially strong, up to 23.8% for tractors, but in reality was well below the real needs of the requirements of the primary sector as regards the actual level of replacing machinery inventories.