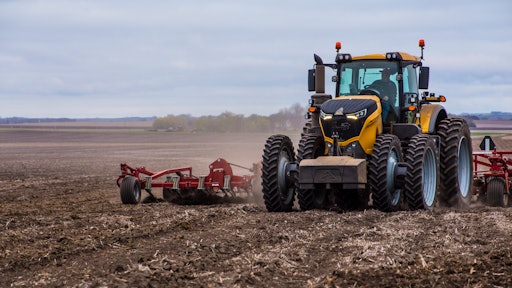 AGCO Corporation received three 2017 AE50 Awards from the American Society of Agricultural and Biological Engineers (ASABE) for new innovative technologies. Winning products are selected based on their innovation, significant engineering advancement and impact on the market served. This year's winning products from AGCO include the Challenger 1000 Series tractors, the OptiRide Active Cab Suspension system and the MTS Maxx Ride Suspension, which is available on Challenger MT700E and MT800E Series tractors. All three help agricultural producers improve their productivity.
"AGCO continues to make significant capital investments in technology to ensure we bring versatile and state-of-the-art products to market to help our agricultural customers be more productive, efficient and profitable," says Karsten Pedersen, Director, Strategic Marketing at AGCO. "These awards demonstrate AGCO is delivering on our commitment to innovative design, technology and the 'no compromise' approach we follow."
The AE50 award program is sponsored by Resource, the membership publication of the ASABE, to emphasize the role of new products and systems in bringing advanced technology to the marketplace. The awards were presented February 14 during ASABE's annual Agricultural Equipment Technology Conference (AETC).
2017 AGCO AE50 Award Winners
Debuting last fall, the Challenger 1000 Series tractors are designed to work in both heavy draft and row crop applications, to deliver lower cost of ownership and improved productivity per acre. The Challenger 1000 Series tractors combine the power of a small-frame, articulated four-wheel-drive tractor with the flexibility and speed of a lighter-weight, fixed-frame row crop machine.
Flexible and convenient front ballasting options ensure the tractors are versatile enough for use from the beginning to the end of each crop year. The simple front ballasting system has five interchangeable weight options ranging from 1,978-7,275 lbs. They are offered in four models ranging from 396-517 engine horsepower with a weight range of 31,204 lbs. (14,153 kg) to 50,706 lbs. (23,000 kg).
New OptiRide Active Cab Suspension uses components commonly found in premium truck manufacturers' cab suspension systems to provide tractor operators with a more comfortable ride. In fact, based on customer feedback from actual use, this new cab suspension available in Massey Ferguson 6700S Series tractors provides ride comfort on the road and in the field that is up to 20% better than the mechanical suspension in Massey Ferguson 7700 Series tractors. OptiRide Active Cab Suspension has two sensors on diagonally opposite corners of the cab that automatically register the degree of cab tilt and raise the hydraulics to restore equilibrium, minimizing any uncomfortable fore-and-aft movements when starting and stopping. To further reduce operator fatigue, the cab suspension system uses a hydraulic damper and accumulator on each corner of the cab for unrivaled ride comfort.
Electronically controlled proportional electro-magnetic valves take into account the travel speed, acceleration and braking, as well as the chassis size of the tractor, ensuring the OptiRide Active Cab Suspension system compensates for different operating conditions, such as in-field versus road operation, and when taking corners.
The MTS Maxx Ride feature adds ultra-high capacity shock absorbers to the class-leading and industry-exclusive Mobil-trac system found on Challenger track tractors. Today's Mobil-trac system offers the softest track suspension on the market for a two-track tractor. However, with a soft ride can come negative side effects, such as excessive pitching and unwanted movements of the machine and implement. Due to its shock absorbers, the MTS Maxx Ride dampens excessive pitching motion, allowing the operator to feel more comfortable when operating the tractor in the field and to have more control of the machine on the road. The MTS Maxx Ride is available on both the MT700E and MT800E Series track tractors.