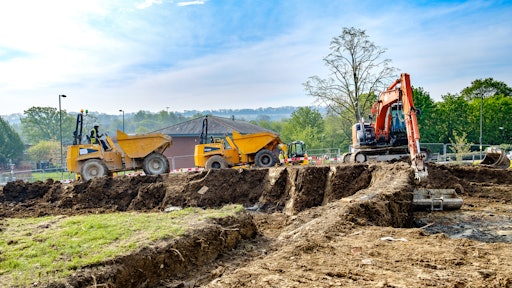 ©Chris Mann – stock.adobe.com
In 2020, construction machinery production in Germany declined 17% compared to the high level witnessed in 2019 reports VDMA Construction – Equipment and Plant Engineering. This equated to a total market value of 10.5 billion euros.
VDMA notes sales volume in 2020 was comparable to what the industry experienced in 2017, leading the association to conclude the global health crisis did not have as large an impact as was initially feared in the middle of 2020.
"We actually got off lightly. If someone had predicted at the beginning of the pandemic that the decline in turnover would only be moderate, we would not have believed it," summed up Franz-Josef Paus, Chairman of the VDMA Construction - Equipment and Plant Engineering, in the association's press release announcing the figures.
According to VDMA, global sales of construction equipment fell 3% in 2020. However, the Chinese market grew 30% due in large part to the high level of infrastructure investment being provided by the government there. Excluding China, VDMA says the global construction equipment market actually slowed 17%.
Compact equipment production was relatively stable in Germany and Europe, says VDMA, but the large equipment business recorded significant declines in 2020. This is due to the larger investments needed which fewer customers could afford during the year.
Equipment sales in Germany were down 7% overall; they declined 3% for compact equipment and 18% for large machinery.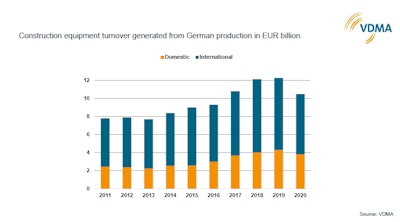 Optimism for year ahead
VDMA says the fourth quarter of 2020 and first months of 2021 are showing increases in demand which it forecasts will lead to an increase in sales in the first half of 2021. Several global equipment and component manufacturers have reported stronger fourth quarter demand and an improved outlook for 2021, giving many in the construction and other heavy equipment industries hope for a better year.
READ MORE: Heavy Equipment Markets See Positive End to 2020 and Brighter Outlook for 2021
The association says the European CECE Business Barometer is at its highest level since the end of 2018. Germany is expected to remain stable at a high level and the European market will recover. There will also be slight growth for the global market.
It notes economic stimulus programs are helping global economies, and thus the construction equipment market. However, in the medium term VDMA says there is a risk that the public sector will not be able to invest as much due to the high level of new debt.
It also notes that supply chain challenges could pose some issues for construction equipment manufacturers. The costs for raw materials, such as steel, remain high. And the ability to receive materials in a timely manner has been difficult for manufacturers in many markets, which has caused fluctuations in manufacturing output. "In some cases, we had to go directly from short-time work to overtime and, in some cases, back to short-time work because deliveries suddenly stopped. In future, we will have to be even more flexible in this respect," said Joachim Strobel, Deputy Chairman of the VDMA Construction – Equipment and Plant Engineering, in the VDMA press release.
Overall though, there is a greater sense of optimism for the German construction equipment, and heavy equipment markets in general, for 2021 barring any major setbacks regarding coronavirus or supply chains.