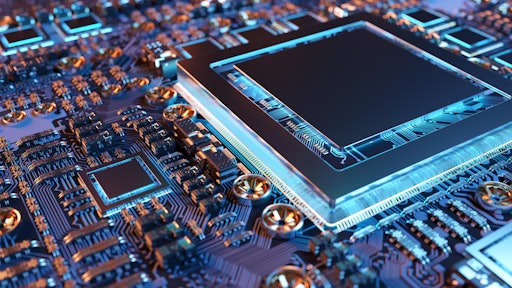 ©sdecoret – stock.adobe.com
U.S. President Joe Biden signed an executive order on Wednesday, Feb. 24 to address the current global shortage of semiconductor chips. This shortage has caused supply issues for manufacturers in a variety of industries, with some having to cut production.
According to a recent article from MarketWatch, there has been increased demand for semiconductor chips due to a combination people buying more personal electronics during the COVID-19 pandemic, limited manufacturing capacity and the U.S.-China trade war.
READ MORE: Electronic Chip Supply Chains Issues Put Manufacturers Behind
And because so many products today, including heavy-duty vehicles and equipment, utilize these chips the supply shortage is expected to continue unless there is a drastic change of some type. ACT Research noted in two of its most recent reports this shortage could impact truck OEMs who are experiencing strong demand again this year. If the shortages continue, they may have to halt production like some in the automotive industry have already done.
This halt in production by large automotive OEMs such as Ford, General Motors and others, as well as the potential issues it could cause other types of manufacturers, lead to the Biden administration's decision to evaluate the situation.
The executive order will initiate a 100-day review of supply chains for
semiconductor chips
large-capacity batteries for electric vehicles
rare earth materials
pharmaceuticals.
It will also direct six new sector reviews, modeled after a process used by the Defense Department, which will focus on defense, public health, communications technology, transportation, energy and food production.
President Biden met with a bipartisan group of lawmakers to discuss the issue and said in a statement to the media that it was a productive meeting.
The COVID-19 pandemic brought about several supply chain challenges for the U.S., and has shed a light on the amount of manufacturing that has been outsourced to other countries, China in particular. As such, Biden's plan will look at diversifying supply chain dependence for certain types of products from China.
A focus will be placed on developing production in the U.S. and possibly partnering with other countries in Asia and Latin America. There will also be a review of limiting imports of certain materials and training for workers in the U.S. to help increase production locally.
According to a White House Fact sheet on the topic, there will also be a 1-year review of broader supply chains which include:
a focus on the six key sectors noted above
a set of risks for agencies to consider in their assessment of supply chain vulnerabilities
recommendations on actions that should be taken to improve resiliency
a sustained commitment to supply chain resiliency
consultation with external stakeholders.
Statistics from the Semiconductor Industry Association indicate the U.S. currently accounts for about 12.5% of semiconductor manufacturing; over 80% is now done in Asia. By re-evaluating current supply chains for the technology, that percentage could increase again, and aid with Biden's plans laid out during his campaign to boost American manufacturing.
Watch and learn more about how supply chain disruptions impacted the construction equipment and heavy equipment manufacturing industries.