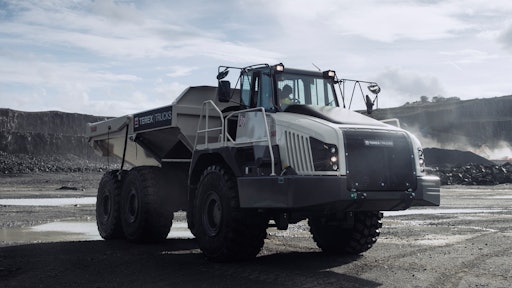 The economy and construction sector in the Benelux market—Belgium, the Netherlands and Luxembourg—is set to grow at a steady pace over the next several years.
In the Netherlands, the construction sector is predicted to grow 5.5% in 2019. Belgium's construction industry is expected to grow 5.1% and reach a value of €75 billion (£76.4 billion) by 2022. The public construction sector is driving construction growth in both countries, with demand for office and residential building being key drivers.
Luxembourg is also seeing an increase in residential construction; its government aims to build more than 2,500 new housing units by 2025.
Overall the Benelux economy is stable and growing steadily. In 2018, gross domestic product (GDP) increased 2.6% in the Netherlands and is expected to remain stable over the next few years. Eurozone GDP was 1.6% during the same time frame.
Manufacturers take notice
Due to the growth in these markets, Terex Trucks is expanding its operations to bring its TA300 and TA400 articulated haulers to customers in the region.
"Customers in the Benelux region will appreciate the versatility and robustness of Terex Trucks' articulated haulers," says Guy Wilson, Global Sales Director. "With public works, machine reliability is crucial and with almost 70 years of hauling heritage we know how to create robust, durable articulated haulers. The TA300 and TA400 can help increase productivity on construction sites, while ensuring low cost per tonne and maximum return on investment for customers."
Terex Trucks' TA300 features a maximum payload of 28 tonnes (30.9 tons), maximum torque of 1,880 Nm (1,309 ft.-lb.) and has a gross power rating of 276 kW (370 hp). These aspects enable it to meet the performance needs of heavy-duty construction applications, ensuring productivity and efficiency for customers.
The TA300 is equipped with true independent front suspension as standard, resulting in excellent traction control and operator comfort. A new transmission provides a 5% improvement in fuel efficiency as well as enhanced performance, productivity and operator comfort. The upgraded transmission comes with two additional forward gears – eight in total – as well as four reverse gears. This helps to ensure smoother gear shifting and thereby superior operator comfort.
The TA400, the largest articulated hauler on offer from Terex Trucks, has a maximum payload of 38 tonnes (41.9 tons) and a heaped capacity of 23.3 m3 (30.3 yd3). The planetary gear transmission provides smooth, efficient gear shifting for optimized fuel consumption and reduced cost of operation. Both machines come with hydrostatic power steering and all-hydraulic braking systems, helping to ensure a safe and comfortable ride. Ground level test points and a fully tilting cab combined with an electronically raised hood ensure ease of service and reduced downtime.