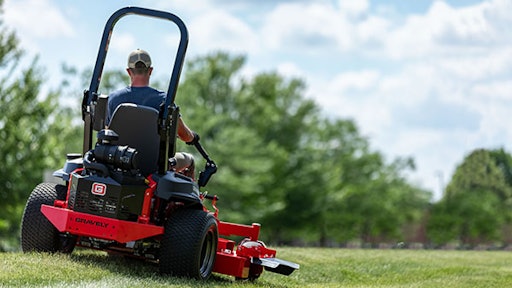 Gravely
The "Garden and Lawn Tractors Market - Global Outlook and Forecast 2019-2024" report has been added to ResearchAndMarkets.com's offering. It shows the global garden and lawn tractors market is expected to grow at a CAGR of over 3% during the forecast period 2018-2024.
CEMA—the European Agricultural Machinery Industry Association—recently reported sales grew for grassland equipment during the 2018/2019 selling season, and a stable market is expected in 2020. This provides further credit the market's growth in coming years as current sales are positive and expected to remain so in the coming year.
The global garden and lawn tractors market has witnessed significant growth in the last few years. The increasing number of golf courses, coupled with the growth in the green space, is expected to drive the demand for garden and lawn tractors favorably. With the increase in consumer spending toward landscaping services and other recreational activities, the demand is expected to increase during the forecast period.
Moreover, government initiatives for improving green spaces, which includes developing parks, garden areas, recreational areas, are further expected to propel the demand for gardening equipment.
One of the key focus of the landscaping management and construction industry includes the implementation of environmental-efficient practices and equipment. With the increasing need to follow sustainability practices, key vendors are engaged in offering solutions such as hybrid fleets, integrated pest management, soil and water conservation techniques, eco-friendly landscaping processes, along with the increasing usage of battery-powered equipment. With the rising interest in landscaping services, consumers are expected to spend on landscaping equipment, thereby propelling the demand for outdoor power equipment or tools.
Market trends by segment
The research report includes detailed market segmentation by products, fuel type, application, drive type, horsepower, and geography.
Increasing investments in landscaping services and sports and recreational activities are expected to increase the demand for garden and lawn tractors in the commercial outdoor power equipment segment. Factors such as changing consumer behavior, technological advancements, along with regulations are expected to impart fundamental changes, thereby propelling lawn care and landscaping services to change accordingly. With the advent of technology, equipment such as garden and lawn tractors are expected to witness demand during the forecast period.
Garden tractors are expected to witness significant growth in demand during the forecast period. This can be attributed to the increasing progression in technology, which is offering several functions and operations (spreading fertilizer, mowing process, sweeping leaves, and removal of snow). These machines are being preferred for heavy-duty tasks owing to their easy maneuverability features.
Vendors are introducing equipment that offer excellent cutting performance, grass handling options along with superior cutting quality. Garden and lawn tractor equipment are gaining prominence among professionals and semi-professionals as they offer better handling capabilities.
The gas-powered garden and lawn tractors dominated the market in 2018. The rise in the yard landscaping services in different regions is increasing the demand for this equipment. Professionals and semi-professionals prefer Gas-powered equipment due to their enhanced features and capabilities. These tractors take less time to mow yard areas. Therefore, these machines are expected to perform significantly well on rugged and challenging terrains. Reducing energy prices is also expected to propel the demand for gas-powered tractors.
The electric-powered garden and lawn tractors segment is expected to witness growth at a considerable rate during the forecast period. The increasing demand for sustainable or eco-friendly solutions in the gardening sector is another driver for market growth. With low maintenance, the demand for electric-powered equipment is expected to increase.
Read more: Electric Lawn Mower Adoption Increasing in Landscape Industry
Further, the segment is likely to observe considerable sales growth during the forecast period as these machines offer more cost-saving benefits than gas-powered models. The demand for sustainable and environment-friendly equipment is growing among professional landscapers, which is expected to witness a significant rise during the forecast period.
Residential users opt for lawn and garden tractors as they offer comfort, convenience, and enhanced performance. Therefore, factors such as storage, portability, and safety are usually the deciding factors for residential end-users. The usage of battery-powered and electric-powered tractors is also expected to witness considerable demand among household users in developed countries. Moreover, the introduction of productive and profitable lawn and garden products is likely to contribute to market growth.
Two-wheel tractors perform different types of tasks and are the most viable option in the residential sector. As these tractors offer enhanced productivity, and the ease of operation, the demand for two-wheel drivers is likely to increase during the forecast period. Furthermore, these equipment perform multiple tasks, which increase their popularity and acceptance among end-users, thereby impacting the overall sale. The four-wheeled drive segment is expected to grow at a CAGR of over 3% during the period 2018-2024.