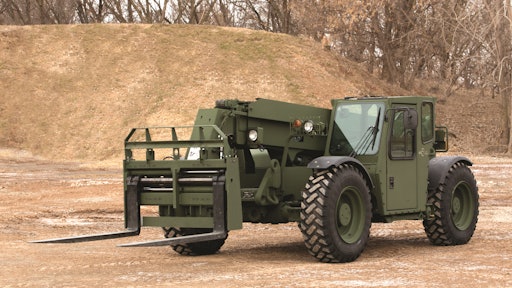 Oshkosh Defense LLC, an Oshkosh Corporation company, announces the U.S. Marine Corps has approved the fielding of the newly modernized Extendable Boom Forklift (EBFL-M) fleet. Oshkosh will begin delivering EBFL-M vehicles to the initial fielding locations later this month. Oshkosh is scheduled to deliver 535 vehicles by late 2017 to both the Marine Corps and Navy, nearly two years faster than the program's projected completion date of 2019.
"We're very pleased with the progress of this modernization program and confident that the modifications to the EBFL will enhance how safely and efficiently Marines and sailors are able to carry out logistical missions," says Pat Williams, Vice President and General Manager of Army and Marine Corps programs for Oshkosh Defense. "Being able to deliver well ahead of our original schedule reinforces our commitment to the operational needs of the warfighter."
The updated EBFL-M vehicle is equipped with several new 'plug-and-play' features that increase loading efficiencies and operator safety during missions downrange. Modernization upgrades include forklift options to handle 7,000 and 11,000 lb. payloads with smaller attachments and a relocated hydraulic manifold to more efficiently load and unload aircraft including with the new CH-53K helicopter.
The newly designed two piece EBFL-M cab features an armored upper cab option for greater operator protection and an armored lower compartment that houses the vehicles' systems. The removable upper cab can be easily replaced in the field with an armored cab without disconnecting any vehicle systems. Under the current contract, Oshkosh will supply 100 armored vehicle cabs.
The EBFL-M contract awarded to Oshkosh is a maximum $99 million firm-fixed-price, indefinite-delivery/indefinite-quantity contract. All work will be performed in Oshkosh, WI. The contract was competitively procured.
Visit the Oshkosh Defense exhibit at this year's Modern Day Marine expo, September 27-29 in Quantico, VA, to see the EBFL-M.