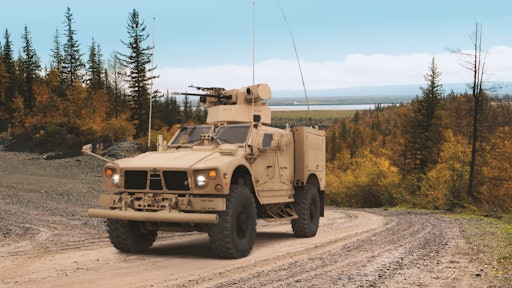 Oshkosh Defense LLC, an Oshkosh Corporation company, will showcase its Joint Light Tactical Vehicle (JLTV) and MRAP All-Terrain Vehicle (M-ATV) with fully integrated, next generation lethality and networking capabilities at the AUSA Conference 2016. The vehicles will be on display at the Walter E. Washington Convention Center in Washington, D.C. from October 3-5, 2016.
"Our JLTV and M-ATV platforms are engineered with industry-leading suspension and protection systems, as well as the ability to support a spectrum of C4ISR suites, mission kits and weapon systems required for the modern battlefield," says John Bryant, Senior Vice President of Oshkosh Corporation and President of Oshkosh Defense. "These vehicles represent a technological leap forward in off-road mobility, protection, lethality and communications, which is opening the door for such vehicles to play more significant role in a variety of ground operations."

The JLTV Family of Vehicles was designed from the ground up to provide new levels of protected mobility in the light vehicle class, while supporting advanced networking, C4ISR suites and increased fire power. The JLTV General Purpose variant on display is equipped with an EOS R-400S-MK2 remote weapon system integrated with Orbital ATK's M230 LF 30 mm lightweight automatic chain gun to demonstrate the vehicle's ability to support increased lethality including a medium caliber weapon system. The JLTV is available in 2-door and 4-door models in the following configurations:
JLTV Utility
JLTV General Purpose
JLTV Close Combat Weapons Carrier
JLTV Heavy Guns Carrier
The battle-proven M-ATV Family of Vehicles offers the best combination of protection and off-road mobility in the MRAP class of vehicles. The M-ATV Assault variant on display is outfitted with a Moog Reconfigurable Integrated-weapons Platform (RIwP) to demonstrate expanded overmatch and lethality for all battlefield conditions. The RIwP contains a Javelin missile, a M249 machine gun, an Orbital ATK M230 LF 30 mm lightweight automatic chain gun, and a DRS Long Range AIM target acquisition sensor suite.
M-ATVs are offered in standard and extended wheel base models with five variants to meet mission requirements for Armed Forces around the world. The M-ATV variants include:
M-ATV Special Forces
M-ATV Assault
M-ATV Engineer
M-ATV Command
M-ATV Utility
"Looking ahead, future battlefields will generate an unpredictable combination of terrain, tactics and threats," says Bryant. "Our JLTV and M-ATV platforms can be configured with the protection and mission equipment to support both defensive and offensive operations outside-the-wire."

Oshkosh Defense leadership will be available to discuss the Oshkosh JLTV and M-ATV Family of Vehicles, and the company's full portfolio of vehicles, technologies, integration capabilities and aftermarket solutions at the AUSA Conference 2016 in booth #1409.