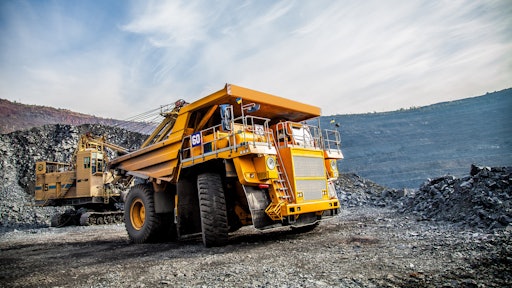 ©Alex – stock.adobe.com
The mining equipment market in North America is showing signs of recovery based on the number of shipments being up in the fourth quarter of 2020 compared to previous quarters in 2020. COVID-19 dramatically affected the mining equipment market, as it did with most other segments globally, driving down commodity prices, causing PPE shortages, requiring labor force restrictions and disrupting supply chains.
Although 2020 was a setback in terms of production of mining equipment, the short-term outlook is quite favorable, based upon Power Systems Research's (PSR) global economic forecasts and vaccine rollouts. Better times for mining appear to be ahead in 2021 and beyond.
Looking at mining equipment production, PSR sees a rebound for the overall industry from 2020 of about 13% for 2021 and compound annual growth rate (CAGR) of 3.8% for the years 2021-2026.
Production information for mining equipment comes from OE Link™, the PSR proprietary database of OEM production and forecast data. OE Link™ covers IC engines and electric and hybrid-drive systems for vehicles, as well as stationary and mobile applications. PSR has been tracking these production trends since 1976.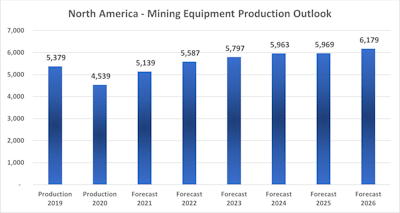 Caterpillar is a good example of what is happening in the mining equipment segment and the resulting reduced volumes from 2019 to 2020. The company's Resource Industries business is focused on machinery used in heavy construction and mining, for both surface and underground operations. Caterpillar's equipment is used to extract and haul copper, iron ore, coal, oil sands, aggregates, gold and other minerals and ores.
The COVID-19 pandemic caused a global recession and it is uncertain when a sustained economic recovery may occur. The COVID-19 pandemic has also significantly increased economic and demand uncertainty, and Caterpillar notes that COVID-19 has led to a general decrease in demand for its products and services and caused supply chain disruptions.
Total sales for the Resources Group within Caterpillar were $7.906 billion in 2020, a decrease of $2.370 billion, or 23%, compared with $10.276 billion in 2019, the company reported. The decrease was due to lower sales volume, driven by lower demand for equipment and aftermarket parts and the impact from changes in dealer inventories.
Cat dealers decreased inventories during 2020, compared with an increase during 2019. Mining equipment end-user demand and aftermarket parts demand were down in 2020, though to a lesser extent than in construction.
Mining equipment sales were affected by mining company delays in capital expenditures due to pricing in some commodities and overall economic uncertainty. Resource Industries' profit was $896 million in 2020, a decrease of $733 million, or 45%, compared with $1.629 billion in 2019. The decrease was mainly due to lower sales volume, partially offset by favorable manufacturing costs.
The larger magnitude decrease in profitability (-45%) versus the decrease in revenue (-23%) for the Resource Industries segment within Caterpillar illustrates that in a lower volume, higher cost industry like mining equipment production, the potential profits are likely to fall off more quickly than revenues in this rather capital intensive segment with substantial overhead costs.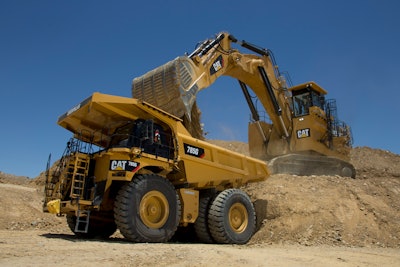 Surface mining versus underground mining
The mining segment has two sectors: surface mining and underground mining. Surface mining equipment includes crawlers, excavators, off-highway trucks and wheel loaders/dozers. For purposes of splitting out the market, PSR has assumed that equipment rated greater than 400 hp (298.3 kW) is used for surface mining and those equipment types less than 400 hp for crawlers, excavators, off-highway trucks and wheel loaders/dozer are used more exclusively in Construction and earthmoving applications.
Surface mining outlook
Looking at surface mining equipment production in North America, production levels dropped from over 4,900 units in 2019 to just over 4,200 units in 2020 or a decrease of 15%. PSR sees a rebound of 13% in 2021 as unit production increases from 4,200 units in 2020 to just shy of 4,800 units in 2021 and close to pre COVID-19 levels. The outlook includes a CAGR of 3.7% for the production of surface mining equipment in North America over the years 2021-2026.
The need for new equipment for mining operations is increasing. It is speculated that there will be growth in the excavation of iron ore, nickel and bauxite then followed by gold and copper.
Battery-electric mine trucks are on the way. Although in early stages, development of a battery-electric powertrain and a fast charging solution are being worked on for use in surfacing mining equipment.
Underground mining outlook
The underground mining segment is much smaller than surface mining and totaled only about 400 units in 2019. The products included in Underground Mining include a variety of purpose-built equipment including mining loaders, mining locomotives, mining personnel carriers, mining utility vehicles, ore transporters and some smaller volume niche type products that are either self-propelled or stationary.
North American production volumes of underground mining equipment dropped by 21% in 2020 to about 320 units. PSR expects production volumes for underground mining in North America to rebound by 7.5% in 2021 to a total of 344 units.
Automation and electrification are also helping with market growth and productivity. Underground mining equipment is very viable for autonomous and electrified machines.
The coal segment alone accounts for approximately 40% of underground mining activity. It appears that mining for copper will be on the rise and therefore, increase the production of new mining equipment over the next couple of years.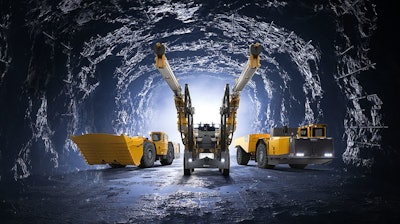 Equipment overview
Here PSR will look at what is happening in some of the key machine applications which represent the largest share of annual volumes within mining.
Wheel loaders/dozers
PSR sees 2021 production for wheel loaders and dozers used in mining applications (greater than 400 hp) climbing about 19% to 2,374 units from a 2020 level of just over 2,000 units. This follows a decline from 2019 to 2020 of 18% driven by Tier 4 engine regulations/new machine designs that significantly increased machine cost along with COVID-19 related factors.
The North American production leaders in this space, according to Carol Turner, Power Systems Research Senior Analyst, include Caterpillar and Deere with a majority share of production and other players of these heavy-duty wheel loaders and dozers including brands like Hitachi and LeTourneau.
Production is expected to moderate over the next several years, driven by global economic factors, but North American production of wheel loaders and dozers for surface mining applications are expected to have a CAGR of 3.6% over the period 2021-2026.
Excavators
North American production of large excavators used in surface mining applications (greater than 400 hp) experienced a decrease of 7% from 2019 to 2020 falling from 993 units to 923 units in total. PSR expects a recovery within large excavators in 2021 of about 7% which will bring the excavator production back into line with 2019 levels at over 980 units. The production for excavators is typically more stable than other products within surface mining as these are generally on a more "predictable" replacement and consumption cycle. PSR forecasts a CAGR for large excavators of 1.6% over the period 2021-2026.
Off-highway trucks
The off-highway trucks application includes both rigid haul and articulated trucks. North American production volume of off-highway trucks fell 15% from a level of 1,153 in 2019 to 975 in 2020. PSR expects a recovery of 10% in 2021 to 1,077 units and an additional 10% in 2022 to 1,187 units. The outlook to 2026 is positive with a CAGR of 5% over the years 2021-2026 which reflects the demand for off-highway trucks and the central role they play in core mining operations.
Macro outlook
PSR does not expect any rapid recovery in overall global economic activity during the first half of 2021, but it does see an increase in activity in the second half of 2021. Even though COVID-19 vaccinations are underway, the pandemic continues rising in many parts of the world. This will delay economic recovery efforts, both regionally and globally.
Furthermore, potential logistical difficulties in the rollout of the vaccines, structural damage to labor markets and U.S.-China tensions also pose downside risks.
With support from governments, the demand for products and services globally is slowly coming back, and PSR expects this trend to significantly increase during the second half of 2021. Government stimulus, particularly in the United States, is likely to provide a major boost to economic activities.
According to a report from the Organization for Economic Development, global GDP growth is now projected to be 5.6% this year, an upward revision of more than 1 percentage point from the December OECD Economic Outlook. Overall, global output is expected to reach pre-pandemic levels in the second half of 2021.
Global inflation should remain broadly stable during 2021. While price pressures in developed economies should intensify as economic activity recovers, inflation concerns in developing markets has been declining mainly due to stabilizing currencies and reduced supply-side pressures.
To briefly summarize the global industrial outlook for 2021, it is clearly visible that most market segments, including mining in North America, are set to show recovery and growth relative to 2020.
Bottom line: The mining industry will continue to evolve and adjust over the next 3-5 years but nonetheless will be back on its legs from the setbacks experienced during 2020.
This article was written and contributed by Jim Downey, Vice President-Global Data Products, Power Systems Research.
Companies in this article