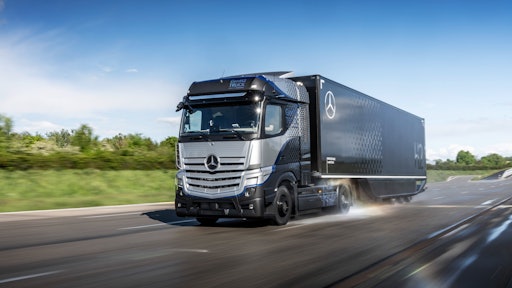 Daimler Trucks
OEM Industry News Briefs provides a weekly round up of the latest news and company announcements you may have missed in the heavy equipment engineering and manufacturing industries.
Epiroc Boltec M Battery debuts in Canada
Epiroc has delivered the first Boltec M Battery rig to the Canadian market. The machine is a fully mechanized bolter powered by a battery-electric system to provide zero-emissions in underground mining working environments.
The company says in its press release announcing the delivery that its shot in Lively, Ontario received the machine in early 2021. There it was prepped for the customer by undergoing tests and inspections to ensure it was ready for use.
Epiroc says that in addition to the zero-emissions capabilities of the machine, it is also equipped with a bulk resin which helps minimize unreliable bolting installations. The system provides easy pumpability, fast setting times and optimized load bearing characteristics—all of which the company says significantly reduces cycle times while improving safety.
An onboard charging system enables the Boltec M Battery to charge while it drills; the system uses built-in intelligence to automatically prioritize bolting over charging and prevents power draw from exceeding the rated mine supply, explains Epiroc in its press release.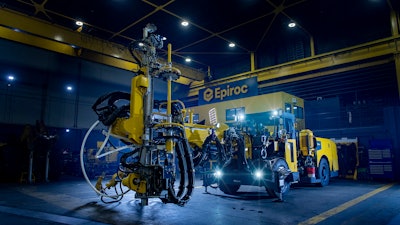 ForeverLok receives design award
Multi Piece Fastener announces it has won a 2021 Fastener Innovation Award for its ForeverLok fastener design from Worldwide Fastener Sources.com. The award aims to honor design innovations for engineered fasteners.
"It is an honor to be named a winner of the Fastener Innovation Award," said Earl Size, Founder of Multi Piece Fastener, in the company's press release announcing it had received the award. "As engineers incorporate innovative fasteners as part of the design process to solve challenging issues of vibration, we are proud to be part of the solution."
The company notes its ForeverLok design involves three items: a central threaded fastener, a threaded intermediate fastener, and a retaining fastener. It is capable of holding a nut in place to prevent loosening without the use of special pins, bolts or other tools.
Per the press release, international testing has shown:
The ForeverLok design results on the military vibrational test (NASM 1312-7) exceeded requirements by over 14 times and retained an unprecedented 93.5% of its original torque.
The ForeverLok design prototype fastener retained 89% of torque surpassing the retention pass specification of the DIN 25201-4 test.
After concluding the break torque test, the ForeverLok design is estimated to have a 50% higher torque rating than the recommended torque rating for the ½" grade 8 bolt used in the testing. Thus, the fastener potentially could be configured as a smaller, lighter, and more compact fastener while providing a comparable torque value.
Read the article New Approach to Fastener Design Prevents Loosening in Off-Road Equipment to learn more about this fastener design.
ClearFlame partners with Alto Ingredients to demonstrate engine decarbonization with ethanol
ClearFlame Engine Technologies has announced a partnership with Alto Ingredients, Inc. to conduct pilot demonstrations of diesel engines using low-cost ethanol in Class 8 trucks.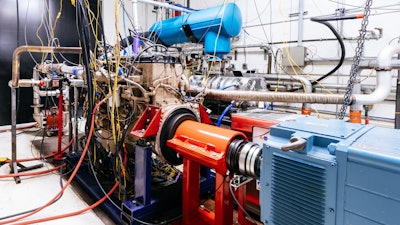 Per ClearFlame's press release announcing the partnership, it will provide Alto with a Class 8 truck retrofitted with a 500 hp heavy-duty demonstration engine, which can match diesel torque and efficiency by achieving true diesel-style combustion of any decarbonized fuel. In turn, Alto will provide fuel and fleet support, which will enable real-world testing on the road. ClearFlame anticipates its engine running on ethanol can reduce GHG vehicle emissions by more than 45% and offer an estimated 15-30% TCO savings when compared with a diesel-fueled solution.
"This is an important milestone for us as we can now offer fleets a widely available fuel solution so they can begin to test our technology easily in real-world environments," said Dr. BJ Johnson, ClearFlame CEO and co-founder, in the company's press release. "Alto provides the important logistical infrastructure critical to ensuring successful demonstration – everything from tank installation to dispensing of the fuel, with a well-established existing liquid fueling infrastructure already in place. We look forward to working with them to drive forward our mission of quickly decarbonizing heavy-duty industry with a practical, cost-effective solution that is available today."
ClearFlame is aiming to have trucks equipped with its technology driving on roads in late 2021 and fleet testing to begin in 2022.
Listen to our podcast interview with ClearFlame's co-founders to learn more about the technology.
Allison Transmission providing technology for Indonesia medium tank program
Allison Transmission announces it has recently collaborated with Caterpillar Defense, FNSS and PT Pindad, to provide a new medium tank to the Indonesian Armed Forces. Between 200 and 400 tanks are planned and developed specifically to perform in the dense vegetation found in Asia.
Known as Harimau, the medium-weight tank is designed to operate in difficult terrain and will help Indonesia modernize its armed forces. The tank utilizes Allison's cross-drive transmission technology which provides propulsion, steering and braking the company says in its press release announcing its participation in the tank program.
The Harimau has already undergone and passed extensive testing and is now entering full production.
Daimler Trucks begins rigorous testing of fuel cell truck
Daimler Trucks announces it began what it terms rigorous testing of its fuel cell prototype Mercedes-Benz GenH2 Truck in late April. The company says it is looking to achieve a range of 1,000 km with the trucks, and that testing of the prototype is an important step toward series production.
The company says in its press release announcing the testing it will conduct a series of extensive tests that will put a lot of demand on the vehicle and its components. There will be a focus on testing continuous operation of the fuel cell truck as well as operating it in different weather and road conditions, and evaluating a variety of driving maneuvers.
Daimler Trucks says it plans to also begin testing the truck on public roads before the end of 2021, and customer trials will being in 2023. It aims to begin the first series production of the GenH2 in 2027.
Per the press release, the GenH2 Truck was designed from the ground up and includes new components developed to meet the needs of the application. Daimler Trucks says evaluating their performance will be of particular focus during the testing of the fuel cell powered truck.
"The hydrogen-powered fuel-cell drive will become indispensable for CO2-neutral long-haul road transport in the future. This is also confirmed by our many partners with whom we are working together at full steam to put this technology on the road in series-production vehicles. Moreover, considerable momentum is being generated by the clear commitment of national and European regulators to the use of hydrogen for road freight transport. Political support plays an important role in promoting the creation of an infrastructure for green hydrogen and making an economically viable use of fuel-cell trucks possible for our customers," said Martin Daum, Chairman of the Board of Management of Daimler Truck AG and Member of the Board of Management of Daimler AG, in the company's press release.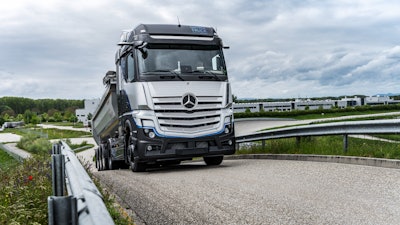 Companies in this article