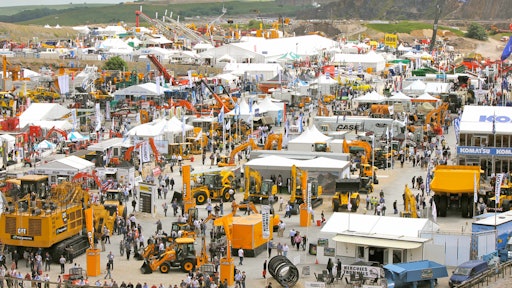 Recognized as the world's biggest quarry equipment demonstration show, Hillhead 2014 promises three days of non-stop action from 24–26 June, when some 450 U.K. and international suppliers of plant, equipment, materials and services will be showing off their latest products, innovations and technological developments, many of which will be on show for the first time in the U.K. A few of the highlights are outlined below.
Mobile Plant
Milling, paving and compaction equipment specialists Bomag (GB) have confirmed that their new 19-tonne class wheeled paver, the BF 600 P-2, will be on display at the show. Said to represent a large step forward in terms of safety, productivity and operational efficiency, the machine is equipped with the new high-performance Bomag S500 screed and offers a maximum output of 600 tonnes/h and a maximum paving width of 8m.
Among the Doosan products making their first appearance at Hillhead will be the 52-tonne DX530LC-3 excavator and DL420-3 wheel loader. The DX530LC-3 is powered by the proven Isuzu AL-6WG1X Stage IIIB-compliant diesel engine, providing 290kW (389hp) of power at 1,800 rev/min, while the Stage IIIB-compliant DL420-3 combines high engine power output and SCR technology with a new ZF transmission and several other features to minimize fuel consumption.
Caterpillar dealers Finning will be showing the latest fuel-efficient machines including the M-Series wheel loader range and the 725 and 730 articulated dumptruck models, the latter of which will be in action in the face demonstration area. Industry specialists will also be on hand to discuss key aftermarket service offerings, including the Just Add Diesel, Eco-Drive and Finsight initiatives.
Hillhead 2014 will mark the launch of a strategic move by Hitachi into the UK quarrying and mining sectors, with the company exhibiting a selection from their new Dash-5 wheel loader range, which consists of 14 different models from 2 tonnes up to 47 tonnes. These sit alongside a range of 12 rigid dumptrucks and the world-renowned large-size Hitachi excavators.
The Hyundai stand at Hillhead 2014 will feature a total of nine machines including two brand new models – the 42.6-tonne R430LC-9A crawler excavator and the 12-tonne R125LC-9A midi-excavator. Taking centre stage, the R430LC-9A is powered by a low-emission, low-noise Cummins QSL9 Tier 4 Interim/Stage IIIB engine which offers a power output of 231kW (310hp). Making its world debut, the R125LC-9A short-tail-swing midi-excavator is fitted with a Tier 4 Interim/Stage IIIB-compliant Perkins 1204E engine.
JCB will highlight the diversity of their product range with two stands at Hillhead 2014 along with live operations in the demonstration area. Taking centre stage will be new fuel-saving models which will all be making their UK debuts, including the new 457 wheel loader, the updated JS360 tracked excavator and a new series of compact excavators. Offering a fuel saving of around 16% compared with the previous model, the new 457 is the first machine from JCB to utilize the company's next-generation CommandPlus cab which is said to offer the ultimate in operator comfort.
Hillhead 2014 will provide the UK launch pad for three new products from Liebherr Great Britain. The compact 14-tonne R914C excavator with a 1,600mm tail swing and the larger 22-tonne R9222 excavator equipped with a Stage IIIB-compliant engine will be among the latest exhibits. Also on show will be the 22-tonne PR 736 bulldozer featuring a 5m3 blade and highly efficient hydrostatic drive system that keeps fuel use as low as possible.
Taking centre stage on the Marubeni-Komatsu stand will be the complete Dash-7 wheel loader range, including the EU Stage IIIB-compliant WA320-7, WA380-7, WA470-7 and WA500-7 models, all featuring SmartLoader Logic, Komtrax and Komatsu CARE solutions. Also on display will be two machines from the company's intelligent machine control range – the D61PXi-23 bulldozer and PC210LCi-10 crawler excavator.
Volvo Construction Equipment will be showcasing their hard and soft products, with the company's latest Stage IV machines taking centre stage on the stand. Other products on show will include: the Volvo P6870C wheeled paver; a new 5-tonne reduced-swing compact excavator; the latest FMX and FH truck models; Stage IV engines from Volvo Penta; and aftermarket service offerings.
Wirtgen will be exhibiting no fewer than 15 machines at this year's show. Making its UK debut will be the W200Hi hydraulically driven milling drum machine with flush cutting to both sides of the mill. Also on display will the latest Kleemann MCO9 crusher from the Mobicone series, and two new models – the HD90iVV large articulated tandem roller and H13i compactor – from the Hamm range.
Processing Plant
CDE have announced that Hillhead 2014 will see the launch of a new contract washing offer to the market in partnership with Aggregate Processing Solutions (APS). The partnership between the two firms in the UK will offer access to a suite of CDE modular washing equipment without the need for an initial CapEx investment. A variety of options will be available to operators through APS, including rental, hire to buy and price per tonne contracts.
Garriock Bros., official distributors for Metso Minerals' construction and recycling equipment in Scotland, England and Wales, will be displaying a wide range of products including the revolutionary new Lokotrack LT220D. This innovative combination of high-performance cone crusher and screen on the same chassis offers the benefits of lower fuel consumption, easier transportation, reduced maintenance and quicker set-up times, thereby increasing effective production time and production capacity.
Parker Plant will be showing the latest additions to their extensive asphalt and crushing equipment portfolio, including the E3 counterflow drum mixer, Spreadmaster chipping spreader and Premix 12 concrete turbomixer which produces cement paste by mixing cement with water and additives prior to combining with aggregates, to ensure homogeneous truck-mixed concrete up to 12m3 per batch.
As usual Powerscreen will be showcasing an array of new and existing products. Four brand new machines – the Premiertrak 300 HA jaw crusher, Warrior 2100 screen, Premiertrak 600 diesel electric jaw crusher and Maxtrak 1150 cone crusher – will be working in the demonstration area.
Once again Sandvik Construction will be showcasing their latest range of mobile crushing and screening equipment, as well as extensive line-up of hammers and breakers from the Rammer brand. Among the new products on show will be the QA451 mobile tracked screener, CH540 cone crusher, the Rammer 5011 hydraulic hammer and DI550 drill rig.
There will be a host of new product launches on the Terex Finlay stand, including the 893, 883+ and 883+ Spaleck heavy-duty screeners and 693+ inclined screening machine. In action at the show will be the new C-1550 cone crusher, I-100RS impact crusher and J-1170AS jaw crusher. The company will also be demonstrating new diesel/electric variants of the current J-1175 jaw crusher, C-1540 cone crusher and 694+ inclined screen.
Terex Washing Systems (TWS) will be officially launching their new Aggresand 206 wash plant, suitable for all industrial, construction, recycling and mining applications. This larger Aggresand model shares all the special modular features of the Aggresand 165 model, which was launched in 2013, including ease of transportation, rapid set-up time, pre-wired and pre-plumbed components and an HMI control system. TWS will also launch another new product, their next-generation log-washer, the Aggrescrub 150.
Materials Handling
At Hillhead 2014 Eriez Europe will be displaying new stronger and lighter overband magnets for mobile crushers as well as a selection of suspended permanent magnets and metal-detection equipment designed to support the quarrying, mining and recycling sectors. Among the novelties on display will be a brand-new rare earth suspended magnet which is said to be 60% lighter than the conventional ferrite version, making it particularly suitable for the mobile equipment market.
As well as showcasing a full range of vibratory feeders, Skako Vibration will also be exhibiting the new Skakogab, a fully automatic feeding and loading station for the filling of gabion baskets. Capable of simultaneously filling up to four baskets (depending on the size) within 4min, the Skakogab comprises a 10m3 loading hopper, twin 'traversing' vibratory feeders, loading box on a compaction table and controls for automatic and manual operation.
At this year's show Tesab Group will be exhibiting their new Trackstack 8542TBF stockpile conveyor, which features a belt-feed hopper design capable of delivering high tonnages. The company will also be demonstrating its new 1200TC tracked cone crusher and Trackstack 8042T tracked conveyor.
Ancillary Equipment
Cummins will be using Hillhead 2014 to launch their new Powerpack range. Built in Darlington, UK, and based on a trusted and successful design from Cummins Power Products in the US, the Powerpack range utilizes the renowned Cummins QSB4.5, QSB6.7 and QSL9 engines to provide reliable and durable 'torque in a box' power solutions from 82kW (110hp) to 298kW (400hp). Cummins say the range is durable and versatile enough to be used in any demanding application, particularly crushing and screening machines in the quarrying and construction industries.
Hillhead 2014 will see RUD Chains displaying their advanced tyre-protection chains and latest innovative Sideflex solution, which is an inventive and robust device that offers a practical solution to the ever-present challenge of sidewall damage to dumptruck tyres. Also on show from the company will be a range of complete conveyor systems for bucket elevators, scraper conveyors, drag chain conveyors, screw conveyors and apron feeders.
On the Selwood Pumps stand will be a wide range of pumps for all applications, including the new H200 high-head unit specially designed for the quarrying sector. The heavy-duty, automatic self-priming pump is powered by a Stage III/Tier 4 Interim-compliant Volvo D16 (601hp), with a 158m delivery head and max flow of 750m3/h.
Safety, Health and Environment
First-time exhibitors Arcure will be showing their Blaxtair pedestrian-detection system for construction equipment. The vision-based system is said to be the only device that can specifically distinguish pedestrians from other objects in real time. Should a pedestrian enter a hazardous area, a sonic alarm alerts the driver within a fraction of a second, allowing ample reaction time to prevent a potentially fatal collision. The unique feature of Blaxtair is that it warns the operator only when it is strictly necessary, ie when a pedestrian is put in danger, but does not generate unnecessary alarms for objects that do not need to be detected.
Independent dust and air-quality assessment specialists DustScan will be showing their new combined directional and PM10 sampler, the DS500X. Designed for comprehensive site boundary or compliance monitoring, the instrument combines the company's well-established directional sticky-pad gauge with a battery-powered filter reference particulate sampler. As the unit is battery powered, it can be located in remote locations where mains power is not available.
The Mobileye collision-avoidance system, a recent advancement in road accident prevention, will be showcased by UK distributors and installers Emotive Solutions. With its patented technology, the Mobileye system constantly watches and analyses the road in real time, measuring the distance and relative speed of other road users and calculating the risk of collision. When imminent danger is detected, the system emits visual and audible alerts. The system has been proven to reduce fuel costs and can be interlinked with telematics, making it a useful tool for fleet operators.
Further information
Comprehensive information about the show, including full exhibitor details, site plans, Hillhead logos etc, can be found on the Hillhead 2014 website (www.hillhead.com).