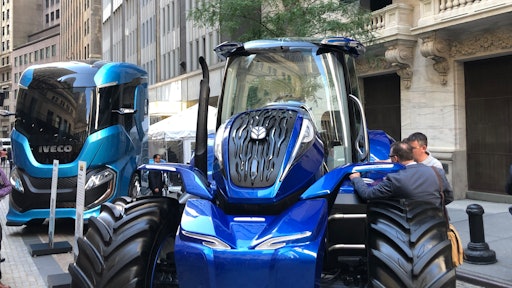 S. Jensen
CNH Industrial and its former commercial vehicle business IVECO began 2022 as separate businesses. On the first business day of the year, January 3, CNH began trading on the New York Stock Exchange (NYSE) in the United States and Borsa Italiana's Euronext Milan in Italy as a fully focused agriculture and construction player. On the Euronext Milan, trading in shares of Iveco Group N.V. began.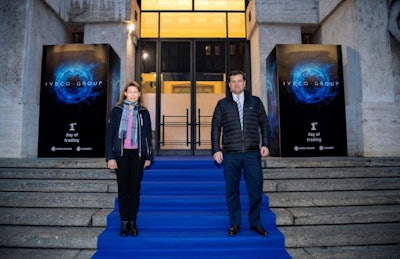 The companies first announced in 2019 a separation of CNH's on- and off-highway businesses. Since that initial announcement company leaders have been working toward establishing new organization structures and long-term priorities for both businesses.
READ MORE: CNH Industrial Introduces New Strategy to Secure Future Growth
Per a press release from CNH regarding the demerger, the decision was made based on diverging regulatory and customer requirements for the on- and off-highway businesses which are impacted differently by the accelerating industry megatrends. The demerger is intended to maximize management focus and flexibility, align investment priorities and incentives, better meet respective business needs, and optimize the cost and capital structure of each company to drive profitable growth, stated CNH in its press release.
"We are excited to usher in the new CNH Industrial, the result of detailed strategic planning, hard work and boundless determination. I want to congratulate our entire team, and our Senior Leadership Team in particular, for driving this to completion and thank the Board of Directors for overseeing this operation to its successful conclusion. As a pure player in agriculture and construction, we will bring our undivided attention to bear on supporting our customers and dealers. This involves developing innovative products and processes to enhance productivity; accelerate profitable growth; and spearhead our ambitious ESG plans to ensure we act in full respect of people and the planet," said Scott W. Wine, Chief Executive Officer, CNH Industrial, in the company's press release announcing start of the divided businesses. "I would also like to wish our former colleagues, and now respected peers, in the newly-formed Iveco Group N.V. every success as they commence independent operations and begin trading on Borsa Italiana's Euronext."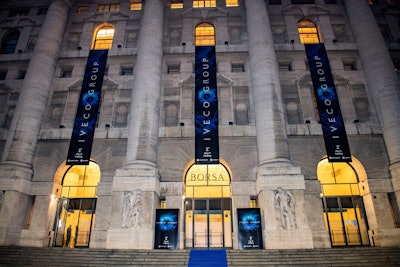 CNH unveils new structure to grow dedicated off-highway business
CNH has created a new organizational structure aimed to help its now construction and agriculture industry focused business succeed in these markets. According to the company, key strategic objectives will be aimed at meeting the company's vision of sustainably advancing the noble work of global agricultural and construction workers.
"We are implementing a new organizational structure, and enhancing our Senior Leadership Team, to elevate our focus on customers and dealers, improve productivity and accelerate profitable growth," said Wine in CNH's press release announcing the new organizational structure. "This new structure fosters agility, eliminates unnecessary bureaucracy, and promotes clear accountability as we execute our strategic priorities and create value for our stakeholders."
CNH says it plans to support customers and dealers by having an inclusive and diverse workforce, developing innovative technologies as well as offering optimal quality and safety. The new Senior Leadership Team will help the company achieve this mission. As CEO, Wine will oversee three Global Business Units (GBU) lead by the following individuals:
Agriculture - Derek Neilson, President
Construction - Stefano Pampalone, President
Financial Services - Oddone Incisa, President
The following businesses and leaders are integrated into the GBUs and are tasked with driving strategic growth:
Corporate Regions
North America – Brad Crews, President
Europe, Middle East & Africa – Carlo Alberto Sisto, President
Latin America – Vilmar Fistarol, President
Asia Pacific – Chun Woytera, President
Business Functions
Digital & Precision – Parag Garg, Chief Digital Officer
Technology & Quality – Jay Iyengar, Chief Technology & Quality Officer
Supply Chain – Tom Verbaeten, Chief Supply Chain Officer
CNH Industrial Business System – Scott Moran, Chief CNH Industrial Business System Officer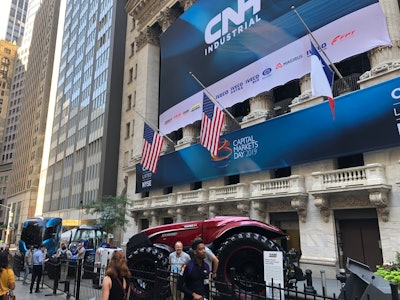 Iveco builds on legacy while focusing on innovation
The new Iveco company includes the Commercial and Specialty Vehicles, Powertrain and related Financial Services businesses from CNH Industrial N.V. Gerrit Marx has been appointed Chief Executive Officer of the company which encompasses over 170 years of history between its brands. Trucks, buses, firefighting and civil protection vehicles will be among the product portfolio as well as powertrain solutions from the FPT Industrial brand for on- and off-road equipment, marine and power generation.
Iveco says in its press release announcing its first day of trading as a separate company that it will have a strong focus on innovation and the development of advanced and sustainable solutions, including reduced- and zero-emission powertrains, cloud-connected driver assistance systems and the exploration of emerging autonomous driving technologies and entirely new business models. It will do so through various partnerships, such as the one it formed with Nikola.
In total, Iveco is comprised of:
8 brands,
29 manufacturing plants,
31 research and development centers and
34,000 people in its workforce.
The company says it will have a presence around the world with a strong base in Europe.
"Our first day of trading marks a historic milestone as we become a fully independent company. I want to thank our Chair, Suzanne Heywood, and our Board of Directors for bringing this spin-off operation to completion and the entire Iveco Group team for taking on the challenge and dedicating extra effort to see it through. We have all the requisites needed for long-term success, including solid foundations, a focused team, and a clear strategy, which will allow us to move quickly, innovating and partnering to create better solutions in today's fast-changing environment," said Marx in Iveco's press release.
"We are also ready to face the global challenges of climate change, directly calling upon the Environmental, Social, and Governance dimensions of our public responsibility. We are committed to transforming not only our business but also our industry, backed by our track record of pioneering solutions in the most advanced fields of road transportation and propulsion, including alternative fuels, autonomous driving, and new business models. The entire Iveco Group team and I are profoundly grateful for the years we shared with CNH Industrial and are confident that our former colleagues will continue to make strides in agriculture and construction. We are excited to begin this next chapter, conscious that we will be facing challenges, but guided by a clear path and vision: we are definitely on the road to a new energy future."
In November, Iveco announced its business strategy and 2026 financial ambitions. Becoming its own business entity will better enable Iveco to capture market opportunities and develop products that will meet customers evolving requirements. Among these will be the need to develop solutions which comply with increasingly stringent emissions regulations.
Iveco has stated the following as its key financial ambitions to reach by 2026:
Targeted total Net Revenues of Industrial Activities at between €16.5 – 17.5 billion compared to €11.8 billion in 2019, a compound annual growth rate up to 5.0%.
The 2026 Adjusted EBIT margin of Industrial Activities is targeted to reach between 5.0 and 6.0%, up to +240 bps increase compared to the 3.6% recorded in 2019.
Targeted Adjusted Net Profit at between €0.6 – 0.8 billion, compared to €0.3 billion in 2019.
Over the same period, Industrial Activities Investments (Property, plant and equipment and intangible assets – including capitalized R&D) are targeted to increase 80 bps from 4.2% to ~5.0%.
Targeted Free Cash Flow from Industrial Activities of €0.5 billion in 2026, compared to €30 million in 2019.
On November 18, the company also signed The Climate Pledge, a commitment co-founded by Amazon and Global Optimism to achieve net-zero carbon emissions by 2040. Target it aims to reach in conjunction with this pledge include developing next-generation alternative fuel engines which help reduce carbon dioxide (CO2) emissions by 2022, design of an electric bus range by 2023 as well as development of new full-electric and fuel-cell powered heavy-duty products such as e-axles by 2024.
To help differentiate itself from the previous corporate identity, a new name and logo for the company were announced. Iveco decided to keep the name it started with in 1975—and which stands for Industrial VEhicles COrporation—in honor of its heritage. The new company logo takes a new spin on the look of the name from previous logos, and incorporates the various brands within the group.

Iveco also announced an organizational structure and leadership team which are designed to help the company achieve its business targets. According to a press release on the subject, the Iveco Group structure is designed to be customer-centric, accountable and performance driven. Its delineation stems from the Business Units, which encompass the following businesses with their respective brands:
Truck (IVECO),
Bus (IVECO BUS and HEULIEZ),
Powertrain (

FPT Industrial

),
Defence Vehicles & ASTRA, Firefighting (Magirus) and
Financial Services (IVECO CAPITAL).
"With this structure in place, we are ready to embark on our exciting future. It provides clarity from the start and from the top, placing customer-centricity at its core and setting forth a high- performing team with well-defined roles and accountabilities that mutually complement each other. Its design will generate a positive ripple effect down to the further layers of the organization, driving our sharp focus on key business goals and identifying the best means for serving our customers, cooperating with our partners and rewarding our shareholders," said Marx in the company's press release.
The following people were appointed to the company's Senior Leadership Team:
Business Units
Truck – Luca Sra, President
Bus – Domenico Nucera, President
Powertrain – Sylvain Blaise, President
Defence Vehicles & ASTRA – Claudio Catalano, President
Firefighting – Thomas Hilse, President
Financial Services – Simone Olivati, President
Support & Industrial Functions
Finance – Francesco Tanzi, Chief Financial Officer
Operations – Annalisa Stupenengo, Chief Operations Officer
Technology & Digital – Marco Liccardo, Chief Technology & Digital Officer
Human Resources & ICT – Francesco Tutino, Chief Human Resources & ICT Officer
Corporate Functions
Institutional Relations & Sustainability – Michele Ziosi, Senior Vice President
Communications – Francesco Polsinelli, Senior Vice President
The Legal & Compliance and Internal Audit appointments will be announced at a later date.
Companies in this article