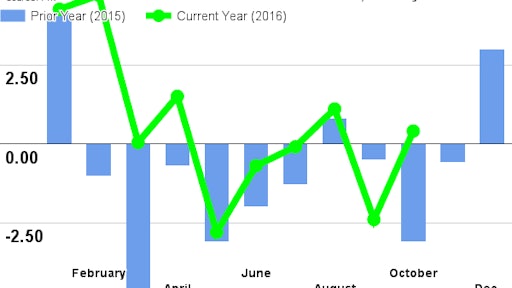 FTR's Shippers Conditions Index (SCI) for October sits at a neutral reading of 0.4. This is a pause before the index begins an expected decline in 2017, with the implementation of capacity-constraining regulations and an uptick in shipping rates as the economy strengthens. Shippers can expect a couple more months of neutral market conditions before an extended plunge in the metric that could last into 2019.
The SCI is a compilation of factors affecting the shippers transport environment. Any reading below zero indicates a less-than-ideal environment for shippers. Readings below -10 signal conditions for shippers are approaching critical levels, based on available capacity and expected costs.  
Jonathan Starks, COO at FTR, comments, "Market activity for trucking is beginning to improve, a combination of higher volumes and less truck capacity in operation. This trend should continue and will lead to higher rates and the potential for lower service levels. If you view the spot market as an early indicator, then we have seen steady improvement in loads and rates since this fall.
"Shippers likely won't be impacted well into 2017. Contract rates are still low and higher movement in this arena isn't likely until after the winter bid season. I wouldn't expect to see any significant improvement in contract rates until the latter half of 2017. The main reason is that the real capacity issues stem from the Electronic Logging Device (ELD) implementation that is scheduled for the end of 2017."