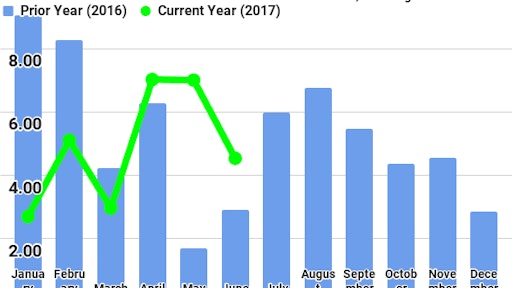 FTR's Trucking Conditions Index (TCI) for June fell more than two points month-over-month (m/m) to a reading of 4.54. As detailed in the August issue of the Trucking Update, the lower June reading is, in part, a reflection of the increased costs for labor, fuel, and purchased transport for some. Market tightness is now seen as likely shorter than expected with some resistance to new regulations that could have put an increased drag on capacity. FTR has a favorable freight forecast for 2017 but does not expect as strong a result in 2018, showing perhaps half the growth and with an increasing risk of recession by the end of the year.
Jonathan Starks, Chief Operating Officer at FTR, comments, "Despite the monthly drop from May to June, the TCI has stayed in a relatively stable range since this time last year. It remains positive, but does not yet indicate that a significant change in operations is occurring. The potential for such a change increases as we move through 2018, with ELD implementation and continued freight growth hindering truck capacity. We are also beginning to hear stories of increased difficulty in hiring as the economy begins approaching full employment.
"The recent strong increases in spot market rates bears a close watch, as it is an early indicator as to how rates in the much bigger contract arena are likely to move. Spot data in early August shows that the rate increases have hit the double-digit mark and are still moving up. Market participants need to continue evaluating conditions ahead of the ELD implementation in December to make sure that they are prepared for the possible disruptions that could occur."
The TCI tracks the changes representing six major conditions in the U.S. truck market. These conditions are: freight volumes, freight rates, fleet capacity, fleet bankruptcies, fuel price, and financing. The individual metrics are combined into a single index that tracks the market conditions that influence fleet behavior. A positive score represents good, optimistic conditions. Conversely, a negative score represents bad, pessimistic conditions. A reading well below zero warns of a problem, while readings high above zero spell opportunity. Readings near zero are consistent with a neutral operating environment, and double digit readings (both up or down) are warning signs for significant operating changes.