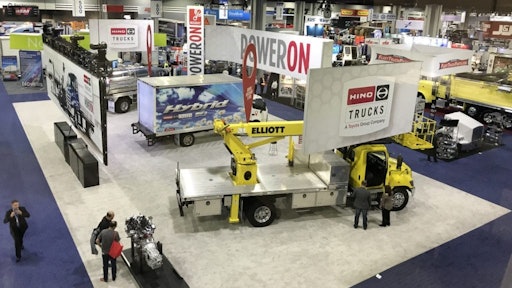 The first North American Commercial Vehicle Show (NACV Show), a new concept commercial vehicle industry trade show focused on truck & trailer manufacturers and commercial vehicle parts and components suppliers, hosted 439 exhibitors covering 370,000 sq. ft. of net exhibition space at the Georgia World Congress Center. Thirty percent of exhibitors are headquartered outside of the United States. A total of 6,000 unique visitors and 9,000 visits for the four-day show represented industry leaders, suppliers, top fleet owners and managers and 234 accredited international journalists. Top OEMs and solutions providers released their latest innovations, including hybrid and electric powered trucks, cutting-edge customizable trucks and trailers, advanced driver assistance systems, fuel efficiency equipment, safety technologies and high-quality truck accessories at the sold-out show.
"The NACV Show's B2B concept was a real hit with our attendees who gave us high marks for launching such a global showcase," says Larry Turner, President and CEO of Hannover Fairs USA and co-organizer of the show. "The industry's key players have been extremely supportive of this new show and made it a priority to launch their exciting new products at our first show."
"We are happy with the results of our inaugural event," says Joe Glionna, President of Newcom and co-organizer of the NACV Show. "A lot of things worked for the larger exhibitors, but we learned that there are some changes required to ensure the smaller booths have the same experience. We will be sending out surveys shortly."
New Technologies From Around The World Spotlight Industry's Exciting Future
The world's leaders in the truck and trailer industry spotlighted trends, disruptive technologies and design innovations at the inaugural show. Daimler Trucks North America's Freightliner brand introduced its new Cascadia model that features mid-roof cab configurations for regional overnight haulers and segments such as bulk haul and flat beds. The company also introduced an electric-powered version of its Fuso Canter truck, named the eCantor, and a gasoline option for its FE-Series model.
Commenting on Daimler's experience at the NACV Show, Roger Nielsen, President and CEO says, "First of all, we love the sequence as we're mostly global companies now in this marketplace. We love the alternating continents. Daimler is at IAA one year and then here the other year as a global company. It gives us a chance to really take advantage of our global presence. And we've refocused the show to be on big fleet customers, as well as suppliers. The NACV Show gives us a chance to bring our dealers here as well and to bring the big fleets together with suppliers and the OEMs. The payback for us has already well surpassed our expectations."
Nielsen adds, "I would say where The NACV Show is positioned is right at the beginning of the buying season of the large fleets, so it's a perfect chance for fleets to come and see what we're showcasing, see what's coming down the pike and as they settle in their financial plans for the following year it gives us the chance to meet them here."
Mack Trucks spotlighted its new powerful, aerodynamic and comfortable Mack Anthem highway truck with Bendix Wingman Fusion, a camera- and radar-based driver assistance solution that provides collision mitigation, adaptive cruise control and lane departure warning, assisting drivers in staying safe on the highway. Mack showcased six Mack Anthem models, including the Day Cab, 48-in. Flat Top sleeper and 70-in. Stand Up sleeper models. Mack Trucks also displayed the Mack Granite and Pinnacle models, which have also been updated with new ergonomic interiors.
"The NACV Show was non-stop," says Jonathan Randall, Senior Vice-President of Sales at Mack Trucks. "The reason it's been non-stop is it's been meetings with customers. Our customers are here. It's not just the drivers that are here, it's the fleet managers, the decision makers, it's the guys with the purse strings that make the decisions. If that continues and that's the type of audience we see, then there's a future for that because we are always looking to get in front of those decision makers especially when we have new product to show."
Navistar's International Trucks brand launched the International HV Series at the NACV Show. HV Series is the first severe service truck available with the International A26 12.4 L big bore engine and designed to deliver power, refined driver-features, and impressive reliability for a range of vocational applications. The HV Series combines significant uptime enhancements with DriverFirst features and advanced integration options for body builders. Navistar also announced a number of industry-leading advancements to its OnCommand Connection platform, including OnCommand Connection Live Action Plans, a feature that is expected to predict when a part is going to fail before it actually does.
Volvo Trucks showcased its new Volvo VNR series regional haul and Volvo VNL series long-haul tractors on the show floor. Additionally, Volvo launched its new interior for its VHD model, bringing on-highway driver comfort and productivity to the vocational market. Volvo trucks on display featured an integrated powertrain with Volvo engines, including the new Volvo D13 Turbo Compound (D13 TC) engine, and a Volvo I-Shift automated manual transmission for improved fuel efficiency. For maximizing uptime, Volvo showcased its Remote Diagnostics, which monitors critical fault codes and enables proactive diagnostics and repair planning. Volvo also presented the new Remote Programming service which further enhances customer's uptime.
Also during the event, Bosch showcased its demonstration truck to highlight future technologies, including those paving the way for automated driving. The company launched its 15-in. freely programmable cluster, a display designed to be integrated with advanced driver assistance technologies. "Bosch has years of experience with the IAA shows, and when we heard the NACV was coming; we decided very shortly that it would be one of the shows that we really come out on. It was one of the reasons we decided to take our demonstration truck here. It's always good when you have all of the OEMs together and supply base together. It really gives everyone a boost for the industry," says Jayson Roycht, Bosch Vice President – North American Regional Business Leader, Commercial Vehicle and Off-Road.
Meritor, a leader in providing advanced drivetrain, mobility, braking and aftermarket solutions for the global commercial vehicle market, launched its new high efficiency tandem drive axle designed for fuel economy and fuel efficiency. Commenting on his company's exhibition at the NACV Show, John Nelligan, Vice-President of Sales and Service at Meritor says, "Meritor saw a lot of the fleets we needed to see. We had meetings with suppliers, and it has been well worth being here for the week. It's been busy, it's been hectic, it's been a great show for us. What we did with our e-axle has generated a lot of interest and a lot of people have been visiting the booth to see what we've got going on."
Cory Hiesser, Lean Engineer of Manac Trailers, an exhibitor at the inaugural NACV Show adds, "I think the show is unbelievably innovative. All the products I've seen on display are things I've never seen before and are very interesting. The show has also helped me make some good connections."
"From what I see, the NACV Show is much more accommodating, and the venue is great, it's easy to navigate, and the displays are fantastic. Everyone at the booths are more than willing to explain their products and offerings and sit down with you," Hiesser says.
"This is a great show. A lot of customers are here – major fleets and OEMs. We've been kept busy non-stop. I've been meeting fleets from Iceland, Jordan, Chile, all over the world, and that's something unique about the NACV Show," says Josh Butler, President and CEO of FlowBelow, the manufacturer of the FlowBelow Tractor AeroKit and NACV Show 2017 exhibitor.
Attendees, Exhibitors and Press Flock To Special Events and Networking Opportunities
The NACV Show offered attendees and exhibitors many opportunities to learn more about the industry's outlook and trends. The show kicked-off with an Opening Ceremony hosted by the American Trucking Associations (ATA). The opening reception attracted attendees, exhibitors and industry press.
On Monday, seven tractor-trailers, the drivers, fleet executives, sponsors and North American Council for Freight Efficiency (NACFE) held a press conference to announce the results of Run On Less, a 17-day fuel economy test drive. Run On Less delivered an average of 10.1 miles per gallon (mpg), saving 2,877 gal. of fuel and $7,193 against the national average of 6.4 mpg.
During its press event on Tuesday, Navistar and Volkswagen executives announced a joint initiative that includes a proprietary integrated powertrain for the North American market, as well as projects related to connected vehicles and a plan to introduce an electric truck by the end of 2019.
NACV Show attendee Colin Slade, Director of Purchasing at Trailer Wizards, says, "I've learned a lot at the show. I like that I'm talking to the right people from the right companies and having the opportunities to discuss products with them. I'm not bumping into wagons, or kids, or fighting crowds and families to get to the new booth. I'm meeting industry people that we compete with and do business with at the show, and we're getting to network with them as well, so, the show is a huge success for us.
"I love the show. This is the show we will always come to as long as it continues," adds Slade.
"I would absolutely recommend this show to anybody. The right people to talk to are all in the booths for the whole show, so you're getting all the answers you need. It's phenomenal. To me, I've already more than paid for my cost to come here, just because of some of the things I've got involved with at the show. We actually were supposed to go home early, but we've extended our trip here because of the show, and because there's so much more it has to offer, and there's so much more we want to do and see here."
On Wednesday, Persio Lisboa, Executive Vice President and COO of Navistar, gave an expanded briefing presentation at the Heavy Duty Manufacturers Association (HDMA) supplier breakfast reception. His talk focused on business model and technology disruptions taking place in the market, and he called on the industry to work collectively on a fully integrated Digital Supply Chain enabled by a network of connected vehicles. To that end, Lisboa discussed how Navistar's On Command Connection has become the most powerful connectivity platform in North America. The briefing also featured a series of presentations by executive experts speaking on the status of the major industry trends of vehicle electrification, ADAS, vehicle and freight efficiency, as well as a major customer viewpoint on the adoption and plans for advanced technology in their fleet.
"We look forward to seeing many of our exhibitors and attendees at Truck World in Toronto that takes place April 19-21, 2018 and at the IAA Commercial Vehicles show in Hannover, Germany that takes place September 20-27, 2018," adds Turner.
The next NACV Show will be held at the Georgia World Congress Center in Atlanta, GA, from October 28-31, 2019. NACV Show 2021 will be held in Atlanta from September 27-30, 2021.