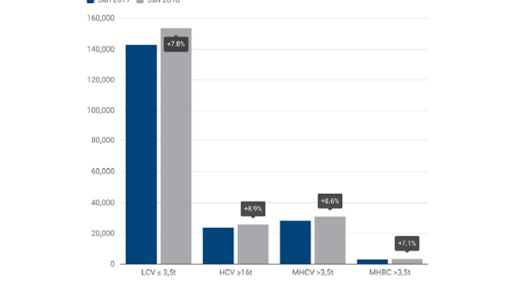 In January 2018, the EU market for new commercial vehicles started the year positively, after showing a decline in December 2017. Demand increased by 7.9% in the first month of the year, sustained by all commercial vehicle segments and with registrations totalling 187,811 units. 
Total new commercial vehicles
The EU's five largest markets all posted gains in January, except for the United Kingdom, where registrations fell by 5.8%. Italy (+15.5%) and Spain (+15.2%) recorded the highest growth rates, followed by Germany (+9.2%) and France (+6.2%).
New light commercial vehicles (LCV) up to 3.5 tonnes
In January EU registrations of new vans totalled 153,689 units, or 7.8% more than January last year. Almost all major markets contributed positively to this upturn, with Spain (+16.1%) and Italy (+14.6%) posting double‐digit gains, followed by Germany (+9.2%) and France (+5.8%). However, demand for heavy commercial vehicles did decline in the United Kingdom (-4.2%).
New heavy commercial vehicles (HCV) of 16 tonnes and over
January 2018 results show that registrations of new heavy commercial vehicles increased by 8.9% compared to the same month of the previous year – 25,753 units were registered in total. Heavy-truck demand contracted in the UK (-14.8%), but sales increased in other markets and especially in Italy and France (up, respectively, 24.9% and 15.3%).
New medium and heavy commercial vehicles (MHCV) over 3.5 tonnes
In January 2018, trends in new truck registrations were similar to the heavy truck segment, with four out of five of the largest EU markets posting growth over the month. Overall, 30,835 new trucks were registered in the European Union, or 8.6% more than in January 2017.
New medium and heavy buses & coaches (MHBC) over 3.5 tonnes   
January 2018 results of the EU bus and coach market were diverse. France (‐15.2%) and the United Kingdom (-11.4%) saw demand fall, while Spain (+32.5%) and Italy (+33.1%) posted double‐digit growth figures. In total, new bus and coach registrations grew by 7.1% across the region.