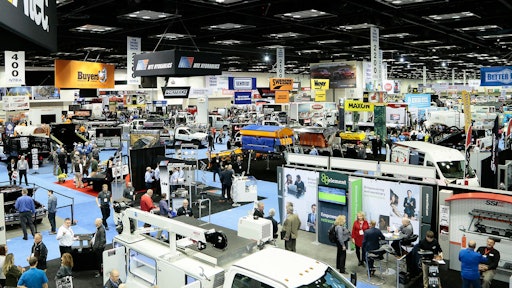 Registration is now open for The Work Truck Show 2019. North America's largest work truck event is even bigger as NTEA – The Association for the Work Truck Industry has added another conference to the Work Truck Week lineup.
The Work Truck Show 2019 will feature dozens of educational opportunities, including the new Manufacturer and Distributor Innovation Conference, Fleet Technical Congress, Green Truck Summit and special sessions on lean thinking; the two-day Work Truck Show Ride-and-Drive; multiple networking events; and an exhibit floor featuring the latest commercial vehicles, equipment and technology.
Work Truck Week is scheduled March 5–8 at Indiana Convention Center in Indianapolis, IN. Educational sessions, Green Truck Summit, Fleet Technical Congress and Manufacturer and Distributor Innovation Conference begin March 5, and the Work Truck Show exhibit hall is open March 6–8. Registration is available online.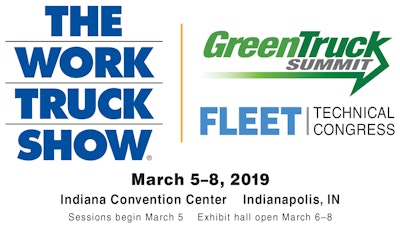 "The Work Truck Show 2019 will give fleet managers, truck equipment distributors, upfitters and other decision-makers unrivaled access to the industry's latest equipment, technology and thought leaders to help them improve efficiency, implement best practices and grow their operations," says Steve Carey, NTEA President & CEO. "Nowhere else can attendees compare vocational truck products from hundreds of exhibiting companies, network with their peers, and learn about the industry's latest advances and trends — all in one place."
The Work Truck Show kicks off with a full day of education and networking on Tuesday, March 5. New this year, manufacturers and distributors can learn how to improve manufacturing efficiency and business results using the latest techniques and technology at Manufacturer and Distributor Innovation Conference. A special session, Lean 101: Straightforward Approach to Lean Implementation for Truck Equipment Upfitters, is also scheduled for Tuesday.
Fleet Technical Congress and Green Truck Summit will run concurrently on Tuesday. For the first time, registrants will be able to switch back and forth between the two popular conferences, based on which educational session topics interest them, throughout the day. A combined reception will be held following the last general sessions.
Concurrent educational sessions, including exclusive OEM truck updates, take place Tuesday afternoon. The opening reception Tuesday evening at Lucas Oil Stadium gives professionals from across the industry a chance to network in a fun environment.
Educational opportunities continue Wednesday morning, with concurrent sessions available, as well as the special session Fleet Management 101. The exhibit hall opens at 10 a.m. and features the industry's newest products, equipment and technology developments, as well as the Work Truck Show Ride-and-Drive outside. NTEA's Generation Next hosts a Leadership Workshop & Networking Reception: How to Become a League of Your Own from 3–5 p.m.
The New Exhibitor Pavilion will be open Wednesday and Thursday. This new dedicated space showcases companies exhibiting at the Show for the first time. It opens an hour before the main exhibit hall to give attendees extra time to discover something new.
Thursday kicks off with the President's Breakfast & NTEA Annual Meeting. Jeffrey Gitomer, a creative, on-the-edge writer and speaker, will deliver the keynote address. Also Thursday, attendees can register to attend Purdue Road School, LTAP Fleet Educational Program: The Blizzard of 2039 or the special session, The Toyota Kata Journey — Daily Practice for Scientific Thinking, Mindset and Culture. Concurrent educational sessions, exhibit hall and Ride-and-Drive opportunities continue on Thursday.
On Friday, attendees can explore the more than 500,000-sq.-ft. exhibit floor one last time to find the latest trucks, bodies, equipment and technology. They'll also have the chance to speak directly with management, sales and engineering teams in manufacturers' booths to get technical solutions and advice.