Nikki Haley, U.S. Ambassador to the United Nations (2017–2019), will serve as keynote speaker at The Work Truck Show 2020. Her moderated conversation will take place the morning of Thursday, March 5, as part of the NTEA Annual Meeting (formerly President's Breakfast & NTEA Annual Meeting).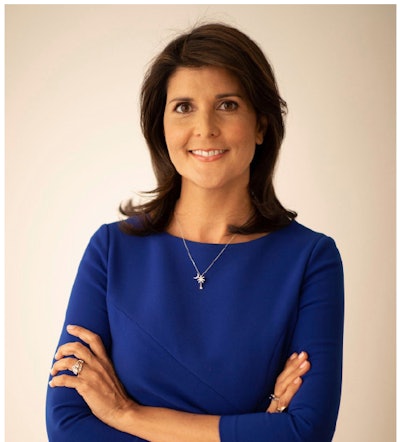 The 20th annual Work Truck Show, North America's largest work truck event, runs March 3–6 at Indiana Convention Center in Indianapolis, IN. Educational sessions, Green Truck Summit, and Manufacturer and Distributor Innovation Conference begin March 3, and the exhibit hall is open March 4–6. Registration opens in October.
As U.S. Ambassador to the United Nations, Haley helped introduce reforms that made the organization more efficient, transparent and accountable. In a two-year period, she negotiated more than $1.3 billion in savings, including making UN peacekeeping missions more effective while improving their ability to protect civilians. She also championed human rights across the globe, standing up to oppressive regimes in Iran, Syria, Venezuela, Cuba and Russia. In the UN Security Council, she hosted the first-ever session devoted solely to promoting human rights.
Haley spearheaded negotiations for passage of the strongest set of sanctions ever placed on North Korea for its nuclear weapons program, cutting off the regime's exports by 90% and its access to oil by 30%.
In 2010, Haley was elected as the first female and first minority governor of South Carolina. She was re-elected in 2014 and served as governor until becoming U.S. Ambassador to the United Nations and joining President Donald Trump's Cabinet and National Security Council in January 2017. Under Governor Haley's leadership, South Carolina was a national leader in economic development. Known as the "Beast of the Southeast," South Carolina's unemployment rate hit a 15-year low, saw more than $20 billion in new capital investment and created new jobs in every county in the state. In 2019, Haley founded Stand for America, an advocacy group.
"We're honored to welcome Ambassador Haley and look forward to learning about her experiences as she traveled the world to defend America's interests and keep our country safe," says Peter Miller, First Vice Chairman of NTEA's Board of Directors. "During her tenure, she tackled difficult issues like national security, education, human rights and unemployment. Her strong and passionate leadership serves as an example of how even the most challenging obstacles can be overcome."
NTEA's Annual Meeting is not included in any registration package — tickets will be available for purchase separately when registration opens in October.