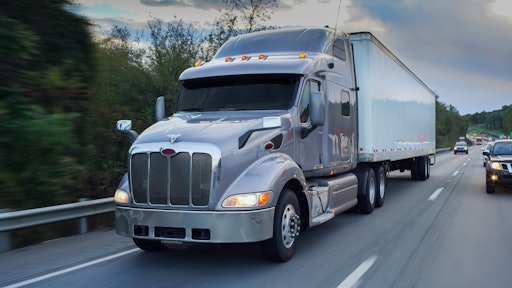 ©5m3photos – stock.adobe.com
Preliminary North American Class 8 truck orders for January 2022 came in just above 21,000 units, holding somewhat steady given current supply chain challenges.
FTR reports January orders came in at 21,400 units, an 8% decline on a month-over-month basis and 50% year-over-year. According to FTR, Class 8 orders have totaled 343,00 units over the last 12 months. The research firm says January's monthly total was in line with averages seen in the past 4 months.
While demand for new trucks remains strong, OEMs' ability to meet that demand has been difficult due to supply chains which continue to disrupt production for many industries. FTR says in its press release announcing its January figures that OEMs continue to match order rates to build rates as they manage backlogs monthly. OEMs are not entering all their 2022 commitments because they do not want to overbook due to the uncertain supply chain.
"January orders met expectations. As a group, the OEMs are entering orders at the same rate as production. Backlogs have tracked in a narrow range for the last 10 months, which is odd in this cyclical industry. Normally, this would indicate a very stable market. In this case, it reflects a market frozen by a weak supply chain," said Don Ake, Vice President of Commercial Vehicles at FTR.
"There is still tremendous demand for new trucks. The order totals for the last twelve months, at 343,000 units, would equate to a robust production year. The orders are there but the OEMs continue to be limited in what they can produce due to shortages of semiconductors and other components.
"The big negative to the January order volume is that it indicates the supply chain has not improved yet from the end of last year. OEMs are not confident they can get parts, so they limit the number of orders they enter. Order totals will rise as soon as supply chain conditions improve."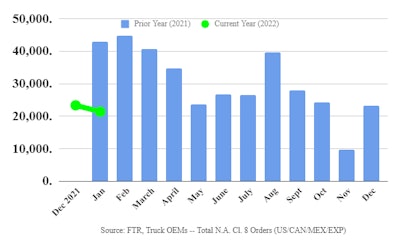 Commercial vehicle research firm ACT Research has also released its preliminary figures for January 2022. ACT reports Class 8 net orders came in at 21,300 units while Classes 5-7 fell to 16,500 units.
"Constrained production capabilities and long backlogs continue to hamper new order activity. Order weakness continues to be primarily, if not entirely, due to supply-side shortages that continue to restrict production," said Kenny Vieth, ACT's President and Senior Analyst. "As has been the case for months, we reiterate that with critical economic and industry demand drivers at, or near, record levels, industry strength should be measured by long backlog lead times, rather than tepid new order activity.
"For Class 8, with backlogs stretching through 2022 and still no clear visibility on the easing of the everything shortage, January's net order haul reflects the ongoing conservative approach by OEMs looking to limit the risk of overbooking and underbuilding that plagued the industry in 2021," concluded Vieth.
Both research firms will release their final January figures later in the month.
Freight demand is a factor
ACT Research also recently released its monthly Commercial Vehicle Dealer Digest—a report which combines ACT's proprietary data analysis from a wide variety of industry sources to provide a comprehensive picture of trends impacting transportation and commercial vehicle markets. In the most recent report, ACT says that while supply chain conditions are the dominant topic of conversation in the industry, it is also important to factor in current broad-based economic and freight market strength.
"In addition to long lead-time manufacturing demand, US consumers' economic footprint has never been bigger," said Vieth. "Incomes are growing at above-trend rates, and thanks to low interest rates, consumer debt service levels are 100bps below Q4'19 levels, which in turn were historically low. Additionally, since the beginning of 2020, household net worth is up 23%, while millennial demographics [21 to 39] are in a sweet-spot for family creation, home building and goods consumption."
When it comes to impacts from the COVID variants, Vieth said the spikes in case counts are leading consumers to spend more on goods instead of services.
"The combination of healthy consumer/corporate balance sheets and pent-up inventory demand translates into continued robust freight markets and still-rising freight rates. At the end of 2021, strong and rising spot market freight rates, nominally and relative to contract rates, reported by DAT suggest that truckers will maintain the upper hand in rate negotiations with shippers at least through the first half of 2022," said Vieth. "That leverage promises to further elevate carrier profitability and we reiterate that carrier profits are arguably the key indicator for fluctuations in new vehicle demand."
Companies in this article