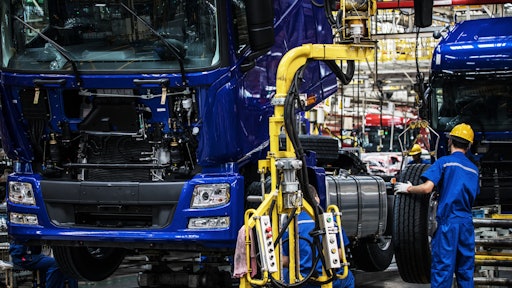 ©Unique Vision – stock.adobe.com
It is no secret that supply chain shortages, most notably microchips, have rippled through the automotive industry, emptying inventory on dealer lots and creating long lead times for new vehicle orders. This has created a perfect storm as demand continues to rise and inventories are near all-time lows. For commercial customers, the problem has been compounded as manufacturers place an emphasis on directing the available resources to higher-profit vehicles, making work trucks of all sizes even more difficult to source.
READ MORE: Biden to Meet with Industry on Semiconductor Chip Shortage
Major commercial truck dealerships are feeling the pinch. "In-stock trucks are very hard to find," says Ray Pannemann, Ford Truck Sales Manager, Badger Truck & Auto Group. "Inventories are at all-time lows. Fleet work trucks can be up to 10-month lead times." Product availability has become unpredictable. "Any estimates regarding lead times would be considered unreliable information."
As the supply chain continues to recover, we may have already seen the worst of the shortage. "Availability has made a slight improvement," says Pannemann. But don't expect major improvements for a while. "As far as when we will see availability improve, it will take at least a year."
Anticipating future needs and putting a plan in action to proactively acquire trucks is a strategy that can help ensure you don't get caught short. "Planning is very important," says Pannemann. "Anticipate your needs and make purchase decisions far in advance of the need. Inventory can, and is, running out."
How did we get here
You may be wondering how the current inventory crisis happened in the first place. The slowdowns at the component manufacturing plants due to the COVID-19 pandemic were, of course, the main reason. But there are several contributing factors, including worldwide outsourcing of key components, the just-in-time supply of components and a fire in one of the largest vendor plants.
Over the years, vehicles have become much more sophisticated with advanced electrical systems that increase safety, productivity and comfort. The microchip has become a basic building block for these electronic systems. Key components of these microchips are the semiconductors. There are literally millions of semiconductors used on each microchip, depending upon the complexity of the task. The semiconductors utilized in microchip production have become in short supply due to the production disruptions during the pandemic, a disaster and increased demand.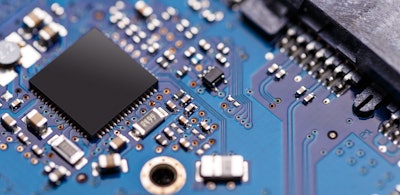 It is important to point out that the United States currently only produces around 12% of the world's supply of semiconductors. This creates a foreign dependency that is difficult to address. While there have been proposals to increase U.S. production of these components, the reality is that this is a long-term strategy that will have no impact on the current situation. The raw materials for the semiconductor business often come from Japan and Mexico, with many of the chips made in Taiwan and China, according to a report by the BBC.
The semiconductor manufacturing rate was reduced during the pandemic due to COVID restrictions. Couple this with just-in-time manufacturing practices and the fact that Renesas, a Japanese semiconductor manufacturer that supplies almost 30% of the chips for the auto industry, experienced a fire in mid-March, and you have a perfect storm. While production has been restored and the semiconductor industry has ramped back up, it will take a while for the supply chain to fully recover. Auto customers are likely to feel the impacts until at least the second quarter of 2022.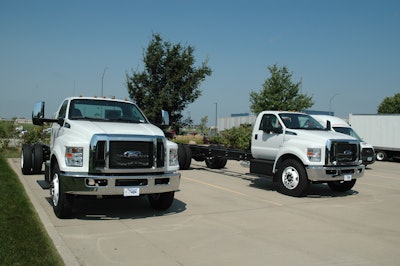 OEMs continue to face uncertainty
The current supply chain issues are creating pricing and supply uncertainty on critical components for the truck manufacturers as ordering for 2022 progresses. Don Ake, Vice President of Commercial Vehicles for FTR, explains, "July ordering was similar to June in that OEMs took a limited number of orders for delivery in 2022. Fleets need a significant number of new trucks right now and they perceive this need will continue throughout next year. However, OEMs are having difficulty establishing reasonable 2022 pricing, with commodity and other costs elevated. It is uncertain if current higher production costs are transitory or will persist into 2022.
"Also complicating the situation is that shortages of semiconductors have limited Class 8 production," adds Ake. "It is estimated that supply of trucks is falling approximately 25% behind market demand. We are running out of time for OEMs to catch up. Most of the unproduced orders will roll into the first quarter of 2022. If those months are already booked solid, it creates even more headaches for the industry. Things won't approach any degree of normalcy for months. Until semiconductors begin flowing into the OEMs in sufficient quantities, we will be playing catch up."
The industry forecast of new orders of Class 8 trucks is expect to remain robust. "U.S. and Canada Class 8 industry retail sales are estimated to be in a range of 260,000 to 280,000 vehicles," says R. Preston Feight, CEO, PACCAR. "As has been discussed in recent months, industry truck production has been tempered by the under-supply of semiconductor chips. Kenworth, Peterbilt and DAF had a good [second] quarter and delivered 40,100 trucks with an additional 6,500 awaiting key components. While it's very dynamic, we currently anticipate supplier constraints improving toward the end of this year. There was a lot of uncertainty around the supply base and the deliveries in the third quarter and beyond; a lot of that will depend on the ability of the supply base to deliver, especially in the semiconductor area."
READ MORE: 2021 is Looking Better for Most Global Commercial Vehicle Markets
Short-term availability of trucks is sold out and availability of microchips is anyone's guess. "We have excellent demand... We're sold out through the year in all our markets," says Feight. "So, with this great demand, great market—need for trucks around the world really—customers are looking for trucks as quickly as they can get them. And we're building them as quick as we can get [the components].
"We had a good second quarter in our deliveries at 40,000. Obviously, you can do the math, there's several thousand sitting there that are waiting for a component. And as we get the components, which is unclear on the semiconductor front, we complete the trucks and get them to our customers," he continues. "We wish we could give you more clarity on how that semiconductor supply is going to proceed through the third and fourth quarters, but we just don't have any more than that right now."
Dealer inventories are limited, which will extend the market, as well. "We have about 1.6 months of inventory at the dealers. And I think the industry is 1.9 or 2," says Feight. "It's less than we'd like it to be, of course, but that does bode well for a strong extended demand cycle."
Many manufacturers have mostly completed trucks waiting around for missing components. "We've had some trucks that we built minus components and we received a batch of components for those and have shipped those out only to find ourselves in different circumstances—like the Malaysia COVID outbreak, which then causes a constraint of a different component," notes Feight. It's a very dynamic situation.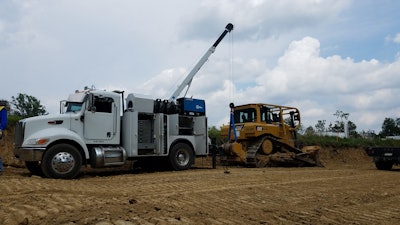 Demand keeps adding pressure
As a result of high demand and component shortages, manufacturers have been forced to make strategic product decisions. Some have idled factories and stopped making select vehicles in order to allocate chips to in-demand and highly profitable vehicles such as pickups and SUVs.
To keep plants running, Ford and General Motors both resorted to building vehicles without chips and parking them until the parts arrive. In order to conserve the limited availability of microchips, manufacturers have also taken to de-contenting vehicles. Some premium features are temporarily unavailable.
Adding pressure to a seller's market, auto sales have mostly recovered to pre-pandemic levels. Overall U.S. vehicle sales came in at 8.3 million units in the first half of 2021. This is just 95,000 shy of the same period in 2019 before the pandemic, according to J.D. Power. The data shows that 14% of the vehicles were sold to fleet customers compared to 22% in 2019.
Major manufactures are all reporting a recovery in vehicle sales during the second quarter. For instance, General Motors announced it sold 688,236 vehicles in the U.S. in the second quarter of 2021—an increase of 40% compared to a year ago—in a unique market that has seen strong demand, but it has been constrained by low inventories resulting from the global semiconductor shortage. Chevrolet Silverado and GMC Sierra pickup sales are up a combined 36%.
General Motors expects strong demand to continue coupled with very tight inventories. "The agility and creativity of our supply chain, purchasing, engineering and manufacturing teams, in collaboration with our suppliers and dealers, have helped us continue to satisfy customers and gain market share in some of the highest demand segments of the market," says Kurt McNeil, U.S. Vice President, Sales Operations. "Although the situation remains fluid, we're focused on continuing to leverage every available semiconductor to build and ship our highest demand products."
Given the current supply and demand forecasts, it is safe to assume that the vehicle shortage will continue to be acute in the work truck segment well into 2022. For those needing to add trucks to their fleet, procrastination is not a viable strategy. They will need to be proactive and order well in advance. In certain situations, they may need to get creative about alternative ways to source their work truck fleet until some form of normalcy returns. This may include a strategy to extend the life of existing trucks.
Companies in this article