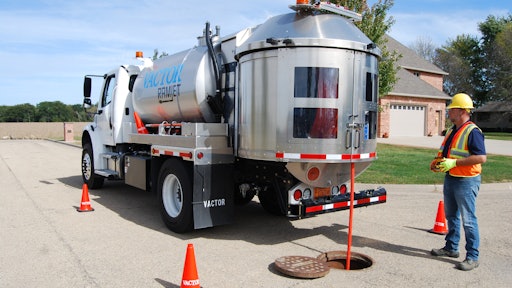 Vactor Manufacturing, the industry leader in sewer and catch basin cleaners, industrial vacuum loaders and vacuum excavators, has introduced updates to the popular Vactor RamJet 850 Series truck jetter used by sewer cleaning professionals for more than 40 years in sewer blockage and preventive line maintenance applications. Featuring a choice of front- or rear-hose reel locations, and unique productivity-enhancing options such as an aluminum rear shroud and an optional JetRodder water pump-heated cabinet, the updated Ramjet 850 truck can be configured to match the customer's needs.
"The RamJet 850 continues to raise the bar for truck jetters in the industry," says David Brockman, Associate Product Manager at Vactor Manufacturing. "The evolution of this product since the 1970's is due to Vactor's ongoing commitment to innovation and technology to meet the changing needs of our customers. Every Vactor RamJet 850 is built with quality, tested components and backed by the most experienced dealer network in the industry."
Optional rear shroud
An integral aluminum rear shroud with heavy-duty, see-through Lexan windows is available. Large service access doors on both sides of the shroud enable easy greasing, maintenance and service.
"Operating with the doors closed optimizes the heat containment for cold-weather protection, better than any jetter in its class," Brockman says. "The innovative rear shroud keeps the hose and components warm and protected, which is a big advantage for operators who need to quickly set up and clean while working in extremely cold conditions."
JetRodder water pump
The water pump is located at the side of the unit below the top of the chassis frame, allowing 100% of the water to gravity feed the pump to optimize water pump efficiency and eliminate the potential for water pump damage due to cavitation. The pump location provides complete access for operation and maintenance from ground level.
Designed specifically to clean sewers, Vactor's exclusive JetRodder water pump uses a slow pump stroke to deliver maximum, continuous flow and pressure with minimal wear. This jackhammer action provides optimal cleaning capability, and since the pump is hydraulic and uses a single piston, no components or belts prone to breakdown are required.
The RamJet 850 comes standard with an industry-leading certified flow of 0-80 gpm at a variable pressure up to 2,500 psi at the hose reel for the flexibility to clean any size line.
An optional JetRodder water pump-heated cabinet keeps the pump and plumbing covered and protected at all times.
Hose reels
"The original front telescoping/rotating hose reel was first introduced in 1989," Brockman says.
The standard front-hose reel has a capacity of 800 ft. of 1-in. hose. The front-hose reel can telescope up to 15 in. forward and rotate up to 270 degrees, providing easy alignment with manholes.
The standard rear-hose reel has a capacity of 700 ft. of 1-in. hose. The reel can rotate a total of 180 degrees – 90 degrees to curb side and 90 degrees to street side.
Park-N-Clean Technology
The RamJet 850 features Vactor's Park-N-Clean technology, a system that allows the operator to park near the manhole and, with minimal setup time, start cleaning within minutes. Simple controls located at the hose reel or on the optional remote allow the operator to manage all machine functions.
The Vactor water system with multi-flow allows the operator to set a lower desired flow at a lower rpm, without diverting high pressure water back to the water tank. The end result is improved fuel efficiency and reduced wear on components.
In addition to the Vactor RamJet 850 truck, Vactor offers a full line of RamJet trailer and skid-mounted jetters specially designed for cleaning municipal sewer, drain and pipe lines and culverts. Available with a variety of engine and pump configurations, water tanks up to 1,000 gal., and a wide range of optional equipment, these units provide high pressure at low water volume and are ideal for cost-effective maintenance and emergency response in tight, confined environments.