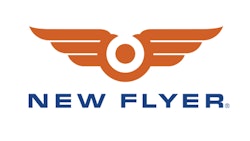 NFI Group Inc., one of the world's leading independent bus manufacturers, announces its financial results for 2019 Q2. 
"The second quarter represents a significant milestone for NFI as it is the first time we have recorded international revenue following our transformative acquisition of Alexander Dennis Limited. We expect ADL to assist with future growth and diversification as we expand globally and develop opportunities to leverage our combined product portfolio, engineering and design capabilities," says Paul Soubry, President and Chief Executive Officer of NFI. "As we previously advised, during the first half of 2019 our legacy bus and coach manufacturing business experienced production challenges that increased our work in process inventory and impacted our financial results. We know the issues that need to be addressed and are focused on recovering to improve deliveries in the second half of 2019. Fundamentally the core strengths of NFI have not changed and as we move forward we are a more diverse business, with a material backlog, a growing North American public Bid Universe, a peer leading Adjusted EBITDA margin, strong free cash flow generation, leadership positions in all of our core markets, and a focus on continuing to return capital to shareholders." 
Acquisition of Alexander Dennis Limited (ADL) 
On May 28, 2019, the company, through its wholly owned subsidiary NFI International Limited, acquired 100% of the voting equity interest in ADL for £295.1 million, based on an initial enterprise value of £320 million. This was a significant milestone as it transitioned NFI from being a purely North American company to a leading independent global bus manufacturer. The transaction was funded through NFI's existing credit facility, a new $300 million credit facility and the issuance from treasury of 1.47 million common shares of NFI, in lieu of cash to ADL's primary shareholders. NFI incurred costs of $13.3 million associated with the acquisition that are expected to be one-time in nature. 
ADL has completed its conversion from UK GAAP to IFRS and as such, its results from the Acquisition Date onward are included in NFI's financial results for 2019 Q2. In order to provide context on ADL's operations, management has provided proforma Fiscal 2018, 2019 Q1 and 2019 Q2 (pre-and post-acquisition) within its MD&A. While ADL did not positively contribute to NFI's results for the one-month period ended June 30, results were within management's expectations as there were some adjustments required from the conversion to IFRS that impacted revenue recognition. ADL's first half 2019 results were very similar to the first half of Fiscal 2018 with first and second quarter results varying due to the timing and location of vehicle deliveries. 
As the NFI Group now delivers an even broader range of vehicles, including: single deck, double deck and articulated transit buses, motor coaches and motor coach bodies, low-floor cutaways and medium duty shuttle buses, across various geographic jurisdictions, management believes certain historic performance metrics (including average selling price per EU and Adjusted EBITDA per EU) are no longer appropriate to measure the company's comparable performance. As a result, management has revised the MD&A to reflect these changes and added additional focus on gross margins, earnings before interest and income taxes (EBIT) and separated unallocated costs and corporate SG&A from the existing Manufacturing and Aftermarket reporting segments.  
To provide a more comprehensive disclosure of financial performance, management will no longer issue a separate quarterly, deliveries, orders and backlog press release and will now consolidate the deliveries, orders and backlog information into its normal quarterly reporting. This reporting change will take effect starting with NFI's 2019 Q3 results. 
2019 Q2 Impact of the Transition to IFRS 16 
Effective December 31, 2018, the company adopted IFRS 16, the accounting standard which specifies how to recognize, present and disclose leases. This standard provides a single lessee accounting model, requiring lessees to recognize assets and liabilities for all major leases. On transition, the company has elected to use the following practical expedients and policies: 
To utilize the modified retrospective approach to adopting the standard, accordingly comparative information for 2018 has not been restated 
To utilize the definition of a lease under International Accounting Standard 17 to identify contracts that are, or contain, leases 
To exclude the recognition of the right-of-use asset and lease liability for leases with a term of twelve months or less 
To exclude the recognition of the right-of-use asset and lease liability for leases and of low-value assets 
To value the right-of-use asset as equal to the lease liability, adjusting for related amounts prepaid or accrued 
The impact of the adoption of IFRS 16 primarily impacts NFI's Gross Margin, Adjusted EBITDA, Net earnings and Adjusted Net Earnings, and the associated per common share (Share) amounts, Return on Invested Capital (ROIC) and several balance sheet accounts as reported in the Financial Statements and MD&A. 
2019 Q2 Financial Results 
As the company diversifies and grows internationally, management believes that in addition to Adjusted EBITDA, readers should also focus on EBIT, Net earnings, Adjusted Net Earnings and Free Cash Flow measures with less focus on average selling price per EU and Adjusted EBITDA per EU. 
Manufacturing revenue increased by $8.4 million, or 1.5%, in comparison to 2018 Q2 with the acquisition of ADL contributing $41.0 million during 2019 Q2. Partially offsetting this increase were lower volumes of 12.1% in the company's manufacturing businesses prior to the acquisition of ADL (legacy manufacturing business) resulting from delayed deliveries in heavy-duty transit bus, motor coach, and low-floor cutaway products. As reported, the Company experienced production and delivery challenges as a result of new product launches, supply disruption of certain ARBOC chassis, extended start-up of KMG Fabrication Inc. (KMG)—the company's new parts fabrication facility—external supply issues and lost production days due to weather. The result of these factors also lead to a temporary growth in work-in-progress inventory (WIP). As WIP is reduced, sales are expected to be realized in future periods. 
Aftermarket revenue increased by $1.9 million, or 1.9%, compared to 2018 Q2 with the acquisition of ADL contributing $8.8 million during 2019 Q2. Offsetting this addition was lower sales volumes within the NFI Parts business primarily driven by the $2 million impact from Daimler's 2018 termination of MCI's Distribution Rights Agreement to sell and support German made Setra motor coaches and parts in the U.S. and Canada, and fewer fleet renewal programs. 
Manufacturing gross margins for 2019 Q2 decreased by $26.9 million, or 27.7%, compared to 2018 Q2. The decrease was primarily caused by production inefficiencies within the legacy heavy-duty transit and coach businesses, startup costs at KMG and higher remediation costs. ADL experienced a $9.7 million loss on manufacturing gross margins for just one month of operations, $7.9 million of which was due to unwinding fair value adjustments related to the valuation of acquired assets. Aftermarket gross margins increased by $1.0 million, or 3.6%, compared to 2018 Q2 primarily due to favorable sales mix. 
Manufacturing Adjusted EBITDA decreased by $18.1 million, or 22.6%, due to the previously mentioned impacts on gross margins. ADL did not positively contribute to Manufacturing Adjusted EBITDA in the quarter primarily due to timing of vehicle deliveries being deferred into the third quarter. Aftermarket Adjusted EBITDA increased by $1.7 million compared to 2018 Q2 due to higher gross margins from a favorable sales mix and the addition of ADL's parts business. 
Consolidated EBIT decreased by $33.1 million, or 45.7%, driven by the previously mentioned impacts on deliveries plus from one-time costs of $13.3 million related to the acquisition of ADL and the addition of $4.7 million of SG&A related to ADL's operations. Partially offsetting these amounts were lower compensation expense as a result of reduced incentive compensation accruals.  
Net earnings decreased by $39.5 million, or 82.2%, compared to 2018 Q2, and Net Earnings per Share decreased by $0.67. In addition to the items that impacted EBIT, interest expense increased by $18.6 million, primarily from losses on the company's interest rate derivatives and higher average draw under the Company's credit facility, driven by the acquisition of ADL and higher working capital balances. 
Adjusted Net Earnings during 2019 Q2 decreased by $25.5 million compared to 2018 Q2, primarily due to the previously mentioned impacts on Net Earnings. 
Liquidity 
Free cash flow in 2019 Q2 decreased by $6.4 million, or 13.4%, when compared to 2018 Q2. The decrease was primarily due to lower net earnings, partially offset by lower capital expenditures. Dividends declared increased by 12.3% in 2019 Q2 as a result of the increase in the annual dividend rate, partially offset by the impact of repurchases under the company's Normal Course Issuer Bid (NCIB), which lowered the number of shares outstanding. 
NFI's liquidity position as at June 30, 2019 was $202.2 million a decrease from the position of $301.5 million at March 31, 2019. The decrease in liquidity primarily relates to the acquisition of ADL, the amount of capital returned to shareholders through dividends and repurchase of shares under the NCIB, and changes in non-cash working capital, which are primarily a result of seasonality and delivery disruption previously discussed and are expected to be temporary in nature. Management believes these funds, together with share and debt issuances, other borrowings capacity and the cash generated from NFI's operating activities, will provide the Company with sufficient liquidity and capital resources to meet its current financial obligations as they come due, as well as provide funds for its financing requirements, capital expenditures, the increased dividend payments and other operational needs for the foreseeable future. 
Outlook 
The North American heavy-duty transit market's active Bid Universe continued to grow in 2019 Q2, up by 22.7% from 2019 Q1 and 12.1% from 2018 Q2. Award activity for active competitions is expected to increase in the second half of 2019. The private motor coach market in North America continued to decline, but management expects stronger second half private MCI motor coach deliveries in 2019 when compared to the first half. Overall, demand for low-floor cutaway and medium-duty buses remains encouraging. 
The company's transformative acquisition of ADL provides NFI with a platform for growth. ADL is the largest bus and coach provider in the UK and the global market leader in double deck buses with an established presence in numerous geographic jurisdictions. In addition, ADL is currently pursuing a number of international growth opportunities and management anticipates ADL will provide NFI with North American growth from the addition of its complementary double deck transit bus offering. 
Zero Emission Buses (ZEBs) continue to be an area of growing focus for NFI with the Company strengthening its leadership position. ZEBs are now being built in all New Flyer factories, consisting of 4% of New Flyer's heavy-duty transit backlog and representing a growing portion of the active bids in North America. ADL's ZEB offering includes the UK's leading double deck battery-electric vehicle and single-deck electric variants sold to the UK and New Zealand markets. In addition, ADL has two contracts in place for battery electric double deck buses in North America. MCI continues the development and testing of its battery electric motor coach, and ARBOC has recently launched an electrification project for the Equess medium-duty bus. 
Management believes its turn-key solution of high-quality vehicles; infrastructure advisory services and unmatched aftermarket support makes NFI the partner of choice for customers who are exploring the addition of ZEBs to their fleet. In addition, the combination of NFI's EV expertise with ADL's global reach and existing customer partnerships is anticipated to generate long-term benefits. 
Management's Fiscal 2019 delivery guidance has been updated to 5,660 EUs to reflect the addition of ADL's anticipated 2019 deliveries for the period of May 28, 2019 to December 29, 2019. Management notes that ADL vehicle revenue and gross margins vary significantly by geographic region and product type and recommends that readers review the adjusted ADL historical Fiscal 2018 and Q1 and Q2 2019 financial information provided within the MD&A for further context on ADL's potential impact on NFI's Fiscal 2019 results. 
The company's annual delivery schedule has an element of seasonality due to the nature of each unique market segment and the varied annual production and vacation schedule of each production facility. With the addition of ADL, management now expects seasonality to become even more pronounced in the second half of 2019. Management has initiated a WIP reduction plan and management expects to see a reduction in WIP during the second half of 2019, with the majority of the recovery expected for the fourth quarter. 
NFI Parts continues to focus on numerous strategic initiatives to counter market pressures and competitive intensity. These initiatives include additional focus on vendor managed inventory ("VMI") programs, an enhanced product offering and capitalizing on the implementation of a common IT platform. In addition, NFI Parts is exploring absorbing the management and distribution of ARBOC and cutaway bus parts which management believes will provide an additional revenue stream. ADL's parts business has begun collaboration with NFI Parts and is focused on enhancing its online parts and services platform (AD 24) which provides industry leading aftermarket support to customers in the UK. ADL Parts revenue is also expected to grow as ADL expands its installed base within the UK, North America, APAC and other new markets. 
Management believes ADL's operations have less exposure to the potential implications of the UK withdrawing from the European Union (EU) (commonly referred to as Brexit) than many of its peers within the automobile or specialty vehicle industries given it currently has minimal sales to other member states of the EU. While the outcome of Brexit remains unclear, with several possible scenarios, management is taking steps to mitigate potential risks including: diversifying its supplier base, using global assembly partners, identifying components that may be impacted by tariffs or may be delayed entry into the UK and building appropriate inventories, and continuing to use its hedging strategy. 
Following the increase in total leverage required to complete the acquisition of ADL, management remains focused on deleveraging and anticipates combined financial results will enable it to return to its target of 2.0x to 2.5x net debt to EBITDA within 18 to 24 months without impacting the company's dividend policy. Management is focused on decreasing WIP, improving deliveries and moving past production challenges while continuing to generate significant positive free cash flow, return cash to shareholders and realize meaningful value from investments made.