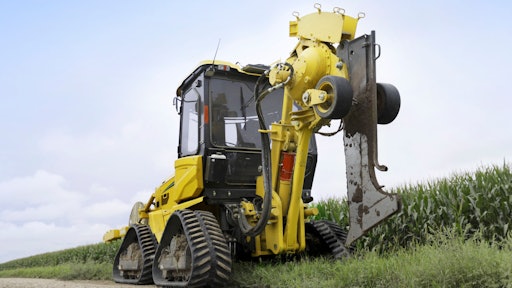 Vermeer
From utility and pipeline installation to tree care as well as recycling and forestry, Vermeer will have more than 20 machines on display at bauma 2019 in Munich, Germany. In addition to giving visitors a chance to walk around the latest innovations in horizontal directional drilling (HDD) and an intelligent ride-on tractor for utility construction, the Vermeer booth will feature equipment for tree care and composting professionals. Vermeer experts will also be in the booth to discuss HDD tooling options, Vermeer productivity tools and fluid management solutions throughout the week of the show.  
Vermeer RTX1250i2 Ride-On Tractor 
The Vermeer RTX1250i2 ride-on tractor boasts intuitive controls and interchangeable attachments to help maximize productivity for utility installation work. Based on the prior RTX1250 ride-on tractor design, the RTX1250i2 ride-on tractor features the latest in technology to help make it more convenient to operate, improve jobsite efficiency and reduce the amount of time it takes to swap out i2 attachments. 
Vermeer D40x55DR S3 Navigator® Horizontal Directional Drill 
The new Vermeer D40x55DR S3 Navigator horizontal directional drill delivers excellent productivity in a broad range of ground conditions, from hard, medium and soft rock to loamy/dirt and clay. This new rock drill features Vermeer dual rod technology that uses an inner rod to provide torque to the drill bit, while the outer rod offers steering capability and rotational torque for reaming. The combination provides powerful downhole cutting action and offers the flexibility to select the appropriate tooling to best match the ground conditions, which can allow the entire install to be completed with one machine. 
Vermeer SPX25 Vibratory Plow 
The Vermeer SPX25 vibratory plow is designed for efficient cable/fiber and irrigation system installation. It features a full-function remote control that gives the operator a 360-degree view of the jobsite, helping to avoid potential obstacles and view of the product being installed. The SPX25 vibratory plow is compact, powerful and built with tracks to minimize ground disturbance. 
Vermeer D8x12 Navigator Horizontal Directional Drill 
A small-sized drill suited for tight spaces and tough jobs, the Vermeer D8x12 Navigator horizontal directional drill offers innovation and the brawn of a large drill with a compact body and the performance of a small drill. This drill offers two rod options, intuitive controls, a narrow footprint and power with minimized sound disruption. It is ideal for small service installation, such as gas distribution, power, water and telecommunication networks. 
D8x12 Navigator Horizontal Directional DrillVermeer
Vermeer S925TX Mini Skid Steer 
The Vermeer S925TX compact utility loader offers operators efficient, productive features like dual hydraulic auxiliary controls and a universal mounting plate to maximize versatility on the jobsite. An 18.3 kW (24.5 hp) turbocharged engine and a compact footprint helps provide the operator power in tight spaces. The S925TX features travel speeds of 7.2 km/h (4.5 mph) and a chariot-style operator's station. Maintenance is streamlined by convenient access to daily service points. 
Vermeer SC382 Stump Cutter 
The Vermeer SC382 stump cutter comes equipped with a 27.6 kW (37 hp) Briggs & Stratton Vanguard EFI gas engine, a 43.2 cm (17 in.) redesigned cutter wheel engineered to help improve chip containment and reduce material recirculation, as well as two-wheel and four-wheel drive propel modes. The onboard operator presence system and Vermeer SmartSweep system helps to improve efficiency. An optional front blade is also available to help level out chipped material. 
These machines, as well as many others, will be on display at the Vermeer bauma booth booth FN 621/1.