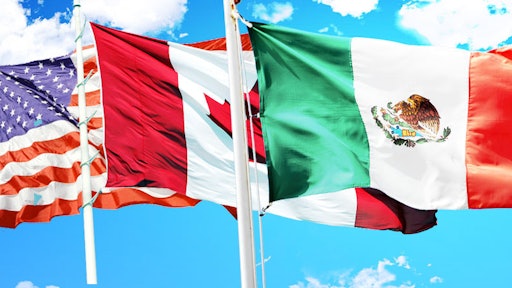 The United States-Mexico-Canada Agreement (USMCA) entered into force on July 1, 2020. It replaces the previous North American Free Trade Agreement (NAFTA) which had been in place since 1994.
With this agreement comes an improvement in trade relations between the three countries, and the ability of businesses operating within them to sell and transport goods throughout North America.
Upon the new trade agreement going into force on July 1, the Motor & Equipment Manufacturers Association (MEMA) released the following statement:
"Today's USMCA entry into force is a strong, bipartisan achievement by Congress and the Trump Administration. The USMCA will strengthen North American supply chains as well as U.S. job creation and economic growth. With 90 percent support in Congress, the USMCA may prove to be a new model for trade in the hemisphere and beyond.
"MEMA was one of the earliest supporters of the UMSCA, as we understood it would enhance the regional economy in our sector. MEMA is grateful for the transparent process with which USTR has engaged stakeholders on the new automotive rules of origin issues. However, these changes will not be without challenges for our members to implement. As implementation moves forward, MEMA intends to stay active and address these challenges.
"Finally, MEMA salutes President Donald Trump, Prime Minister Justin Trudeau of Canada, and President Andrés Manuel López-Obrador of Mexico for their leadership on this momentous day. We also appreciate the hard work of our fellow vehicle and parts associations in all three countries to achieve a positive USMCA outcome."
Association of Equipment Manufacturers (AEM) President Dennis Slater stated:
"The USMCA entering into force today is great news for equipment manufacturers and our industry's 2.8 million men and women working across the United States and Canada," says Slater. "This marks the start of a new chapter for North American trade. USMCA expands agricultural market access, establishes rules for e-commerce, strengthens labor and environmental protections, and updates customs rules that will cut red tape and make it easier for U.S. manufacturers to sell to their Canadian and Mexican customers. We applaud President Trump, Vice President Pence, Senate Majority Leader McConnell, and House Speaker Pelosi to get this agreement to the finish line."
AEM was an ardent supporter of the USMCA since it was first proposed. The association actively advocated for our industry's priorities with U.S. and Canadian government stakeholders, participated in the USMCA Coalition, co-hosted the Honorable Mike Pence, Vice President of the United States, at an equipment manufacturing facility in August 2019 to raise public support for the agreement, supported the work by Chairman Neal (D-Mass.) and the nine members of the House Democrats' Trade Working Group, and ran an ongoing public education campaign on the various benefits of a ratified USMCA.
The International Trade Commission reported last year that the implantation of the USMCA could add up to $68 billion to the U.S. economy and create 176,000 jobs.
AEM

offers USMCA implementation guidance

AEM has established a guide to help its members with the new trade policy. Key points from the guide include:
June 30, 2020: NAFTA rules continue to apply for merchandise entered into commerce on or before June 30, 2020.
July 1, 2020: Alternative staging regime for USMCA Rules of Origin for Automotive goods. Vehicle producer must submit a petition with draft alternative staging plan to provide additional time and different phase-in of the new requirements (importers of certain vehicles will have an additional 2 years to meet the requirements and the vehicles will have different RVC4 and LVC5 thresholds).
Aug. 31, 2020: If deficiencies in a vehicle producer's draft alternative staging plan are identified, it must submit a petition and final draft plan correcting those deficiencies by this date. If no deficiencies are identified, the vehicle producer must submit a petition with a final draft alternative staging plan with any modifications, or a statement requesting that its draft alternative staging plan be considered final, by this date.
*Editor's Note: This article was originally published on July 1 and updated July 6 with new information.
Companies in this article