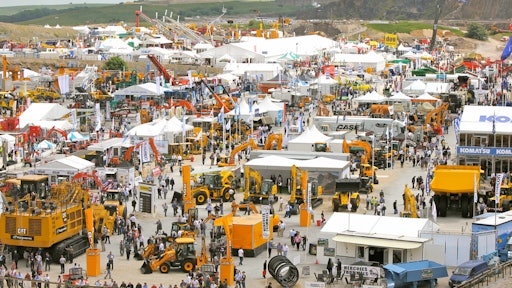 "More live demonstrations, more plant and equipment, and more exhibitors than ever before." That was how one excited visitor summed up Hillhead 2012, which took place from June 19–21 at Tarmac's Hillhead Quarry, near Buxton, in Derbyshire.
In total, 17,083 visitors attended Hillhead 2012, compared with 15,558 in 2010, and throughout the three days of the show they experienced more new plant and equipment and more live demonstrations and than ever before, presented by a record 459 exhibitors.
As usual, all sectors of the mineral products and construction industries, including quarrying, mining, recycling, concrete, asphalt and materials handling, were brought together giving the thousands of visitors from around the world a unique opportunity to see the latest plant, equipment, systems and services on static display and/or live demonstration.
Sandvik Construction enjoyed their best ever Hillhead with nearly 3,000 visitors from all corners of the globe coming to their stand during the three show days. Hugh Glandfield, vice-president UK and Ireland for Sandvik Construction, commented, "Hillhead has always been the perfect opportunity for us to showcase our product lines and meet our customers, but this year we were truly staggered by vast number of potential new customers and general visitors who came to the Sandvik stand.
"We launched three new products this year as well as the latest upgrades from our tracked jaw crusher range, but the real star of the show was the stand itself – it seemed to act like a magnet to visitors to the exhibition."
Val Ledden, managing director of Volvo Construction Equipment, was equally pleased with the show. He said: "Hillhead 2012 offered the opportunity to both strengthen existing partnerships and establish new relationships – and I'm delighted to say we were not disappointed. Even the torrential rain could not dampen the enthusiasm of visitors on the last day – a tremendous effort by all in challenging conditions.
"For us, it's always extremely energizing to receive feedback about our offerings and our industry from the 'sharp end'. And with orders placed, new contacts made and fantastic feedback received about the positive customer experience when visiting our stand, we are delighted with the results of this year's show and look forward to 2014."
Marubeni-Komatsu were among the 'big hitters' making a welcome return following their absence in 2010. Marketing manager Edward Prosser said, "This year we're celebrating our 40th anniversary, so we were very happy to be back at the show as it gave us the opportunity to celebrate with our existing customers and to meet potential new customers." Expressing his delight at number of visitors to the stand, particularly on the middle day, he added, "We are already looking forward to exhibiting again at Hillhead 2014."
Finning, too, made an eye-catching return with their 'Trusted by Experts' stand showcasing the UK's first new Caterpillar 6030 mining hydraulic excavator to appear in public. Towering over other exhibits, the huge 300-tonne excavator formed the centrepiece of a highly successful, new-look stand for Finning, incorporating customer experience zones, seminars, new machines and the official public launch of the 'Finsight' monitoring service.
Alex Andrews, marketing development manager at Finning UK, said, "Hillhead 2012 was a very good show for us. The foot-flow on our stand on the middle day alone was what we expected for all three days! We picked up 1,000 leads on day one and even more on day two, and we also had a lot more international visitors than we anticipated."
But as well as attracting a broad international audience, Hillhead also offers an ideal platform for overseas exhibitors to break into the UK and Ireland markets. Edward Milosevic Pepper, who is responsible for marketing at Talleres Núñez, Spain's leading manufacturer of screen media for the quarrying and mining industries, was delighted with the positive response from British visitors at this year's show.
"As a first-time exhibitor, the number and quality of visitors to our stand has been excellent," he enthused. "Unlike Bauma and Intermat, Hillhead represents specific industry sectors and this has helped us to make direct contact with potential new customers from the UK mineral products industry."
Likewise, Bruce Bricknell, managing director of Corgin, the UK agents for Duztech mobile mist cannons, was equally impressed with the scale and quality of visitors to the show. "The mist cannons are mainly used in construction and waste applications around the world, but we now want to focus our efforts in the UK quarrying industry, and the level of interest in the Duztech range at Hillhead has been phenomenal."
Summing up Hillhead 2012, event director Jack Berridge said, "I would like to extend a big thank you to everyone, exhibitors and visitors alike, who contributed towards making this year's event such a success for the industry. Despite the challenges facing the construction supply chain in the UK, the show was over 10% bigger than two years ago and once again we have managed to get through without any significant personal injuries, which means we have now gone 13 years without a reportable incident at the show."
Dates for Hillhead 2014 will be announced shortly.
Companies in this article