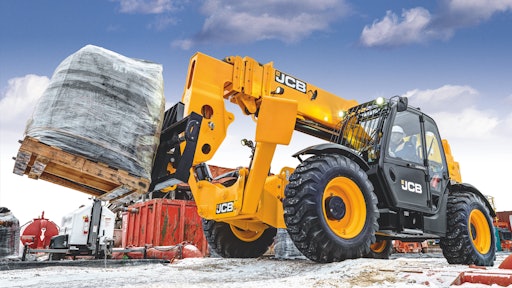 JCB
Allied Market Research has published a report, titled, "Telehandlers Market by Height (Less than 50 ft and 50 ft & More) and End User (Construction, Mining, Agriculture, Heavy Industries, and Others): Global Opportunity Analysis and Industry Forecast, 2019-2026." According to the report, the global telehandlers industry was estimated at $5.43 billion in 2018, and is expected to hit $7.82 billion by 2026, registering a CAGR of 4.5% from 2019 to 2026.
Drivers, restraints, and opportunities
Growing adoption of new technologies in the agriculture sector, increased investment in the infrastructure industry, and use of telehandlers for solid waste management as well as in recycling plants will fuel the growth of the global telehandlers market. However, increased adoption of forklifts and a surge in prices of raw materials will impede growth to some extent.
Nevertheless, a rise in use of green logistics solutions is expected to create a number of opportunities for the key players in the industry.
The construction segment to lead the trail by 2026
Based on end-user, the construction segment accounted for nearly two-fifths of the global telehandlers market share in 2018 and is expected to dominate throughout the forecast period. Utilization of telehandlers for construction activities has reduced significantly the number of accidents with improved safety performance which fuels the demand for the machines.
The agriculture segment, on the other hand, would grow at the fastest CAGR of 5.7% by the end of 2026. Factors such as ease of operation, durability of the equipment, and lightweight nature are predicted to boost the adoption of telehandlers in the agriculture industry.
The Less than 50 ft. segment to maintain the lion's share till 2026
Based on lifting height, the less than 50-ft. segment garnered the major share in 2018, holding nearly two-thirds of the global telehandlers market. Rapid urbanization in emerging economies such as India, China, and Africa fuels the demand for small telehandlers.
At the same time, the 50-ft. and more segment would cite the fastest CAGR of 4.9% during the period, 2019–2026. The expansion of agriculture and construction sector especially in the Asia-Pacific region has driven the growth of the segment.
Asia Pacific, followed by Europe and North America, to dominate in terms of revenue
Based on geography, the Asia-Pacific region, followed by Europe and North America, contributed to one-third of the global telehandlers market revenue in 2018 and is projected to rule the roost throughout the estimated period. At the same time, this region is anticipated to register the fastest CAGR of 5.5% by 2026.
A significant number of ongoing infrastructure and development projects in China and India has heightened the use of telehandlers in the region.