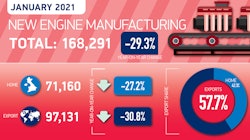 Society of Motor Manufacturers and Traders (SMMT)
New figures released by the Society of Motor Manufacturers and Traders (SMMT) show commercial vehicle and engine production in the UK was down once again in January 2021.
Domestic and overseas production was down for manufacturers in both segments. SMMT says declines were the result of the ongoing impact of the coronavirus pandemic, friction in trade with the EU following the Brexit deal and weak demand.
Engine production declines 29%
SMMT reports engine manufacturing output declined 29.3% in January with a total of 168,291 units built during the month. Production for domestic and overseas markets fell 27.2 and 30.8% respectively. This was the 13th consecutive month of decline for the industry.
"It has been an extremely challenging start to the year for UK engine manufacturers who have seen their output severely dented by the ongoing pandemic, a subdued market, and border friction following agreement of the UK/EU trade deal. While there is a roadmap out of lockdown, the sector still faces multiple headwinds and so the Chancellor's Budget is an opportunity to enhance the industry's competitiveness and ensure that the UK's skilled engine building workforce is part of the future of the sector as it transforms to electrified powertrains," says Mike Hawes, SMMT Chief Executive, in the association's press release announcing the January figures.

Commercial vehicle output falls 30%
UK production of commercial vehicles declined 31.5% in January 2021, with a total of 5,616 units produced. SMMT says this was the fourth consecutive month of decline for the market, and the worst start to the year since 2015 which saw a total of 5,443 units produced in January of that year.
Domestic and overseas markets were down 28.8 and 33.6% respectively. According to SMMT, demand for UK-built commercial vehicles declined across most of the country's export markets, including its largest customer the EU. The association notes that over half (53.2%) of all commercial vehicles made were shipped abroad in January, emphasizing the importance of global trade to manufacturers.
"After a sharp fall in CV production last year, it's disappointing to see output fall again at the start of 2021. With so many jobs at stake and a real need to secure investment for this essential sector, [the upcoming] Budget is an opportunity for the Chancellor to deliver a shot in the arm to the industry. We need the right conditions that will boost business confidence and address depleted order books across the industry, which means an extension of the CJRS furlough scheme, a review of business rates to incentivize manufacturing investment and improved fiscal measures to support uptake of the latest alternatively fueled commercial vehicles," says Hawes.