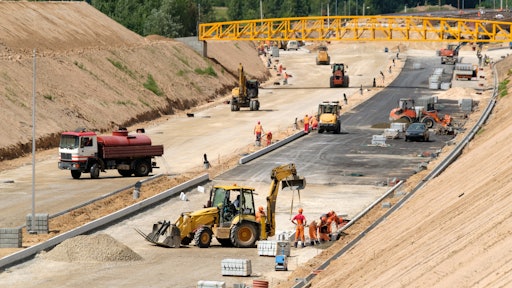 ©Anton Gvozdikov – stock.adobe.com
*Editor's note: This content was originally published on May 25 and updated May 27 with new information.
On May 22, a bipartisan group of U.S. Senators introduced The Surface Transportation Reauthorization Act of 2021 which would provide new funding for transportation projects. According to The Hill (May 22, 2021), the bill would provide baseline funding of $303.5 billion to the Department of Transportation (DOT) for programs to repair highways, roads and bridges.
The prior funding authorization expired in 2020, and was extended until September 30, 2021, leading to the necessity for creating a new authorization bill. This new bipartisan bill would increase funding over 34% compared to the last reauthorization which passed Congress in 2015, the FAST Act.
Association of Equipment Manufacturers (AEM) President Dennis Slater issued a statement following the announcement of the reauthorization bill noting the benefit it would bring to heavy equipment manufacturers and the U.S. economy as a whole. "The Surface Transportation Reauthorization Act of 2021 reflects many of the policies that are vital to keeping equipment manufacturers competitive in the global economy and creating new jobs, new growth, and new prosperity for all Americans. We applaud Senators Carper (D-Del.), Capito (R-W. Va.), Cardin (D-Md.), and Cramer's (R-N.D.) leadership in securing this historic, bipartisan agreement to fund America's roads, highways, and bridges. Their tireless leadership will ensure Americans have the safe, reliable, and modern surface transportation system our economy needs. This investment will also benefit U.S. equipment manufacturers and the 2.8 million men and women who build the equipment needed to make a 21st century infrastructure system a reality. This represents an important step forward in advancing the ongoing national debate about the future of U.S. infrastructure and we look forward to working with Democrats and Republicans in the Senate and House of Representatives to get a bill to President's desk as soon as possible."
The bill was introduced by U.S. Senators Tom Carper (D-Del.), Chairman of the Senate Committee on Environment and Public Works (EPW), Shelley Moore Capito (R-W.Va), the Committee's Ranking Member; Ben Cardin (D-Md.), Chairman of the EPW Subcommittee on Transportation Infrastructure; and Kevin Cramer (R-N.D.), the Subcommittee's Ranking Member. It is set to be marked up by the EPW Committee on Wednesday, May 26.
Funding to aid decarbonization efforts
Included in the reauthorization bill is $19 billion for climate-related investments says U.S. PIRG—the federation of state Public Interest Research Groups—in its press release providing statements from industry leaders on the proposed bill. This funding would go toward electric vehicle infrastructure and other programs to help reduce carbon emissions in the transport sector.
"It is a positive step forward to see bipartisan support in the Senate for a bill that not only acknowledges the need to address transportation's climate impact but also includes important carbon reduction programs. This is long overdue, and we hope this marks a turning point. From now on, we shouldn't have to ask whether transportation policy and climate policy belong together. We can all agree they do," said U.S. PIRG Environment Campaigns Director Matt Casale, in a statement issued following introduction of the bill.
"Still, while the inclusion of the climate provisions, walking and biking programs, and electric vehicle charging is encouraging, in too many ways this bill in its current form preserves American transportation's status quo. We need to set clearer emission reduction goals that are both mandatory and apply to all federal highway funding. And while America's roads and bridges need repair, state governments continue to pour billions of taxpayer dollars into unnecessary highway construction and expansion. These misguided choices harm our communities and increase emissions. It's time for the federal government to adopt a 'fix-it-first' approach to highway funding that puts repair of existing infrastructure before new or expanded highways.
"Another problem with this bill is that it adds streamlining provisions to the National Environmental Policy Act (NEPA), including one which allows for the use of categorical exclusions for federal highways. NEPA is really simple, it requires the federal government to look before it leaps on projects. It is a powerful tool that encourages smart and sustainable infrastructure decisions, and if anything it should be strengthened in this legislation.
"Again, we commend the bipartisan nature of this agreement and its support for climate provisions and investment in a surface transportation bill. This is a good step forward. We look forward to working with senators as the bill moves forward on higher emissions reductions and a 'fix it first' approach, as well as removing the NEPA provisions."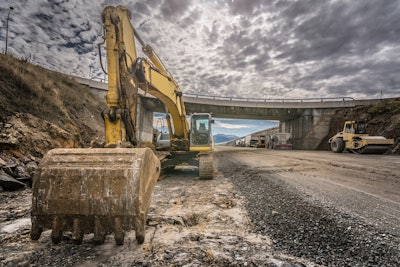 Committee passes reauthorization bill
On May 26, Senators on the EPW Committee unanimously passed the reauthorization bill and sent a letter to Senate Majority Leader Charles Schumer urging him to consider moving forward a larger infrastructure package.
As stated in the letter "The Surface Transportation Reauthorization Act of 2021 reflects the work of the Committee in finding areas of bipartisan agreement and contains important provisions that will begin to reduce greenhouse gas emissions from our transportation sector, as well as funding to reconnect communities affected by unjust planning practices—although it also contains some provisions that undermine environmental assessments and community engagement. But this legislation cannot be the last word on our national infrastructure needs. We must think bigger, do more, and not allow for the delay or derailment of our pro-jobs, pro-climate, and pro-justice agenda. Our legislation must pass nature's test of holding warming below 1.5 degrees Celsius to have a real shot at preventing catastrophic changes to the climate."
In a press release from AEM sent on May 27 upon approval by the EPW Committee, the association says it support the bipartisan process used to create and pass the bill as well as many of the policy priorities in it. Several of them are priorities which AEM itself has been pushing for some time to aid both the U.S. economy and equipment manufacturers whose products would aid in the building and repair of infrastructure.
AEM says in its press release it worked closely with Democrats and Republicans on the Committee to ensure provisions important to the equipment manufacturing industry were included. Aspects of the reauthorization bill include:
Provides $77 billion more over 5 years than the 2015 FAST Act (a 34% increase)
Streamlines the permitting process for infrastructure projects
Codifies One Federal Decision to ensure that project delivery approvals are streamlined
Provides specific support for rural transportation needs.
Per AEM's press release, the bill could move as a stand-alone legislation, or could be part of a larger infrastructure package which is still being negotiated. Both sides of the aisle continue to debate the cost and priorities for a larger infrastructure bill. The Surface Transportation Reauthorization Act of 2021 would help to ensure DOT funding in the near term until a larger bill is voted upon.
The Hill reported on May 27 that Senate Republicans most recently introduced a $928 billion infrastructure package; it includes $506 billion for roads, bridges and major projects and $98 billion for public transit.
While more than some previous Republican proposals, it is still less than that proposed by President Biden, and talks between the two sides to determine priorities, cost and where the money will come from are ongoing. An article from The Hill published later in the day on May 27 says The White House was encouraged by the Republican proposal and foresees negotiation talks continuing the following week.
Although the EPW Committee has passed the Surface Transportation Reauthorization Act of 2021, AEM notes in its press release there is more work to be done in the Senate on it. The Committee on Commerce, Science and Transportation and the Committee on Finance will begin work on their parts and the U.S. House Committee on Transportation and Infrastructure is scheduled to start its mark ups on the bill the week of June 9.
Companies in this article