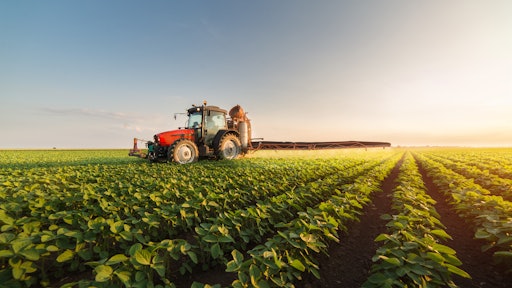 ©Dusan Kostic – stock.adobe.com
A group of leading U.S. agriculture groups are calling for bipartisanship at the U.S. capitol to pass an infrastructure package which the group says is vital to American farmers and their continued domestic and international market access. Negotiations continue with no deal yet in sight.
As such, Farmers for Free Trade organized the letter to encourage lawmakers to reach a bipartisan agreement, which many in the industry agree is the best path forward. According to a press release on the subject from Farmers for Free Trade, the letter includes support from every step of the U.S. supply chain from farm groups to truckers, waterways, ports and more.
"American agriculture depends on access to new foreign and domestic markets, and that access depends on reliable infrastructure in the middle of the country and along the coastlines," the groups write in the letter. "Investing in American agriculture and infrastructure will protect and create jobs. In 2019, 22.2 million full and part-time jobs in America were dependent on the agricultural and food sectors.
"We ask all members of the 117th Congress to recognize the importance of infrastructure to the health of the nation's food and agricultural economy and work together to support investments that will allow our workers to remain competitive in a global marketplace."
The letter emphasizes the economic importance of agricultural trade as well as the importance of infrastructure to the agricultural industry as a whole. Crops farmers grow need to be transported short and long distances, necessitating good roads and bridges. Farmers for Free Trade also says the letter points out how infrastructure spending will support jobs as well as rural broadband which is necessary to help farmers use more advanced technologies—which leads them to being able to produce more crops in a more efficient manner.
"The United States cannot afford to delay infrastructure improvements," the letter states. "Our competitors, including China and Brazil, are making significant investments in infrastructure to improve their competitive position."
Farmers for Free Trade sent the letter to Senator Rob Portman, Senator Mitt Romney, Senator Todd Young, Senator Thom Tillis, Senator Mike Rounds, Senator Susan Collins, Senator Lisa Murkowski, Senator Shelley Moore Capito, Senator Bill Cassidy, Senator Jerry Moran, Senator Kyrsten Sinema, Senator Joe Manchin, Senator John Hickenlooper, Senator Jeanne Shaheen, Senator Angus King, Senator Jon Tester, Senator Dick Durbin, Senator Maggie Hassan, Senator Mark Warner and Senator Mark Kelly. It was also sent to Congressional leaders and the Co-Chairs of the House Problem Solvers Caucus.
Industry organizations which signed the letter include:
Agriculture Transportation Coalition
American Association of Port Authorities
Distilled Spirits Council
Farm Credit Council
Farmers for Free Trade
Global Cold Chain Alliance
National Association of State Departments of Agriculture
Companies in this article